'Madam' versus 'outsider' who was insider
Rajasthan CM Vasundhara Raje finds an oasis in Jhalawar amid hostility in the rest of the BJP-ruled state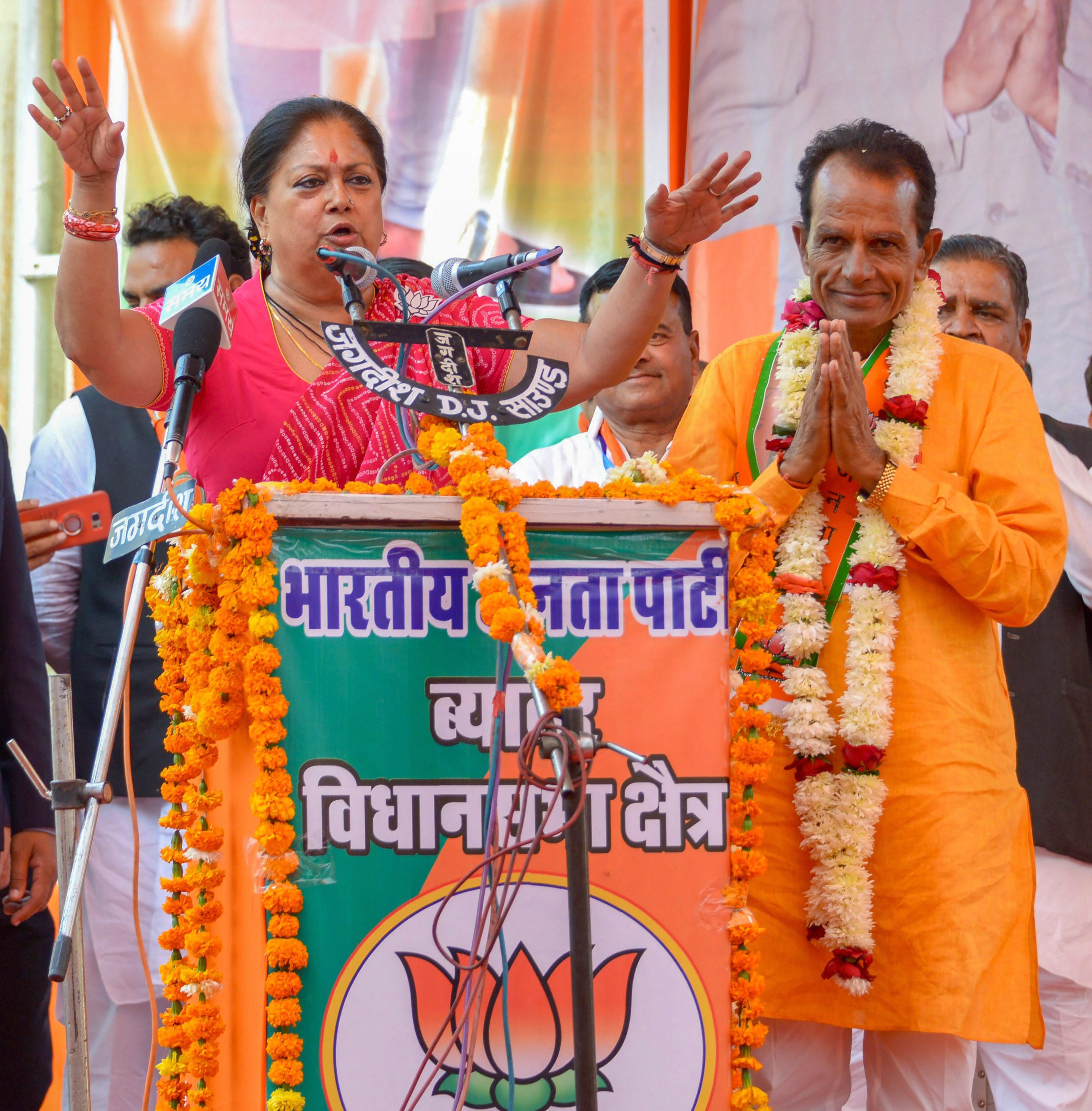 Vasundhara Raje addresses an election rally in Beawar on Tuesday.
PTI
---
Published 02.12.18, 10:27 PM
|
---
Jhalawar is like an island in southeast Rajasthan, close to Madhya Pradesh. Both in terms of perception and reality.
The perceptible anger against chief minister Vasundhara Raje Scindia in the rest of the BJP-ruled state virtually vanishes here as the "arrogant queen" transforms into the benevolent "Madam".
"Madam ne bahut kaam kiya hai yahan. Hum to prarthna karte hain woh phir se mukhyamantri bane (Madam has done a lot of work here. Our prayers are that she becomes the chief minister again)," says Balchand Jogi, a labourer.
The "kaam" or development Jogi talks about becomes apparent as soon as you enter Jhalawar. The roads are wide here with service lanes and iron railings painted in black and yellow.
There is an imposing "mini-secretariat" building, a medical college and hospital, a separate hospital for women, and schools and colleges.
Travelling from Kota, through large swathes of rugged and forested landscape, Jhalawar suddenly appears like a pleasant picture, a sign of the special attention it has got.
"Did you see the main road? Jhalawar looks like (state capital) Jaipur," says Satyanarayan Sharma, a farmer. "In villages too, concrete roads have been built. Every village is connected."
Voters say they get good and free treatment in the hospital and that the teachers attend school regularly, while the mini-secretariat gives special administrative attention to the district.
The Congress has fielded Manvendra Singh, son of former Union minister and BJP veteran Jaswant Singh, from Jhalrapatan to take on Vasundhara in the December 7 state elections.
Manvendra was BJP MLA from Sheo in Barmer but rebelled and left the party in September. He joined the Congress in October.
Manvendra is, however, seen as a "bahari" (outsider) by voters in Jhalrapatan, which falls under Jhalawar-Baran, the Lok Sabha constituency of Vasundhara's son Dushyant Singh.
"Yeh (Manvendra) toh bahar ke hain; Barmer se aaye hain. Hum Barmer to nahi jaa sakte (He's an outsider. He has come from Barmer. We can't go to Barmer)," says Bhawani Rathore, who works as a contractual labourer in the stone industry.
Barmer lies around 600km west of Kota in the arid region close to the Pakistan border.
Local people say Manvendra shifted from his family stronghold of Barmer to Jhalawar more out of anger than political considerations. "This is a battle between two Rajput families," says Jagdish Singh, a voter in his fifties.
It is widely known that the relationship between the two Rajput families has never been warm. Vasundhara is said to have denied Jaswant a Lok Sabha ticket in 2014. The BJP veteran has been in a coma following a brain stroke.
Many believe that Manvendra felt marginalised in the BJP under Vasundhara and now wants to tap into the Rajput anger against the chief minister.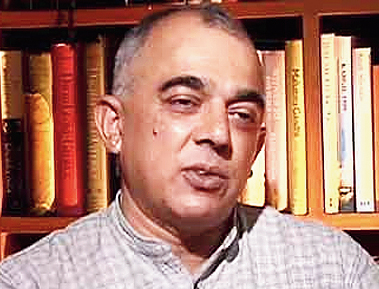 He has been campaigning hard in Jhalrapatan, telling people to gain "freedom" from the "dictatorial government".
His wife Chitra Singh and loyal Rajput supporters from Barmer have been camping here. "I know the battle is tough. But I have come to fight and win," Manvendra told reporters.
Many villages in the constituency still lack basic facilities and Manvendra has been highlighting the farm crisis in his fight against the chief minister.
Vasundhara is busy campaigning elsewhere in the state. Son and local MP Dushyant and his wife are spearheading her campaign in Jhalrapatan.
"There is no contest here. Manvendra is a paratrooper and the people of Jhalrapatan will send him back," Dushyant said, recalling how Congress chief Rahul Gandhi had promised not to field any "paratroopers".
But the farm crisis, which drove thousands of farmers from across the country to the national capital at the weekend, seems to be shadowing Vasundhara here too.
In Patan, a small town a few kilometres from the Jhalawar district headquarters, farmers who had queued up since Saturday night for urea alleged that dealers were selling the fertiliser in the black market. "Farmers are facing a very difficult time. In the villages people will silently vote for the Congress," Ashok Kumar, a young farmer, says.
The Congress claims two farmers committed suicide in the recent past because of the farm crisis and mounting debts.
The central government claims there has been no shortage of urea under Prime Minister Narendra Modi's watch and that black marketeering had totally stopped.
Many voters in this constituency are aware of the anger against Vasundhara across Rajasthan's other regions. Some even say she may not return to power.
"The problem doesn't lie with Madam," says Raghvendra Singh of Devighata village, a few kilometres from the district headquarters. "It's her MLAs and middlemen on the ground who have spoilt her image."