Varanasi's bond with 144 and 359
Higher powers at play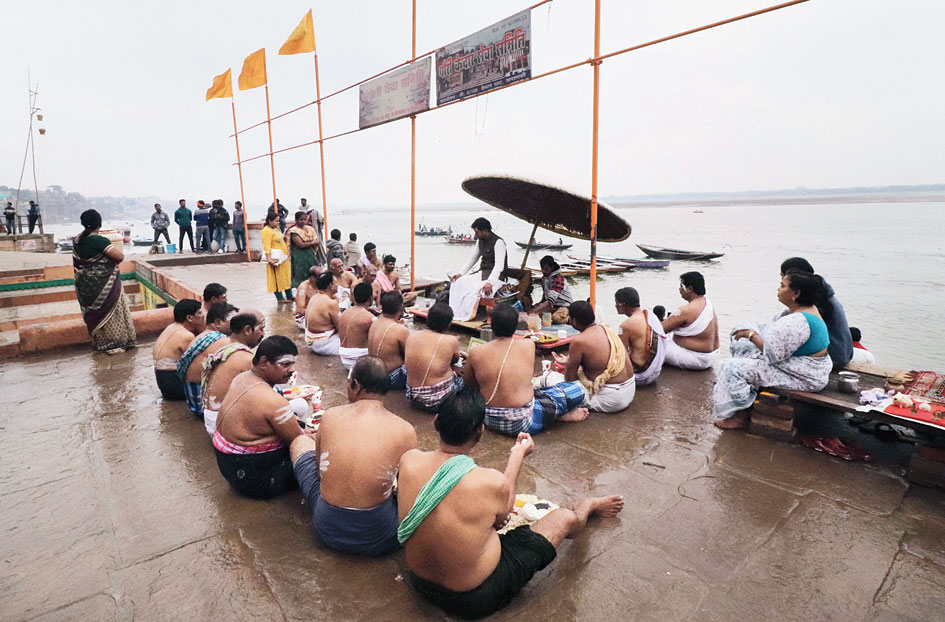 ---
|
Lucknow
|
Published 02.01.20, 09:09 PM
---
Greatness can come with any number of burdens. For Varanasi, the constituency of India's Prime Minister, that number is 144. Or even 359.
Section 144 is imposed in the holy city during every major religious festival — sometimes for up to 30 days, as happens before the biggest Hindu celebrations like Maha Shivaratri, Ram Navami or the Kanwar Yatra.
This CrPC section, which bans assemblies of more than four people, is also enforced for occasions such as Ambedkar Jayanti or Republic Day.
It's in place a week before every visit by Modi, chief minister Yogi Adityanath or any central minister, whose trips have increased since Varanasi became the prime ministerial seat in 2014.
So, not too many here were surprised when Priyanka Gandhi Vadra tweeted on Thursday, quoting a newspaper report, that "On 359 out of 365 days in the year 2019, Section 144 was imposed in Varanasi."
It was not always so. Varanasi's marriage with Section 144 began only in 2018, under the watch of Adityanath.
Government officials would not confirm Priyanka's count of 359 but agreed that the figure would be large enough, given that the major religious festivals and other official occasions number more than 20 a year, and the city witnesses numerous VIP visits.
They explained that the state government nowadays celebrated the major Hindu festivals in Varanasi in a big way, and the preparations often began 30 days in advance.
Asked why that required a 30-day imposition of restrictions that are meant to pre-empt public disorder in trouble spots, they fumbled for answers.
It was this point that Priyanka, Congress general secretary in charge of Uttar Pradesh, sought to make, tweeting that the city is "the PM's own constituency and he (Modi) has the gall to say that people have nothing to fear?"
Shatrudra Prakash, a Samajwadi Party member of the legislative council, endorsed Priyanka's stand.
"You can't expect democracy in Varanasi. The local officials proactively suppress the voice of the people on every issue," he said.
"If there's a whiff of an agitation, Section 144 is imposed. The way this section has been abused in Varanasi is alarming, although people do keep breaking the prohibitory orders."
Prakash, a lawyer, regretted that a provision that reflected colonial-era attitudes to maintaining public order was still part of the statutes.
The Supreme Court has said multiple times that the imposition of Section 144 needs to pass the test of "reasonableness", else it violates a citizen's fundamental right to free speech and expression.
Contacted by The Telegraph, a government official in Varanasi, seeking anonymity, said: "We haven't counted how many days Section 144 was in force in which area of Varanasi. But it's a pilgrimage town and the Prime Minister's constituency, so we have to be alert all the time."
He said that on the days Section 144 was clamped, it was not imposed across the entire city, was relaxed intermittently, exempted religious processions and congregations, and bypassed certain areas like the Ganga's ghats (terraces).
"Yes, the ban on assemblies is imposed 30 days before festivals like Maha Shivaratri, Ram Navami, Janmashtami and Muharram in some parts of the city. It's also clamped around the universities and colleges five days before Republic Day and Independence Day," the official said.
"Nor do we ever allow gatherings near the Kashi Vishwanath temple. Section 144 is also imposed in the Lanka area (near the Banaras Hindu University main gate) whenever the students hold an agitation, for these mostly turn violent. These agitations go on round the year."
He added: "There may be prohibitory orders in many parts of the town at a given time but it's wrong to say that Section 144 is imposed across the whole of Varanasi most of the year.
"Take the ghats, where you can see 10 or 20 people sitting together on the steps or having tea and snacks at a stall. Prohibitory orders are never clamped near the Ganga unless there is communal tension in the town."
Currently, he said, Section 144 was in place because of the protests against the citizenship amendment.