Modi claims India didn't depend on any other country for vaccines
Scientists say the drive has largely hinged on Covishield, a UK-designed vaccine, and that the recipe for Covaxin, includes a key molecular ingredient developed in US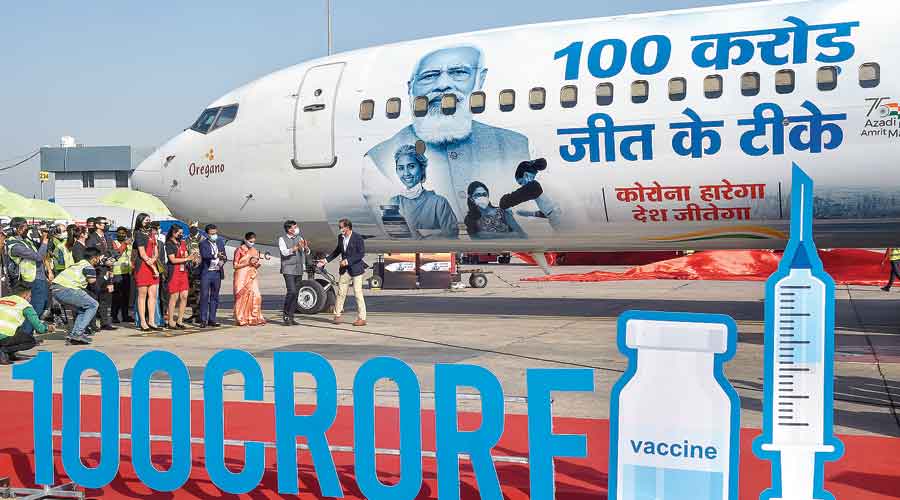 ---
New Delhi
|
Published 22.10.21, 02:25 AM
|
---
A "vaccine anthem" released by the Centre to mark India's billionth Covid-19 vaccine dose is prefaced by an audio excerpt from a speech by Prime Minister Narendra Modi that says India did not have to depend on any other country for vaccines.
The words heralding the anthem are strikingly similar to a part of Modi's Independence Day speech this year. "It is due to the power of our entrepreneurs and scientists that the country is not dependent on anyone or any country for vaccines," says the translated version of the August 15 speech, available on the website PMIndia.
The Union health ministry released the three-minute anthem, produced by singer-composer Kailash Kher, at an event at the Red Fort on Thursday morning. It was part of nationwide celebrations to mark the Covid-19 vaccination campaign surpassing the billionth dose.
But scientists say the campaign has largely hinged on Covishield, a UK-designed vaccine, and that the recipe for Covaxin, India's home-grown vaccine, includes a key molecular ingredient developed in the US.
India has approved six Covid-19 vaccines, but the campaign has almost entirely relied so far on two: Covishield, developed jointly by Oxford University researchers and AstraZeneca and produced in India by the Serum Institute of India, and Covaxin.
Some say Modi's words would be correct if they refer only to the vaccine production. Except for a relatively minuscule 1 million doses of Russian-made Sputnik V vaccine, all the others used have been produced in India.
But such a defence would recall what Yudhishthir conveyed to Dronacharya through a mix of utterance and whisper during the Kurukshetra war in the Mahabharat: "Ashwatthama hata, iti narova kunjarova (Yes, Ashwatthama is dead. I don't know if it's a man or an elephant)."
On Thursday, a vaccine science researcher familiar with the makeup of multiple Covid-19 vaccines said, requesting anonymity: "Anything made in India is made in India, but any suggestion that the Covid-19 vaccines are 100 per cent indigenous would be disingenuous."
But the scientist added that Modi's words were probably an allusion to the critical role the Serum Institute had played in ensuring mass domestic production of Covishield, and the research by the Indian Council of Medical Research and Bharat Biotech to develop Covaxin.
"The PM's statements are not untrue — technology transfer (for Covishield) and domestic production also require significant research expertise," the scientist said.
Covishield accounted for nearly 884 million (88.4 per cent) of the billion doses administered across India until Thursday morning, while Covaxin accounted for 115 million doses. The campaign has also administered a million doses of the Russian-made Sputnik V vaccine.
"Nearly nine in 10 people have received Covishield, which was designed and developed in the UK. It's primarily Covishield that has helped India achieve what it has," a public health specialist said.
Bharat Biotech's Covaxin uses an ingredient — called an adjuvant — discovered and developed by a company called ViroVax in Kansas, with support exclusively from the adjuvant development programme of America's National Institutes of Health.
Adjuvants are substances that boost a vaccine's immune responses and enhance its effectiveness. The adjuvant in Covaxin travels to the lymph nodes where the molecule detaches from alum and activates cells that play a critical role in immune responses to viruses.
Scientists familiar with vaccine development said Bharat Biotech's use of the US-made adjuvant was in line with global practices to outsource the best ingredients needed from wherever available.
Bharat Biotech's pact with ViroVax — a biotech company founded by Sunil David, a former student of the Christian Medical College, Vellore — predates Covid-19.