Experts sound caution against 'celebratory mood'
Vaccine: Miles to go as a billion doses done
Experts caution that the celebratory mood shouldn't obscure the challenges emanating from unmet goals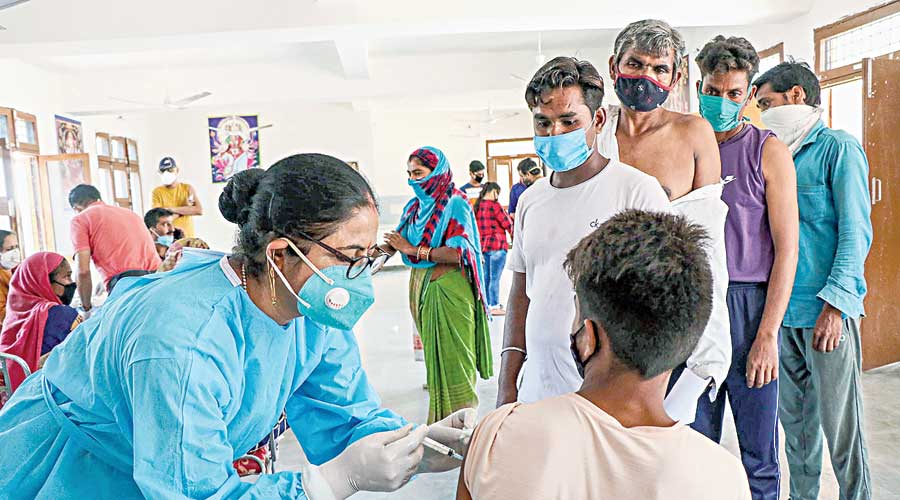 ---
New Delhi
|
Published 22.10.21, 01:48 AM
|
---
The government, industry associations and medical experts applauded India's Covid-19 vaccination campaign on Thursday as it surpassed its billionth dose, but some cautioned that the celebratory mood shouldn't obscure the challenges emanating from unmet goals.
The Union health ministry announced on Thursday morning that India had surpassed the major milestone of a billion doses nine months since the start of the campaign aimed at administering over 1.8 billion doses to fully vaccinate an estimated 944 million adults.
The health ministry released a "vaccine anthem" — a three-minute folk song by singer-composer Kailash Kher —  as part of the day's celebrations. The Archaeological Survey of India illuminated 100 monuments across the country, including the Red Fort, Khajuraho complex, Sun temple in Konark and the Qutub Minar. Ships anchored on Indian ports were urged to hoot, and fully vaccinated people were offered free ropeway rides in Gujarat, Kerala and Uttarakhand.
"India scripts history," Prime Minister Narendra Modi tweeted. "We are witnessing the triumph of Indian science, enterprise and collective spirit of 130 crore Indians. Congrats India on crossing 100 crore vaccinations. Gratitude to our doctors, nurses and all those who worked to achieve this feat."
The feat drew congratulatory messages from the Association of Chambers of Commerce and Industry, Confederation of Indian Industry and the Federation of the Indian Chambers of Commerce and Industry, amid expectations that vaccinations would accelerate economic recovery.
The world took notice too. US secretary of state Antony Blinken tweeted: "We congratulate India for the extraordinary accomplishment of administering one billion doses of the Covid-19 vaccines. I applaud India's successes in fighting Covid-19 at home and for its efforts to help end the pandemic in the Indo-Pacific region and well beyond."
Australia, France, the Maldives and Sri Lanka also tweeted congratulatory notes.
The Indian Medical Association, the country's largest body of doctors, said it was "delighted to see the one billionth vaccination done", but added that "we are yet miles and miles away to go, before we stand firm to say all our needed population are vaccinated".
Sections of medical experts echoed those concerns, saying that while completing a billion doses was a major milestone, tens of millions of people aged 45 years or older and at high risk of severe Covid-19 were yet to be fully vaccinated.
Only about 87 million (41 per cent) of India's estimated 210 million people aged between 45-59 years and 62 million (43 per cent) among an estimated 143 million people aged 60 years or older had been fully vaccinated till October 20, according to immunisation data.
"People older than 45 were prioritised for vaccinations. If the public health goal was to minimise the risk of deaths, all above 45 should have been fully vaccinated," said a health expert. "Under the initial goal, all such prioritised at-risk populations should have been fully vaccinated by August."
A public health specialist said India could have accomplished that initial goal had the Centre not opened the vaccination campaign to all adults — 18 years or older — in April without the sufficient quantum of vaccine doses to support the plan.
Health officials had defended the policy tweak, asserting that many states and the public had demanded that the campaign be opened to all adults, but simultaneously pointed out that "science and public health dictated" that vaccines should be prioritised to high-risk groups.
A vaccine science specialist said the task of getting vaccines to the remaining sections of the population was likely to get harder and harder as the number of vaccinated people grows in any country.
"It is much easier to vaccinate the first 50 per cent of the population, and harder to vaccinate the last 20 per cent," the researcher said. "Some people may be hard to reach or the campaign may encounter vaccine hesitancy."
Health experts also said the campaign's current pace — an average of less than six million doses per day this month — was not enough to achieve the goal of fully vaccinating all adults by December 31. To accomplish that, the campaign would need to administer 12.3 million doses daily.