Uttar Pradesh: Woman dies in traffic on President Kovind's trip
Kanpur police commissioner visits the family's home to apologise; Nikhil Pathak, additional deputy commissioner of police, to probe the matter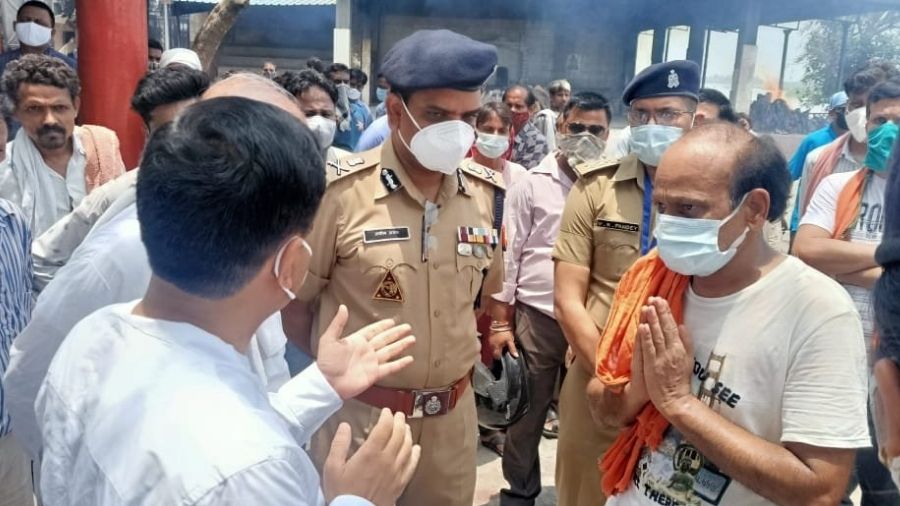 ---
Lucknow
|
Published 27.06.21, 01:23 AM
|
---
A woman entrepreneur died in Kanpur on Friday evening, allegedly because of a delay in receiving medical help, after police stopped her car to make way for the convoy of a visiting President Ram Nath Kovind.
Traffic had been held up for 45 minutes and doctors at Regency Hospital said Vandana Mishra, 45, would have lived if she had arrived even 15 minutes earlier, her husband Sharad Mishra alleged.
Kanpur police commissioner Asim Arun, who visited the family's home to apologise and convey the President's condolences, said traffic had been halted for 25 minutes despite an order not to stop it for more than 5 minutes.
"We have suspended a sub-inspector and three constables for not allowing them (Mishras) to move," Arun told reporters.
Efforts to get a doctor or senior executive take this newspaper's call to the hospital proved fruitless.
Vandana was president of the women's wing of the Kanpur chapter of the Indian Industries Association. She ran an industrial unit herself, sources said, but its nature could not be immediately ascertained.
"She had had Covid a month and a half ago but had recovered. She complained of breathlessness on Friday afternoon and I took her to Regency Hospital," Sharad told reporters.
"The doctors examined her and found her fit. I took her back home but she again complained of breathlessness an hour later. While I was driving her to the same hospital, traffic was stopped near Govindnagar Bridge for the President. Despite my requests, the police didn't let us move for 45 minutes."
He added: "When we reached the hospital after 6pm, the doctors declared her dead on arrival and said she would have lived had she reached the hospital 15 minutes earlier."
As news of the death circulated on social media on Saturday, police commissioner Arun rushed to the family's Kidwai Nagar home to apologise to Sharad.
"Nikhil Pathak, additional deputy commissioner of police, will probe the matter," he told reporters.
District magistrate Alok Tiwari said: "The President took cognisance of the unfortunate incident and asked us to personally tender our apologies to the family of the deceased."
The Kanpur police commissionerate tweeted in Hindi: "The Hon'ble President was distressed to know the death of sister Vandana Mishra. He called the police commissioner and the district magistrate to know more about it and asked them to convey his condolences to the family. Both officers attended the cremation and conveyed the President's message.
महामहिम राष्ट्रपति जी बहन वन्दना मिश्रा जी के असामयिक व निधन से व्यथित हुए। उन्होंने पुलिस आयुक्त और जिलाधिकारी को बुलाकर जानकारी ली व शोक संतप्त परिवार तक उनका संदेश पहुंचाने को कहा। दोनों अधिकारियों ने अंत्येष्टि में शामिल होकर शोकाकुल परिवार तक महामहिम का संदेश पहुंचाया। pic.twitter.com/nIYKQZNj4e

— POLICE COMMISSIONERATE KANPUR NAGAR (@kanpurnagarpol) June 26, 2021
Kovind is on a heavily publicised trip to Kanpur, his home district, where he arrived on a special "Presidential Train" on Friday afternoon. He is to leave on Sunday.
It's been a largely personal visit, with Kovind meeting old friends and visiting the villagers of Paraukh, Jhinjhak and Rura where he had spent his childhood. He has also held a few meetings with government officials.