UP polls: Win or lose, Priyanka Gandhi Vadra makes a difference
She has repeatedly reminded voters that in a democracy power belongs to them and that they can and should hold their leaders accountable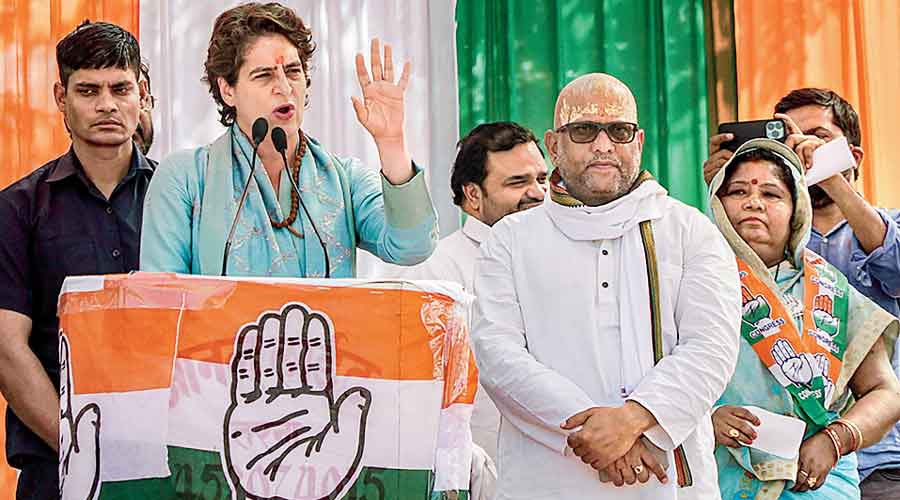 Priyanka Gandhi Vadra at a public meeting in Varanasi on Friday.
PTI Photo
---
New Delhi
|
Published 06.03.22, 01:59 AM
|
---
As electioneering comes to an end in Uttar Pradesh, the Congress does not appear to have reinvented itself as a major player but Priyanka Gandhi Vadra's sustained struggle for the oppressed has helped her emerge as the voice of conscience.
Congress leaders are buoyant as they feel the bold decision to contest all 403 Assembly seats and Priyanka's resolve to keep her nose to the grindstone have injected a new lease of life into the organisational machinery, setting the stage for a revival.
The Congress leaders know that the polarised electoral ambience between the BJP and the Samajwadi Party has squeezed them out of the race but are confident of emerging as a factor after the results on March 10.
While such prognoses fall in the realm of conjecture, what has given confidence to Congress workers is that this election has established Priyanka as the leader of the party in Uttar Pradesh.
At a rally this week, Priyanka asked the audience to list the problems they face and repeated after them: "Mehngai, berozgari, chhutta janwar (Price rise, unemployment, stray cattle)...." Then she said: "Do any of these problems ask your religion or your caste before visiting you? Why then do the politicians talk about religion and caste?"
She added: "Because you have allowed them to. They know they need not work, need not create jobs, provide water or electricity, because you will not question them. They can come and talk about religion and caste, get your votes and rule for another five years, help crony capitalists and let you stay as poor as ever. Because you will not hold them accountable."
Throughout this election, starting with the "Ladki hoon, lad sakti hoon (I am a girl, I can fight)"campaign that forced both the BJP and the Samajwadi Party to sit up and acknowledge the importance of women, Priyanka has kept the focus on the people. She has repeatedly reminded voters that in a democracy power belongs to them and that they can and should hold their leaders accountable.
After Narendra Modi claimed ignorance of the stray cattle menace and promised to address it now that he was aware, attempting to protect the BJP from the farmers' anger over their lost crops, it was Priyanka who blew his cover.
"How dare the Prime Minister come and say to you that all these years he did not know that stray cattle were destroying your crops, that you were spending sleepless nights guarding your fields? He knows what is happening in the US, in Russia, which world leader has a cough…. He knows the problems of his industrialist friends and solves them, waives their large debts. But nobody told him about your problems? How did he (Modi) have the audacity to come and say he did not know?"
Again, it was Priyanka who pointed out that words like "namak khaya hai" have no place in a democracy, forcing Modi to take back the line that had "touched his heart" so much that he had wanted to share it with the world.
The Prime Minister had told the audience at a rally he wanted to share with them the words of a poor, elderly voter that had moved him. The woman, Modi recounted, had in a reference to the free ration scheme said: "Maine Modi ka namak khaya hai. I will not betray him. I will vote for Modi."
Priyanka called him out again, asking the audience at another rally if a bag of rations was all they wanted for their children's future.
"Namak janata ne nahin khaya hai, namak neta khaate hain aapka," she said. "The power is yours, you loan it to the leaders, they need to be grateful to you, not the other way round. This is a democracy, not a dictatorship, there is no shahenshah (emperor) here," she stressed.
On Friday, the penultimate day of the election campaign, Modi went back to the old woman's story and said: "I want to say to the elderly woman, aapne Modi ka namak nahin khaya… namak aapne mujhe khilaya hai."
At the start of the campaign, Priyanka had set the agenda when she promised 40 per cent tickets to women, came out with a separate manifesto on empowering women, and gave girls a slogan to run with: "Ladki hoon, lad sakti hoon."
Against the backdrop of the atrocities in Unnao and Hathras, the slogan struck a chord and forced other political parties to take notice. The Samajwadi Party later came out with a section on women in its manifesto, and chief minister Yogi Adityanath began to speak of women's safety in his campaign speeches.
"Priyanka is the new hope of Uttar Pradesh. Even those who firmly believe the Congress should be given a chance may vote for the Samajwadi Party this time as their primary objective is to ensure the BJP's defeat. We are on a revival course because of Priyanka's sustained struggle and her success in constituting the organisational structure at the grassroots," an office-bearer told The Telegraph from Lucknow.
Priyanka, who drew huge crowds across the state with even voters returning from BJP rallies mobbing her and asking for Congress wristbands, is the only leader to have fought the Adityanath government over the past three years, standing with the people over their miseries and struggles.
Be it the Unnao rape case or the Hathras horror, the massacre of tribals in Sonbhadra or farmers being run over and killed in Lakhimpur Kheri, Priyanka had become the face of political resistance. She visited the home of a farmer who had died waiting in a queue for fertilisers, and that of a Dalit who was allegedly killed in custody. During the anti-CAA movement, too, she was at the forefront against the alleged injustice and violence perpetrated by the Adityanath government.
At her last public meeting for this election on Saturday, Priyanka said: "Rahul Gandhi told me, 'Your job is to share people's pain and suffering'. I went to every place where I saw atrocities. Main aapki humsafar ban gayi (I became your fellow traveller). Your struggle became my struggle. But in the process, I noticed there is something terribly wrong with the state. Politics has been derailed. The political discourse is so distressing. What are the leaders talking about? Caste, religion and nationalism. Problems are piling up. There is no intention to empower you."
Once again going against the tide to show the mirror to the people for allowing caste and religion to dictate voting patterns, Priyanka said: "You have given the courage to these politicians to mislead you; they know it is easy to exploit your emotions. The leaders have become so brazen that the Prime Minister himself says people have to vote for him because they ate his namak (salt).
"You have been rendered so helpless that survival on a bag of rations is enough. A government that cannot give jobs should not talk of nationalism. Serving their own political interests is not nationalism. Abusing freedom fighters and using citizens as pawns is not nationalism."
Congress leaders say the feedback from the ground has been encouraging and that the party will be rewarded in elections sooner or later.
Asked about the party's prospects, Congress spokesperson Supriya Shrinate said: "One thing is absolutely clear — the BJP is being ousted. Take it in writing. A new government will come into being. And it will be difficult to form any government without a Congress role."
While a section in the Congress thinks that the best-case scenario will be neither the BJP nor the Samajwadi Party attaining the majority mark, the dominant opinion is that the Congress should focus on preparations for the 2024 parliamentary elections instead of propping up any alternative coalition.