Uttar Pradesh: ABP News journalist found dead
Scribe found with clothes torn and multiple injuries on face, day after he expressed fear that the liquor mafia would 'harm' him and asked cops for protection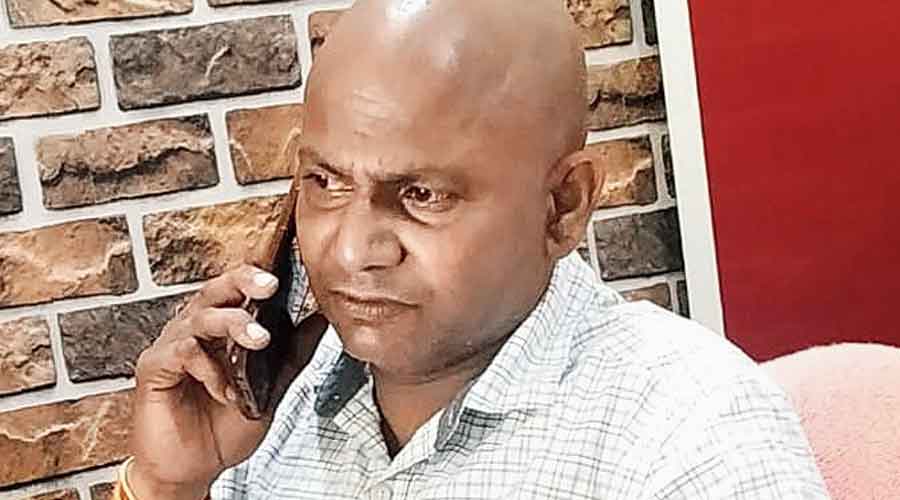 Sulabh Srivastava
Telegraph picture
---
Lucknow
|
Published 15.06.21, 01:20 AM
|
---
A journalist with ABP News and ABP Ganga was found dead on an Uttar Pradesh road, his clothes torn and his face bearing multiple injuries, a day after he had written to police expressing fear that the liquor mafia would "harm" him and seeking protection.
Police initially said that Sulabh Srivastava, 42, died in an accident after falling off his motorbike when it skidded on a rain-soaked road in Pratapgarh town late on Sunday night and hit a hand pump.
On Monday, the police registered a case of murder and criminal intimidation against unknown persons on the basis of a written complaint from Renuka Srivastava, Sulabh's wife, said Surendra Dwivedi, additional superintendent of police of Pratapgarh district.
Sulabh had written to the additional director-general of police of the Allahabad zone, Prem Prakash, on Saturday mentioning that he feared for his life and that of his family after he had reported on the liquor mafia.
The letter in Hindi, widely shared on social media, said: "The applicant Sulabh Srivastava, a resident of Sahodarpur, Kotwali, Pratapgarh, is a district correspondent of the esteemed ABP News and ABP Ganga…. The police had recently conducted raids on the liquor mafia at Kunda, Hathigawa and Antu (in Pratapgarh).... The applicant had covered the incident…. I had also filed an article on the digital platform (of ABP Ganga) on June 9.
"Since then there has been a lot of buzz about this report. I've come to know from my sources that the liquor mafia are unhappy with me. For the past two days whenever I leave home, it appears as if someone is following me. I fear that the liquor mafia might harm me or my family."
Sulabh had requested police protection.
ADG Prakash confirmed that he had received Sulabh's letter. "I had forwarded it to district officers and discussed the issue with them," he said.
According to Dwivedi, Sulabh was riding home on Sunday when his bike skidded and hit a handpump.
The officer said: "He fell from his motorcycle near a brick kiln. Some labourers lifted him and called up his friends from his cellphone. The labourers also called an ambulance. He was taken to the district hospital where doctors declared him dead."
The police said Sulabh had suffered a head injury and died of excessive bleeding. "However, we are probing all angles," Dwivedi said.
NDTV reported that a photograph of the body taken at the scene of the "accident" showed Sulabh lying on the ground and there appeared to be multiple injuries on his face. His shirt seemed to have been almost entirely removed and his trousers unbuttoned and pulled down.
A relative of the journalist, requesting anonymity, corroborated that Sulabh had been "found half-naked" and that "there were many injury marks on his face".
The relative told local reporters in Pratapgarh that the family was living in fear "as some people have been watching us".
Renuka, Sulabh's wife, alleged on Monday after filing the police complaint that the liquor mafia had murdered her husband.
She alleged that Sulabh had received threats to his life after reporting on the liquor mafia and that the police had not taken any action despite being informed in writing. Renuka said Sulabh had shown her on his mobile phone the letter he had written to the police.
Renuka said that on Sunday her husband had gone to report on an illegal arms factory and that she received news of his death in a "motorcycle accident" around 11 at night.
She said she rushed to the hospital but he had died by the time she reached.
Akash Tomar, the superintendent of police of Pratapgarh, said: "We are probing the case and will not spare the guilty if we find that anybody is involved in his death."
Sulabh's death triggered widespread condemnation.
Congress leader Priyanka Gandhi Vadra accused the Yogi Adityanath government of fostering lawlessness in Uttar Pradesh. "The liquor mafia have been on a killing spree, from Aligarh to Pratapgarh, but the UP government is silent. Journalists are asking dangerous questions to expose the truth, but the government is asleep. Does the UP government, which nurtures jungle raj, have any answer to the tears of the family members of journalist Sulabh Shrivastava?" she tweeted in Hindi. Over 100 people had died in Aligarh two weeks ago after consuming spurious liquor.
Chief minister Adityanath claims that his government has cracked down on the liquor mafia by booking cases under the National Security Act and the Goonda Act, and confiscating properties of those involved, in cases of death after consuming illicit liquor.
Police sources said large quantities of illicit liquor had been manufactured in view of the recent panchayat polls in the state.
Bengal chief minister Mamata Banerjee tweeted on Monday: "Shocked at the demise of ABP journalist Sulabh Srivastava in Uttar Pradesh. Sad to see that despite 'democracy & freedom' being a part of our ethos, we are unable to save lives who are working tirelessly towards unfolding the truth."
The Editors Guild of India expressed shock at the "cavalier manner in which Uttar Pradesh police is treating the mysterious death of TV journalist Sulabh Srivastava in Pratapgarh".
The Guild noted that Sulabh's death had come at a time when the media were under increasing pressure from the Centre and several state governments "who insist that they follow the official narrative regarding the administration's handling of the pandemic".