UP activists call on politicians to lead fight
Ambedkar said he was brutalised because his name was a giveaway of the community he belongs to — the Dalits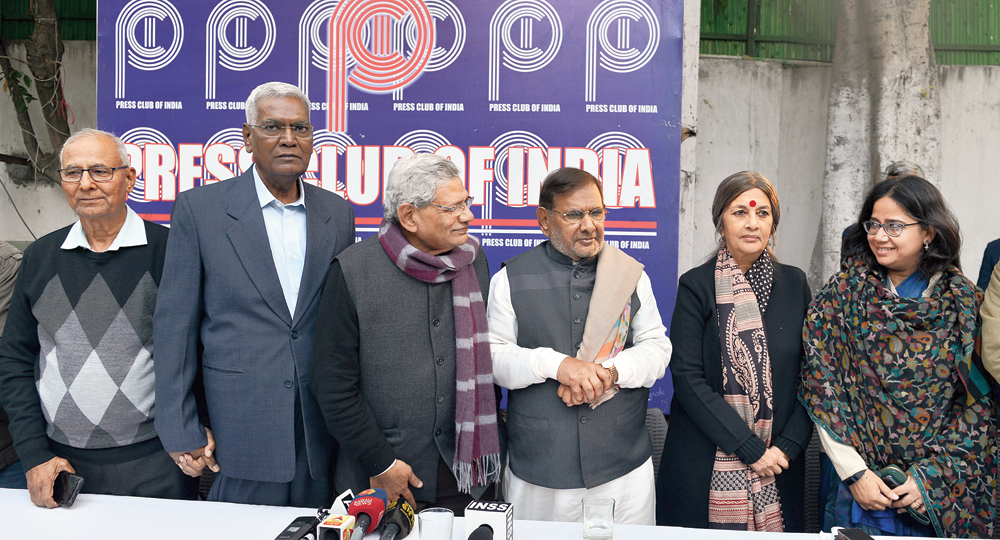 SR Darapuri, D Raja, Sitaram Yechury, Sharad Yadav, Brinda Karat and Sadaf Jafar at the news conference in New Delhi on Wednesday on the issue of alleged violations of human rights by Uttar Pradesh police
Picture by Prem Singh
---
New Delhi
|
Published 15.01.20, 09:31 PM
|
---
Lucknow-based activists S.R. Darapuri, Sadaf Jafar, Deepak Kabir and Pawan Rao Ambedkar — arrested by Uttar Pradesh police after the December 19 protest against the Citizenship (Amendment) Act — urged the political class on Wednesday to pick up cudgels for the people of the state cowed down by an authoritarian regime.
The four were in New Delhi in the hope of getting some national media attention for the largely ignored plight of the people of Uttar Pradesh, living in fear of the administration and the vigilante groups it is said to have empowered.
They alleged that they were specifically targeted for their activism, with Jafar and Ambedkar saying they faced the added baggage of their names.
"The communal slurs heaped on me were more painful than their beatings," Jafar said. Released on bail on January 7, Jafar had said she was repeatedly called a "Pakistani" and "tum log (you people)" and slapped and kicked in custody.
Ambedkar said he was brutalised because his name was a giveaway of the community he belongs to — the Dalits.
"This is not a Muslim issue as is being made out. It will affect the SCs/STs and all the marginalised equally,'' he said, urging the political class to bury their differences and lead the fight against the citizenship law in Uttar Pradesh as the movement has been nipped in the bud by the reign of terror.
Darapuri, a retired IPS officer and a cancer survivor, narrated how he was denied food and legal assistance in violation of all rules. He said that if this was done to him, a former inspector-general, then the plight of others arrested in the state would be much worse.
CPM general secretary Sitaram Yechury had introduced the four at a media conference on Wednesday and asserted that protecting the Constitution is the highest form of patriotism.
CPI general secretary D. Raja accused Prime Minister Narendra Modi and home minister Amit Shah of lying repeatedly to the nation.
Former NDA convener Sharad Yadav said the treatment meted out to those picked up for protesting against the citizenship law in Uttar Pradesh was worse than what was done to political prisoners, including him, during the Emergency. Yadav was jailed at the time with Jaiprakash Narain.
The RJD's Manoj Jha said the experience of the four activists was proof that people are being targeted because of their names, with the police probably taking a cue from what Prime Minister Narendra Modi signalled when he said "recognise the protesters by their clothes".
CPM politburo member Brinda Karat questioned the silence of institutions in the face of such attacks on the constitutional rights of people. "Will the courts give any relief? Where is the NHRC? Why is there no suo motu notice of what is happening? Why is the Supreme Court quiet today?'' she asked.