US will support India's rise and regional leadership: Joe Biden
This is part of the administration's strategic vision for the region that the United States believes will shape the trajectory of the 21st century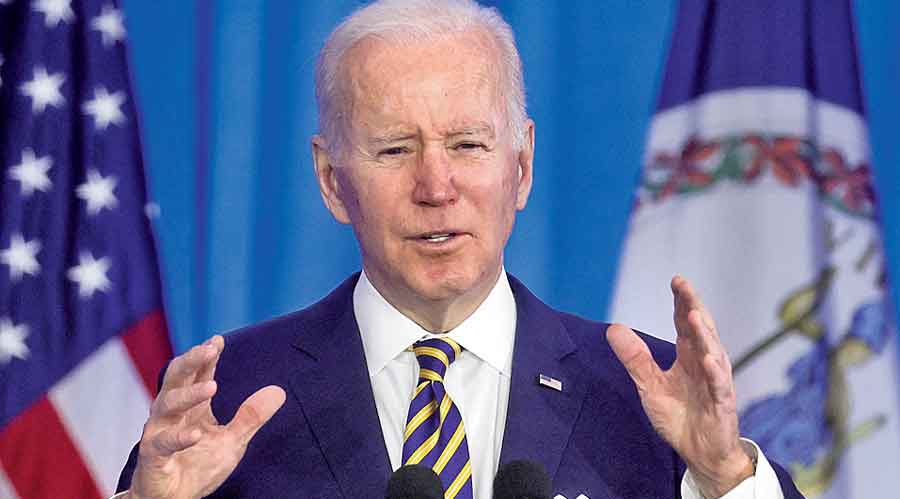 ---
New Delhi
|
Published 13.02.22, 01:15 AM
|
---
The US will support India's "continued rise and regional leadership" as part of its Indo-Pacific strategy to firmly anchor Washington in the region facing China's "harmful behaviour", the Joe Biden administration announced on Friday.
This is part of the administration's strategic vision for the region that the US believes will shape the trajectory of the 21st century.
Of the view that the prosperity of everyday Americans is linked to the region, the Indo-Pacific Strategy of the United States document says that "American interests can only be advanced if we firmly anchor the United States in the Indo-Pacific and strengthen the region itself, alongside our closest allies and partners".
The document added that the intensifying focus was due in part to the challenges posed by China.
"The PRC (People's Republic of China) is combining its economic, diplomatic, military, and technological might as it pursues a sphere of influence in the Indo-Pacific and seeks to become the world's most influential power. The PRC's coercion and aggression spans the globe, but it is most acute in the Indo-Pacific.
"From the economic coercion of Australia to the conflict along the Line of Actual Control with India to the growing pressure on Taiwan and bullying of neighbours in the East and South China Seas, our allies and partners in the region bear much of the cost of the PRC's harmful behaviour," the strategy document says.
Elaborating on how the US plans to support India's continued rise and regional leadership, the document states: "We will continue to build a strategic partnership in which the United States and India work together and through regional groupings to promote stability in South Asia; collaborate in new domains, such as health, space, and cyber space; deepen our economic and technology cooperation; and contribute to a free and open Indo-Pacific.
"We recognise that India is a like-minded partner and leader in South Asia and the Indian Ocean, active in and connected to Southeast Asia, a driving force of the Quad and other regional fora, and an engine for regional growth and development."
The Quad is an axis formed by India, the US, Australia and Japan.
Briefing journalists on the new strategic document, a senior US administration official acknowledged India's role in the Quad and maintained that it was in a "very different place" compared to the other members. The official had been asked specifically about the possibility of an AUKUS-like defence pact with India. AUKUS is a trilateral security agreement between Australia, the UK and the US.
"India is in a very different place, in many ways, than Australia, than other countries. But India faces very significant challenges. And I think that, you know, China's behaviour in the Line of Actual Control has had a galvanising impact on India," the official said.
Underscoring the importance of the partnership with India, which has bipartisan support in the US Congress, the official said: "We see tremendous opportunities in working with another democracy, with a country that has a maritime tradition that understands the importance of the global commons to advance critical issues in the region."