US secretary of defence Lloyd Austin mentions human rights at India talks
Jaishankar is said to have emphasised that a strong relationship between the two democracies was not only important for both countries but for the rest of the world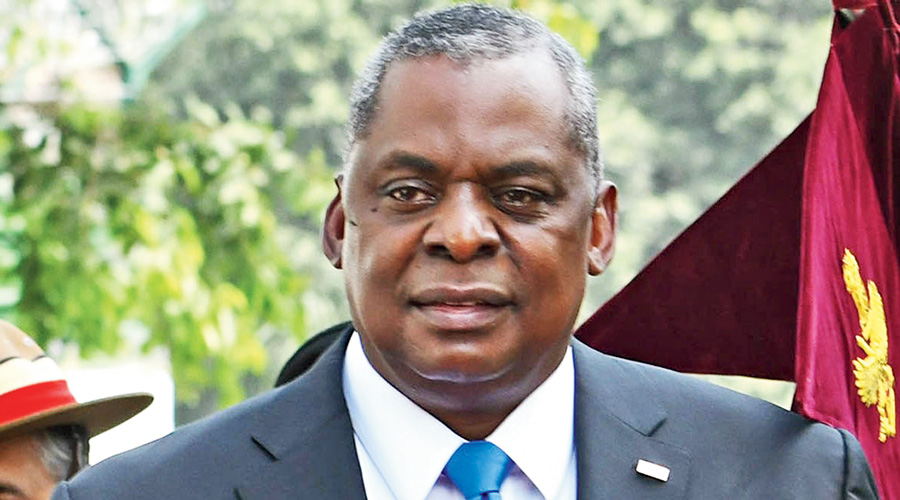 Lloyd Austin in New Delhi on Saturday.
Prem Singh
---
New Delhi
|
Published 21.03.21, 02:22 AM
|
---
US secretary of defence Lloyd Austin on Saturday said he had discussed violations of human rights in India during his meetings with ministers here, adding that partners ought to be able to have such conversations.
There was no official word from India on the matter but sources said the subject of democracy and human rights did come up during Austin's meeting with external affairs minister S. Jaishankar.
Responding to the question whether he had raised the issue with Prime Minister Narendra Modi, Austin told a group of journalists that he had not but he had done so with other members of the cabinet.
"We have to remember that India is our partner, a partner whose partnership we value. And I think partners need to be able to have those kinds of discussions. And certainly, we feel comfortable in doing that. And you can have those discussions in a very meaningful way and still make progress," Austin said in response.
According to sources on the Indian side, the secretary had said that "as the two largest democracies in the world, human rights and values are important to us and we will lead with these values".
Jaishankar is said to have agreed and emphasised that a strong relationship between the two democracies was not only important for both countries but for the rest of the world.
Whether specifics were discussed is not clear. Bob Menendez, who heads the US Senate Committee on Foreign Relations, had asked Austin to specifically raise democracy and human rights concerns in his discussions with the Indian government.
In a letter to Austin, the senator – who represents New Jersey which has a sizeable Indian diaspora – said: "I would like to see the US-India partnership grow, but we must acknowledge that the partnership is strongest when based on shared democratic values and the Indian government has been trending away from those values."
Referring to the Freedom House report that recently downgraded India from "free" to "partly free", Menendez said: "The Indian government's ongoing crackdown on farmers peacefully protesting new farming laws and corresponding intimidation of journalists and government critics only underscores the deteriorating situation of democracy in India."
The other issues he had flagged in the letter include the "rising anti-Muslim sentiment and related government actions like the Citizenship Amendment Act", the suppression of political dialogue and arrest of political opponents following the abrogation of Article 370 in Kashmir, and the use of sedition laws to persecute political opponents.
Asked if the issues flagged by Menendez were raised by him during his discussions on human rights and democracy with Indian ministers, Austin replied: "You've heard President (Joe) Biden say that human rights and rule of law are important to the United States of America. We always lead with our values. As a democracy, that's pretty important to us. India is a democratic country and you treasure your values as well. There are a number of things that we can and will work on together."
Austin is the first senior member of the Biden administration to visit India since the inauguration two months ago. However, there have been several high-level virtual meetings between the two governments, including the Quad summit last week.