US prod to tag India 'country of particular concern' for religious freedom violations
This iteration has been timed in anticipation of the state department's announcement of the CPC and Special Watch List designations in about a month's time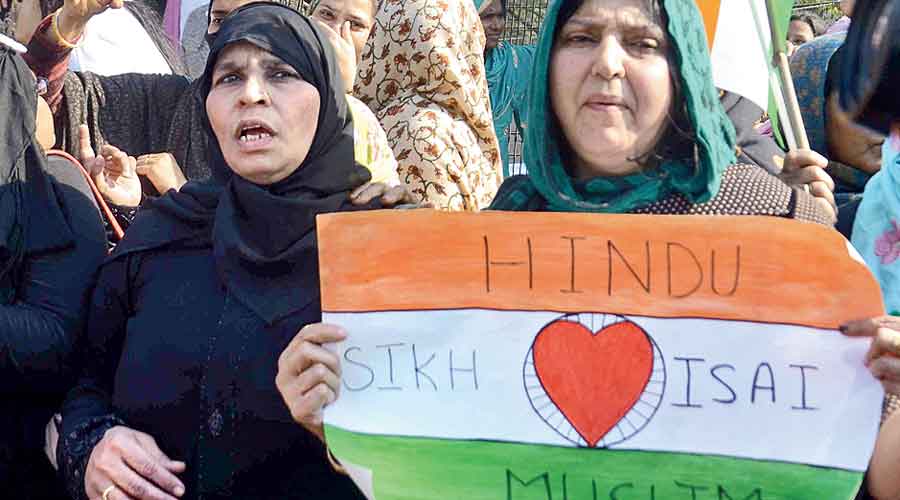 A protest against the CAA at Shaheen Bagh in New Delhi in February 2020.
File picture
---
New Delhi
|
Published 08.11.21, 12:51 AM
|
---
The United States Commission on International Religious Freedom on Friday pushed for the state department to designate India alongside Russia, Syria and Vietnam as a "country of particular concern" for religious freedom violations.
This iteration of the USCIRF recommendation, made on the basis of its 2020 assessment, has been timed in anticipation of the state department's announcement of the CPC and Special Watch List (SWL) designations in about a month's time.
The USCIRF released a factsheet discussing the types of violations specified under the International Religious Freedom Act that, if perpetrated or tolerated by a foreign government, should cause the state department to designate the country as a CPC or place it on the SWL.
India had been recommended for CPC designation in 2020 but the state department did not concur.
According to the state department website, "In those cases where the secretary of state designates a CPC, Congress is notified, and where non-economic policy options designed to bring about cessation of the particularly severe violations of religious freedom have reasonably been exhausted, an economic measure generally must be imposed."
The USCIRF factsheet on India says that in 2020 and early 2021, the Indian government continued to implement policies that impacted the religious freedom of members of India's Muslim, Christian, Sikh, Dalit and Adivasi communities.
It mentions the "discriminatory" Citizenship (Amendment) Act, the anti-conversion laws, intermarriage restrictions and anti-cow slaughter laws in various states, saying these have contributed to a "climate of hate, intolerance and fear"; the use of social media to spread hate; and the use of laws like the UAPA to "silence or restrict individuals and NGOs from reporting on and combating religious persecution, and to restrict support for religious organisations and activities".
Many of these issues were flagged in the state department's own report on "international religious freedom" last year. But it did not designate India a CPC given the other aspects of the bilateral relationship, particularly geo-strategic considerations and the role Washington envisages for New Delhi in its China-centric policy.
New Delhi usually dismisses USCIRF recommendations and criticism, questioning its locus standi to comment on India's internal matters.
Successive governments, including that of former Prime Minister Manmohan Singh, have denied visas to the USCIRF to visit India. The USCIRF is an independent, bipartisan federal government entity established by the US Congress to monitor, analyse and report on religious freedom abroad.