US President Donald Trump skirts Kashmir and citizenship issues, plays safe
At one point, he even denied that he had ever offered to mediate on Kashmir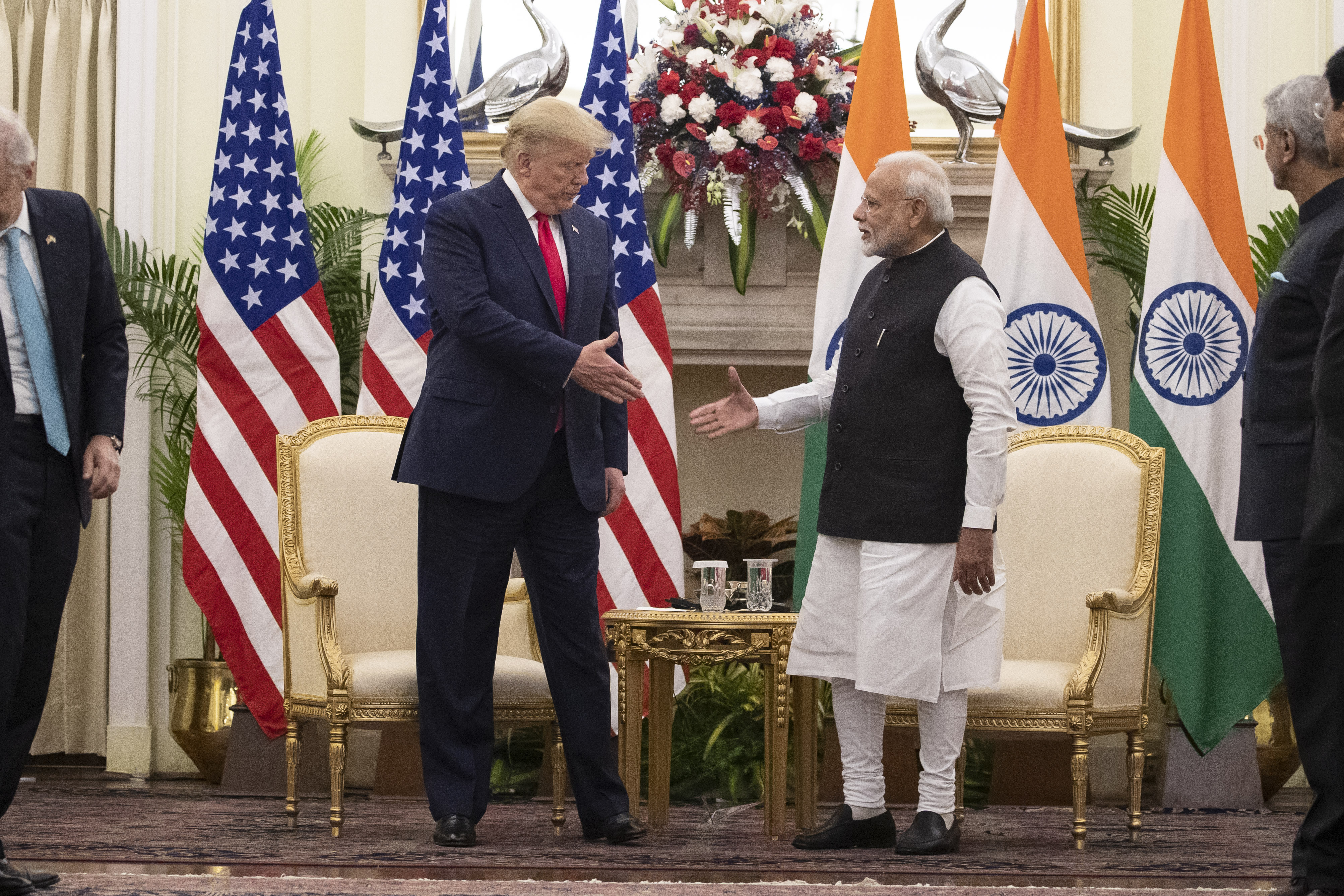 Donald Trump and Narendra Modi shake hands before their meeting at Hyderabad House on Tuesday. In July, Trump had said Modi had asked him to mediate on Kashmir.
(AP photo)
---
New Delhi
|
Published 25.02.20, 09:07 PM
|
---
President Donald Trump on Tuesday skirted the Citizenship Amendment Act and Kashmir while basking in the "incredible" public welcome his "good friend" Prime Minister Narendra Modi had organised for him and the promise of the billions and billions in investments in the US by Indian businessmen.
At one point, Trump even denied outright that he had ever offered to mediate on Kashmir — something he has said more than once over the past eight months — while also saying that "anything I can do to mediate, I would do".
In July, Trump had said Modi had asked him to mediate on Kashmir.
On Tuesday evening, reminded of his offers to mediate, the US President said: "I didn't say anything about that… I said there is a big problem between India and Pakistan and they are working out that problem."
Asked if he had discussed the citizenship act with the Prime Minister, Trump said: "I don't want to discuss that, I want to leave that to India and hopefully they are gonna make the right decision for the people. That's really up to India."
Quizzed further on whether hate crimes were discussed, he said: "We did discus that and specifically Muslims and also discussed Christians. I had a very powerful answer from the Prime Minister. We talked about religious liberty for a long period of time in front of a lot of people."
The news conference was unscheduled and had been decided in the dead of night with the communication for registration being sent out at 4am.
Trump also announced his decision to have a news conference at the end of his statement to the media after his bilateral engagement with the Prime Minister at Hyderabad House.
As has been the case ever since Prime Minister Modi has taken office, the tradition of the incumbent and the visiting dignitary taking a couple of questions from the media of the two countries was dispensed with at Hyderabad House.
While Trump fielded questions for close to an hour at a separate news conference in his hotel, foreign secretary Harsh Vardhan Shringla did the Indian briefing.
Trump fielded every question — most of them related to American politics — but stuck to his initial resolve to avoid making a controversial remark for fear of one little answer being blown out of proportion "and that will be the end of the trip, no one will even talk about it".
Asked if Trump had raised the CAA or the National Register of Citizens, Shringla said they did not come up but added that the subject of religious freedom did feature and both countries spoke about the importance they attached to pluralism and religious diversity.
The President, Shringla pointed out, had also spoken on the subject in his speech in Ahmedabad on Monday. The joint statement also reflects this. In fact, it opens with a recognition of the "importance of freedom, equal treatment of all citizens, human rights and a commitment to the rule of law".
In his media statement after the bilateral, Trump said the two leaders had affirmed their commitment to protecting citizens from "radical Islamic terrorism" and added that the US was working with Pakistan also to confront terrorists operating from its soil.
The two leaders decided to take the bilateral relationship to the level of a Comprehensive Global Strategic Partnership and revitalise the Quad Initiative between the US, India, Japan and Australia for an open Indo-Pacific, widely seen as a Washington-driven effort to contain China's growing footprints in the region.
The fairly China-centric initiative — albeit without naming the country — acknowledges strategic convergence in the Indo-Pacific region and also recognises the need to ensure "responsible, transparent, and sustainable financing practices for borrowers and creditors" to contain the build-up of sovereign debt in developing and low-income countries.
This is an attempt to provide an alternative to China's deep pockets that entice countries to take loans they cannot pay back, helping Beijing consolidate its expanding footprint.