US 'can of worms' erupts on Adanis
Hindenburg Research accuses Gautam Adani of 'brazen' stock price manipulation and cross-border financial and accounting shenanigans involving entities established in offshore tax havens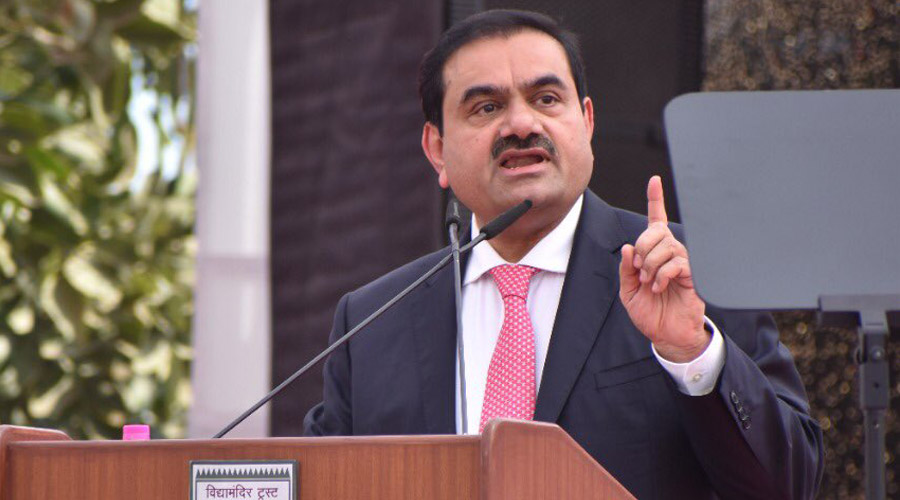 ---
Mumbai
|
Published 26.01.23, 03:47 AM
|
---
The  Adani  group, which has a collective market capitalisation of $218 billion, has been sucked into fresh controversy after a US-based short seller named Hindenburg Research put out a report accusing Gautam Adani, India's richest tycoon, his brothers and associates of "brazen" stock price manipulation and cross-border financial and accounting shenanigans involving entities established in offshore tax havens.
The report sent shock waves through the stock markets, driving the bellwether indices down as investors were spooked by the report's claim that the seven listed Adani entities "have an 85 per cent downside purely on a fundamental basis owing to sky-high valuations".
Short sellers usually sell shares that they do not actually possess in the belief that the stock will plunge from its current levels. They square up their trade when the stock falls, making a tidy profit on the difference between the price at which the deal is struck and the settlement price.
The Adani group rejected the litany of charges in the Hindenburg report and accused it of trying to scupper an upcoming capital issue of Adani Enterprises.
We are shocked that Hindenburg Research published a report on January 24...without making any attempt to contact us or verify the factual matrix," the Adani group chief financial officer Jugeshinder Singh said in a statement.
Hindenburg Research said it had carried out a two-year investigation that had uncovered serious irregularities in related party transactions between the group's listed and private entities, and stock price manipulation involving a notorious stockbroker who has been barred from Indian bourses.
"Evidence of stock market manipulation should not come as a surprise. (Market watchdog) SEBI has investigated and prosecuted more than 70 entities and individuals over the years, including  Adani  promoters, for pumping Adani Enterprises' stock," Hindenburg said.
The report also raised several red flags over corporate governance, drawing attention to the fact that Adani Enterprises — the group's flagship — has had five chief financial officers (CFOs) over the past eight years which, it claimed, pointed to "potential accounting issues".
It claimed that the independent auditor of Adani Enterprises and Adani Total Gas was a tiny firm called Shah Dhandharia that had just four partners and 11 employees. It raised questions about the ability of the firm to handle complex audit work considering that Adani Enterprises alone had 156 subsidiaries and many more joint ventures and affiliates.
The report could not have come at a worse time for the Adani group. On Friday, Adani Enterprises comes out with its follow-on public offer of shares through which it aims to raise Rs 20,000 crore. The subscription window will close on January 31.
Gautam Adani has already indicated that he is looking to widen the company's shareholder pool by targeting retail investors through the FPO.
Singh, the Adani group chief financial officer, said in the statement on Wednesday that  the Hindenburg report was a "malicious combination of selective misinformation and stale, baseless and discredited allegations that have been tested and rejected by India's highest courts".
"Our informed and knowledgeable investors are not influenced by one-sided, motivated unsubstantiated reports with vested interests," the Adani  group statement added.
"The Adani group… is a diverse portfolio of market-leading businesses managed by CEOs of the highest professional calibre and overseen by experts in various fields for several decades," the conglomerate said, adding that it had always been in compliance with all laws, regardless of jurisdiction, and maintained the highest standards of corporate governance.
Hindenburg Research claims to hold short positions in Adani companies through US-based bonds and non-Indian traded derivative instruments.
Reports suggest that Hindenburg had earned a reputation for shorting electric truck maker Nikola Corp and Twitter in the US.
Hindenburg said its research showed that Vinod Adani, who is the elder brother of Gautam Adani, has managed a vast labyrinth of offshore shell entities through several close associates.
It claimed to have identified 38 Mauritius shell entities controlled by Vinod Adani or close associates, apart from entities that are also "surreptitiously" controlled by Vinod Adani in Cyprus, the UAE, Singapore, and several Caribbean Islands.
Hindenburg said many of the Vinod  Adani-associated entities have no obvious signs of operations, including no reported employees, no independent addresses or phone numbers and no meaningful online presence. Despite this, they have collectively moved billions of dollars into listed Adani companies and private firms, often without required disclosure of the related party deals.
It alleged that the shell firms seem to serve several functions, including stock parking or stock manipulation, and laundering money through Adani's private companies onto the listed companies' balance sheets in order to maintain the appearance of financial health and solvency.
The report raised concerns about the gross debt level in the Adani group which is estimated at Rs 2.2 lakh crore. The report said that key listed firms have taken on substantial debt including pledging shares of their "inflated stock" for loans, putting the entire group on a "precarious financial footing".
This is the second time in five months that an overseas entity has put out a report critical of the Adani group which has been expanding its fief at a rapid pace and has turned Gautam Adani into one of the world's top five billionaires.
Last September, Credit Sights, an arm of credit rating agency Fitch, said in a detailed report that the group was deeply overleveraged and could tumble into a debt trap with a possibility of a default. However, it later corrected core profit and debt numbers for two group firms after saying it had made some "calculation errors".