Civic worker sacked for carrying photos of PM, Yogi in garbage cart
Both BJP mayor of Mathura and additional municipal commissioner accept that 45-year-old Bobby acted inadvertently and meant no harm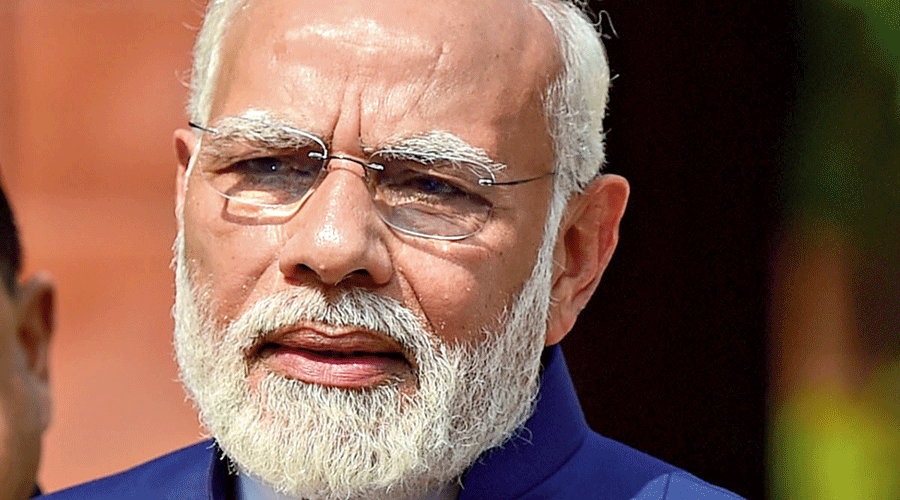 Narendra Modi in Delhi on Monday.
PTI picture
---
Lucknow
|
Published 19.07.22, 02:56 AM
|
---
If a picture can say a thousand words, two can bridge three thousand miles. The distance between Mathura and Pyongyang.
Two years ago, a North Korean mother found herself facing jail after saving her young children from a house fire but failing to rescue portraits of Kim Il-sung and Kim Jong-il, the country's former leaders and the grandfather and father of current leader Kim Jong-un.
On Saturday, the BJP-governed civic body of Mathura suspended a sweeper for not noticing that the roadside garbage he had collected included pictures of Prime Minister Narendra Modi and chief minister Yogi Adityanath, and loading them onto his pushcart for disposal at the dumping ground.
Both the BJP mayor of Mathura, Mukesh Arya Bandhu, and additional municipal commissioner Satyendra Tiwari accepted that sweeper Bobby, 45, had acted inadvertently and meant no harm. But both justified his suspension for "negligence".
Bobby had found the large, framed pictures — about 18inx12in — in a roadside dump near the Subhas Inter College where residents of five colonies leave their garbage. The mayor said these were "posh" colonies and that a probe was on to find out which household had dumped the pictures.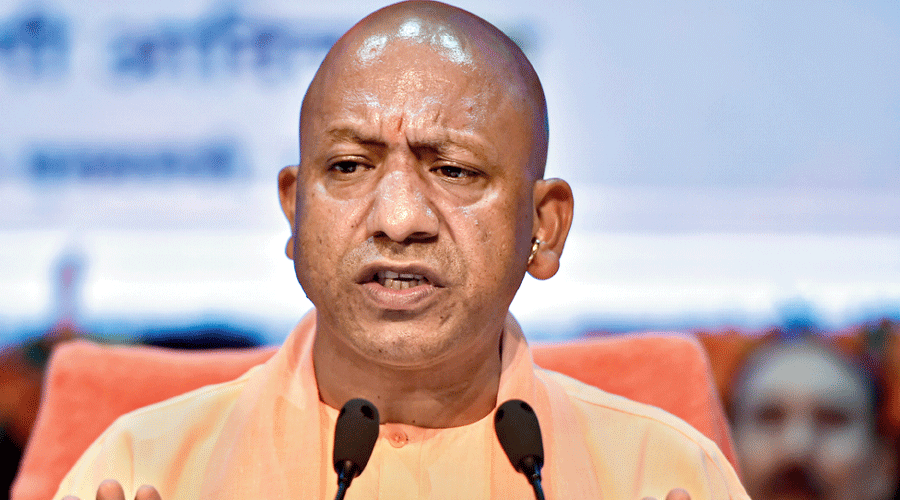 However, a municipal employee who would not be quoted told the media he had seen these pictures hanging on a wall at the local municipal office, located about 200 metres from the garbage dump. Civic officials denied the claim.
Bobby, a contractual sweeper with the Mathura-Vrindavan Nagar Nigam, had collected the garbage and set off for the dumping ground outside the city when a car pulled up near his cart.
The three occupants, who identified themselves as residents of Alwar in Rajasthan, asked him to stop, saying they could see some pictures peeping out of the garbage and wanted a closer look.
"I was busy doing my job. There was mud on the garbage after the rain and I didn't see what I was picking up," Bobby told reporters in Mathura on Monday.
When the car occupants accosted him, "I picked up the two framed pictures. They washed them with water (from a roadside tap) and left with the pictures."
A video of the incident was later circulated on social media, and action against Bobby followed within hours.
"I was called to the Nagar Nigam office and told I had been suspended. I have three daughters and two sons; we'll die of hunger if I don't get my job back," Bobby said.
Additional municipal commissioner Tiwari told reporters: "We have spoken to Bobby. He had put those pictures in his cart by mistake. He realised the mistake when people pointed this out to him. However, we have suspended him for negligence."
The mayor said: "The place where Bobby picked up the pictures with the garbage is a posh area, and educated people live there. I want to ask them what made them throw away pictures of Modiji and Yogiji into the garbage dump."
He added: "Bobby is uneducated and we can't expect him to understand such things. Still, he has been suspended. We have ordered a probe to find out who had thrown away those pictures and who made the video."
Several Facebook users condemned the action against Bobby.
"Striking fear with victimising this poor contractual worker who was just doing his job this is such a sad time…" wrote Risav Gurung.
Ahmed Muddassir commented: "This proves BJP is not for poor or for Hindus, they just want power…."
Five weeks before images of Modi and Adityanath found themselves abandoned on a roadside, they were flying in the skies of Mathura.
People in the district fly kites on the occasion of Ganga Dashahra, which fell on June 9 and 10 this year.
Ashfaq Ali, a kite manufacturer, had at the time spoken of a huge demand for kites with pictures of the Prime Minister and the chief minister.
After the festival, the kites are usually thrown away.