UP farmer leadership to send daily batches of protesters to Delhi
100 farmers from one or other area to leave for the national capital borders in their tractors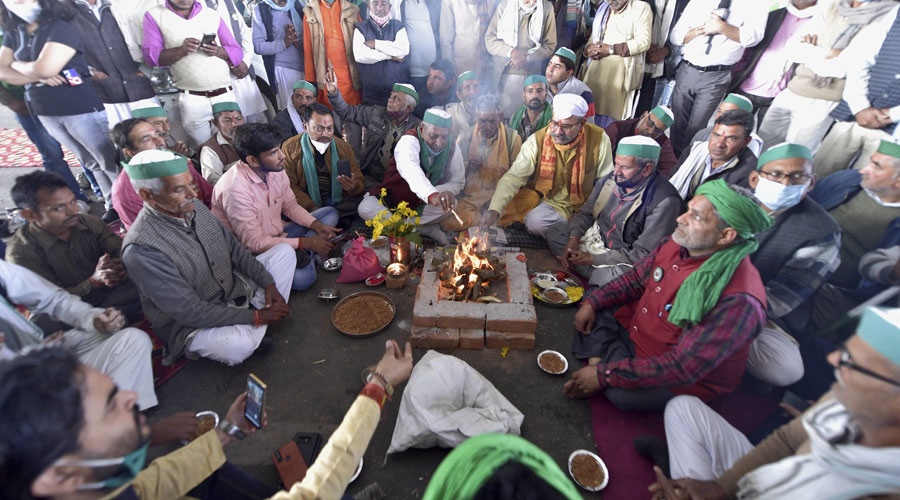 Farmers perform a havan during their ongoing agitation against new farm laws, at Ghazipur Delhi-UP border, in New Delhi on Wednesday, Dec. 2 2020.
PTI
---
Lucknow
|
Published 03.12.20, 02:22 AM
|
---
The leaders of the agitating farmers plan to send fresh batches of protesters to Delhi's borders every day to keep up the momentum, signalling their readiness for the long haul.
Wednesday's announcement by the Bharatiya Kisan Union, one of the organisers of the agitation against the three new farm laws, will disappoint those hoping the protest would fizzle out as the biting north Indian winter sets in.
"We have planned the protest in a way that will allow us to continue it for months and years. Every day, 100 farmers from one or other area of Uttar Pradesh will leave for Delhi's borders in tractors," state BKU vice-president Dinesh Pradhan told reporters.
"They will carry foodgrain, vegetables, milk, stoves, blankets with them. We have realised it's a long battle."
Pradhan said these farmers, and those already massed at Delhi's borders, could return home after sometime if they wanted — the newest batches of arriving farmers would keep the protest going.
Earlier on Wednesday, Pradhan had held a "panchayat" (meeting) of farmers at Amheda village in Amroha district, western Uttar Pradesh. He selected 100 farmers from the area to leave in the evening for the Chilla border between Noida and Delhi, about 150km away.
"Every day, we are holding meetings in some or other village to mobilise protesters. Our farmers are agitated and want to join the protests at Delhi's borders immediately," Pradhan told reporters.
He said the state BKU had held 200 such meetings over the past 10 days in the western Uttar Pradesh districts of Bijnore, Muzaffarnagar, Baghpat, Meerut, Moradabad, Agra and Mathura.
"We are also inviting to our panchayats protesters who have been protesting at Delhi's borders for the past two weeks, so that they can inspire our farmers," Pradhan said.
Dungar Singh, a farmer leader who had been camping at the Chilla border, attended the Amheda panchayat on Wednesday before heading back towards Delhi.
"We are prepared to attend every meeting called by the government and listen to them. But we shall keep telling the government that we will not settle for anything less than withdrawal of the new farm laws," Dungar said.
"We farmers must not listen to the rumours portraying us as divided and the protesters as non-farmers. Such conspiracies against us are nothing new."
Harprit Singh, a farmer from Hardoi district of central Uttar Pradesh who had been protesting at the UP Gate border in Noida, too attended the Amheda meeting.
"Most of the farmers from our (Hardoi's) villages, including the women, are gradually heading towards the Delhi border," he said.
"Many of us are taking our cows and buffaloes along to the protest sites in our tractors, because there would be nobody left in the villages to feed our cattle."
Harprit added: "We have formed 60 teams of farmers in Hardoi and adjoining areas. Each team has 80 farmers. These teams will keep heading to the Delhi border for the next 60 days."
He went on: "By that time, fresh teams will be formed in those villages in Hardoi, Lakhimpur, Shahjahanpur and Bareilly where our leaders will hold meetings."
Farmers from several states are camping at the Chilla, Sindhu, Tikari, UP Gate and Ghazipur borders between Uttar Pradesh and Delhi.