UP cop axed for dare to government
The government suspends police constable for supporting colleague who killed an Apple executive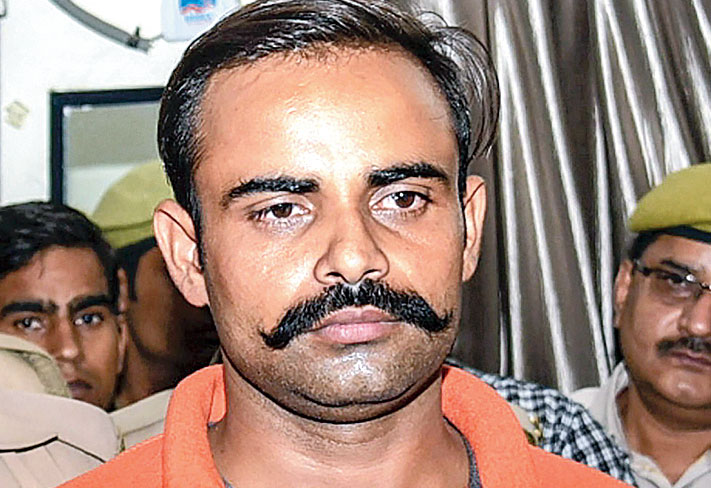 Prashant Chaudhary, for whom constable Sarvesh Chaudhary is campaigning
Agencies
---
Lucknow
|
Published 05.10.18, 10:45 PM
|
---
The Yogi Adityanath government in Uttar Pradesh has suspended a police constable for daring it to act against him for supporting a colleague who shot dead Apple executive Vivek Tiwari last week.
Campaigning in support of Prashant Chaudhary, who killed Vivek, and seeking funds to defend his case in court, Sarvesh Chaudhary had posted on Facebook three days ago: "Suspend me. I have given money to the constable (Prashant). You (the government) will keep destroying the families of constables. How long? We don't want to hear from the fixer media, thief politicians and corrupt officers that we are a force of thieves, killers, goons."
Sarvesh had been posted in the 25th battalion of the Provincial Arms Constabulary (PAC) in Rae Bareli where he had been assigned the task of teaching yoga to personnel under a government scheme.
After Sarvesh, who hails from Mathura, was suspended on Friday, a colleague quoted him as saying at a meeting of PAC jawans that "the government should withdraw policemen from the security detail of VIPs if it believes that they are killers".
Another constable, Brijendra Singh Yadav, who was suspended two months ago for dereliction of duty, was detained by Varanasi police on Friday for organising a meting of cops at the local police line against the arrest of Prashant and his colleague Sandeep Kumar Rana.
Brijendra had urged constables to organise a hunger strike on October 11. He was freed after three hours.
Three more constables — Jitendra Kumar Verma, Sumit Kumar and Gaurav Chaudhary — posted in Lucknow were suspended on Friday for protesting against the government by wearing black ribbons on duty. Constables across the state have, however, pledged to continue wearing black ribbons for five more days.
A large number of constables have been protesting the arrest of Prashant and Sandeep. They believe the claim of the two constables that Vivek had tried to knock Prashant down with his SUV when he caught the Apple executive in a "compromising position" with a woman and that Prashant had fired in self-defence.
Many constables have questioned on social media the state government's decision to arrest and suspend Prashant and Sandeep.
K.L. Gupta, a former Uttar Pradesh police chief, said: "It (the protests) is a dangerous sign and the government should suppress it immediately. It shows that the recruitment process of constables is wrong."
"They shouldn't be highly educated or above the age of 30 at the time of joining the force. There should also be an honest process of recruitment," Gupta said, alluding to the fact that the recruits should not be more educationally qualified than the requirements of duty and that they should join the force at a young age when they are willing to learn.
Vikram Singh, another former DGP, said: "The officers should try to convince the constables to wait for the court's decision. There is also a provision to arrest and suspend them if they continue protesting."
O.P. Singh, the current DGP, had said on Thursday that action would be taken against those who were trying to create unrest in the department through social media posts and meetings.
The Lucknow bench of Allahabad High Court on Friday rejected a plea for a CBI probe into Vivek's murder. Lucknow resident Shansher Yadav Jagrana had filed a PIL.
While rejecting it, the bench of Chief Justice D.B. Bhosale and Justice Vivek Chaudhary said Kalpana Tiwari, Vivek's wife, was a teacher and she was educated enough to decide what she needed. Kalana has said she is happy with the progress of the inquiry being conducted by the police's special investigation team.