Work shifts, fines for not wearing mask mooted
Unveiled: Covid curbs till year-end
According to the guidelines, states and UTs have been asked to strictly enforce containment measures, standard operating procedures on various activities, exercise caution and regulate crowds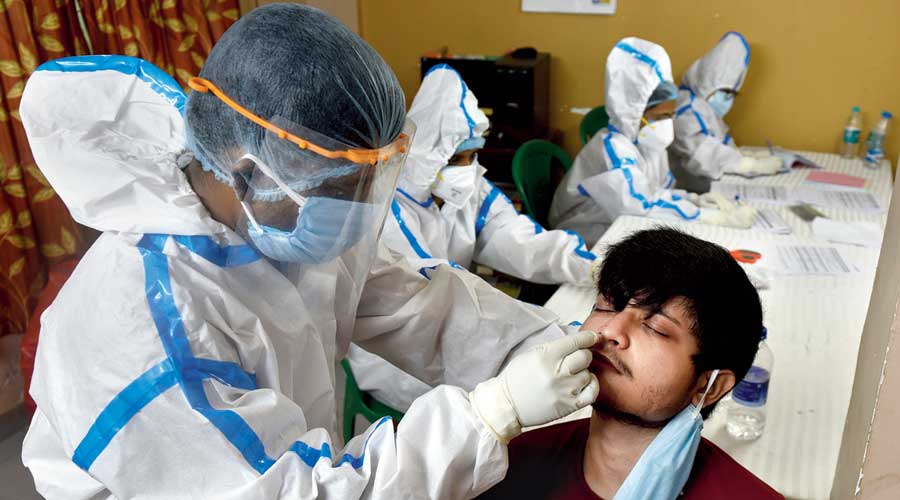 ---
---
The Union home ministry on Wednesday issued a fresh set of guidelines for surveillance, containment and caution against Covid-19 that will be effective from December 1 and will remain in place till year-end.
According to the guidelines, states and Union Territories have been asked to strictly enforce containment measures, standard operating procedures on various activities, exercise caution and regulate crowds.
The Centre has allowed the states and Union Territories to impose local restrictions, including night curfews, to prevent the spread of the coronavirus. They, however, cannot impose any lockdown, outside the containment zones, without prior consultation with the Centre.
The government has also told the states to ensure physical distancing in offices/workplaces and advised staggered timings.
"In cities where the weekly case positivity rate is more than 10 per cent, the states and UTs concerned shall consider implementing staggered office timings and other suitable measures, with a view to reduce the number of employees attending office at the same time, thereby ensuring social distancing," the advisory issued by the Union home ministry said.
Some of the guidelines:
The ministry has asked the states and Union Territories to ensure demarcation of containment zones by the district authorities at the micro level.
Covid-19 rules and containment measures prescribed by the health ministry need to be followed strictly while demarcating containment zones. There shall be strict perimeter control to ensure that there is no movement of people in or out of these zones, except for medical emergencies and for maintaining supply of essential goods and services.
Teams will conduct intensive house-to-house surveillance, and quick isolation of Covid-19 patients shall be ensured at home, wherever possible, and at treatment facilities.
Contacts of all corona-positive persons will have to be listed through tracking and identification. The contacts will have to be quarantined and followed up on for 14 days.
In order to enforce the core requirement of wearing masks, states and Union Territories may consider administrative actions, including imposition of appropriate fines on persons not wearing face shields in public and at workplaces.
For observance of physical distancing in crowded places, especially in markets, weekly bazaars and public transport, the ministry of health will issue a standard operating procedure and strictly enforce it.