UGC urges universities to allow 40 per cent course online
University Grants Commission has published a list of 'Massive Open Online Courses' that are being offered on Swayam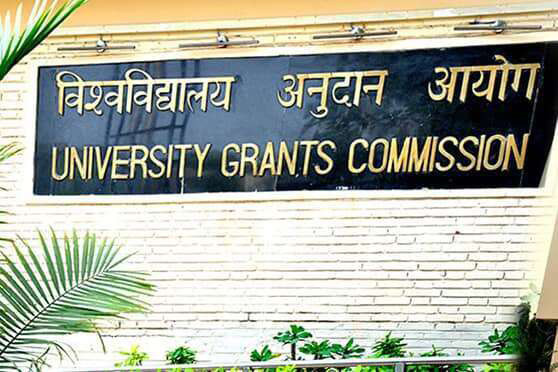 The UGC had also requested the adoption of blended learning in the remaining 50 per cent of the course that a student pursues from his or her parent university.
File photo
---
New Delhi
|
Published 29.06.22, 01:20 AM
|
---
The University Grants Commission (UGC) on Tuesday urged all universities and colleges to adopt a policy that would allow students in the general streams to pursue up to 40 per cent of any course online, trying to mainstream the pandemic-induced virtual mode of education despite concerns over quality and access.
UGC secretary Rajnish Jain wrote to the vice-chancellors of all universities and the principals of all colleges to adopt the Credit Framework for Online Learning Courses through Study Webs of Active Learning for Young Aspiring Minds (Swayam) Regulations, 2021, which had been introduced to address the inconvenience of conducting in-person classes amid the Covid outbreak.
The Swayam portal has video lectures by professors from across the country and also the option of students seeking clarifications. A student in a general stream can cover up to 40 per cent of his or her course on Swayam.
The UGC has published a list of "Massive Open Online Courses (MOOCs)" that are being offered on Swayam.
The higher education regulator had also earlier proposed that universities and colleges allow students to pursue up to 50 per cent of a course either online or offline from another university and transfer the scores accrued in the academic bank of credit to his or her parent university. This 50 per cent is inclusive of the part of the course that a student chooses to pursue on Swayam.
The UGC had also requested the adoption of blended learning in the remaining 50 per cent of the course that a student pursues from his or her parent university. Of this remaining half of the course, up to 40 per cent can be offered online.
Taken together, this means up to 70 per cent of any general stream course can be taken up online.
"Several Universities have already accepted SWAYAM Courses for Credit Transfer, and remaining Universities are also requested to take similar measures and intimate the action taken," the letter from UGC secretary Jain says.
"As you are aware, SWAYAM Platform is set up with the objective to ensure that every student in our country has access to the best quality of higher education at an affordable cost," the letter adds.
Delhi University had already adopted the academic bank of credit (ABC) and would likely implement the Swayam and blended options soon.
Nandita Narain, a faculty member at St Stephen's College under DU, pointed to the shortcomings of online learning.
"Education is a human activity, not a digital activity. Dialogue in face-to-face mode with physical contact is essential for learning. Students learn through human bond with teachers and through their association with other students from diverse groups. Extra-curricular activities also help in gaining life skills and societal values. All these will be lost in online education," she said.
Narain said the UGC wanted to reduce teachers' strength by introducing an online system of education within the regular framework. The workload will fluctuate depending on the students' choice of online and offline courses. This will lead to an increase in contractualisation of teachers in higher education, she feared.
"Online/digitalised education is the pathway for appointment of Shikshaveers on short-term contracts of three months or six months. From our experience during the Covid period, we found that learning was severely jeopardised as the medium was not effective," Narain said, referring to the controversial Agnipath armed forces recruitment scheme under which soldiers, called Agniveers, would be hired for four years and then three-fourths of them demobbed after the completion of the term without pension.
Delhi University Teachers' Association president A.K. Bhagi said the UGC's regulations on Swayam and blended learning were neither implementable nor desirable.
"The MOOCs courses designed in any topic cannot be allowed for our students unless they match our syllabus. Secondly, this is not desirable. First-generation learners come to DU to study. Personal contact is very much needed for their learning. Online education would not help," Bhagi said.
He said DUTA would oppose any attempt by DU authorities to implement the Swayam and blended learning provisions.
Bhagi argued in favour of safeguards for DU students who might want to pursue a part of a course from another institution under the ABC regulations.
"I feel there should be rules for checks and balances. A student should be allowed to pursue a course from another institution provided it matches the DU syllabus," he said.
DU executive council member Sheema Das said online education was necessary when institutions were closed because of Covid. "But the UGC, at the behest of the central government, is mainstreaming it. The quality of education will be diluted, affecting the creation of human resource," Das said.
"Now the UGC wants the online classes to replace on-campus classes. This will ruin the quality of teaching as well as the workload of teachers. We have three-fourths of students coming from Scheduled Castes, Scheduled Tribes, backward classes, economically weaker sections and far-flung areas who are mostly on the wrong side of the digital divide. A large section of students will be deprived of quality higher education," Das said.