'Unarmed' training for Indo-Tibetan Border Police
The new combat technique was introduced early this year after taking into account the Galwan Valley hand-to-hand combat on June 15, 2020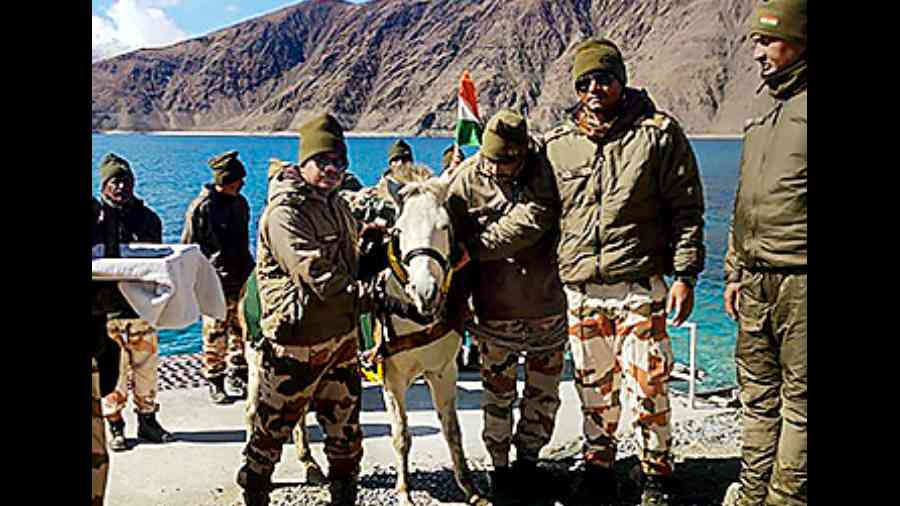 Pony Madhu of the ITBP's animal transport wing was last month awarded a special service medal for delivering rations, equipment and ammunition to forward posts along the LAC.
PTI
---
New Delhi
|
Published 17.11.22, 03:26 AM
|
---
The Indo-Tibetan Border Police (ITBP), which guards the China border, has trained over 15,000 personnel in a new unarmed "offensive" combat technique, including martial arts, to immobilise and incapacitate adversaries.
The new combat technique was introduced early this year after taking into account the Galwan Valley hand-to-hand combat on June 15, 2020, that killed 20 Indian soldiers and at least four Chinese troops.
The deadliest confrontation between India and China in over four decades took place when de-escalation was under way in the Galwan Valley on the Indian side of the Line of Actual Control. The Chinese troops had assaulted Indian troops with hand-made barbed wire clubs, stones, nail-studded sticks and iron rods.
"We have imparted training to over 15,000 personnel in the new unarmed offensive combat technique. The three month training programme includes 20 different fighting techniques such as judo, karate, punching, kicking, joint lock and pinning down," an ITBP official said.
The training, he said, is being imparted in Panchkula, Haryana.
"The paramilitary force has also introduced Krav Maga, an Israeli form of martial arts of self-defence, which is a combination of various martial arts forms, including boxing, judo and wrestling," another ITBP official said.
The new combat skills, he said, would render the adversary immobile.
"We witness frequent faceoffs due to the transgression attempts by Chinese troops along the LAC. The new unarmed offensive combat technique will help our troops in a violent situation similar to the Galwan Valley clash," the official said.
Under the agreement signed between India and China in 1996, neither side can use firearms against the other along the LAC.
The Galwan incident has plunged India-China relations to their lowest in decades. After the 16th round of talks, Indian and Chinese armies disengaged from Gogra in September this year by creating a "buffer zone" inside India-claimed lines.
Similar "buffer zones" have also been created within Indian territories at multiple transgression points — in the Galwan Valley, Pangong Lake and Hot Springs — where the Indian troops can no longer patrol.
The Chinese, who are estimated to have taken over close to 1,000sqkm of India-claimed territory in eastern Ladakh since May 2020, are yet to disengage from Depsang Plains. The ITBP, which guards the 3,488km China frontier, is the first line of defence on the LAC.