Ujjwala enrolment and refill show gap
Sluggish switch from polluting fuels: Study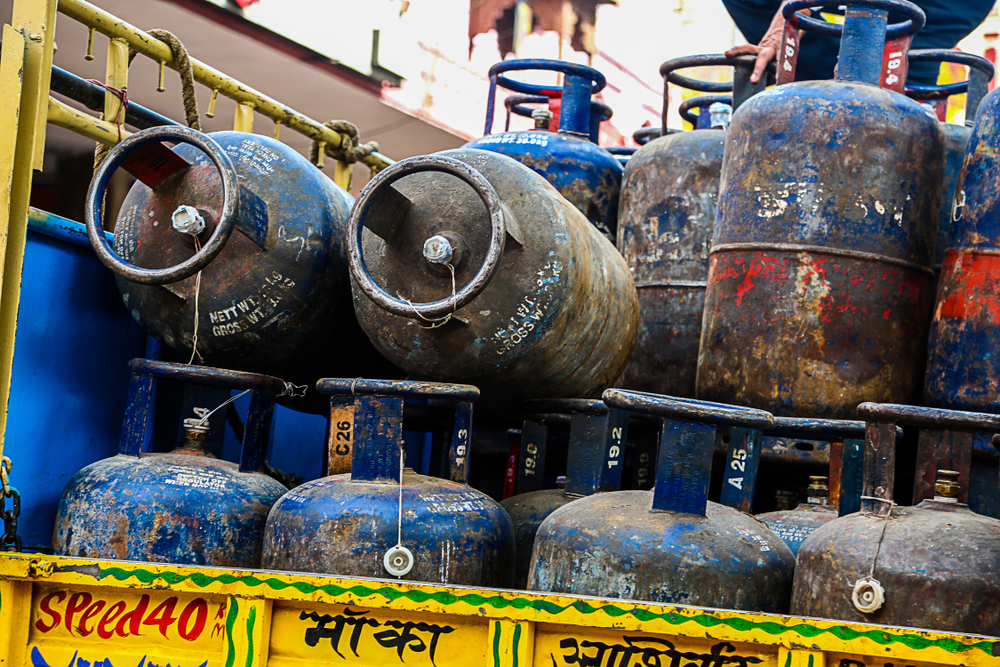 LPG access has not induced the expected shift away from polluting solid fuels, the researchers said
(Shutterstock)
---
New Delhi
|
Published 16.07.19, 10:08 PM
|
---
The rapid rise in liquefied petroleum gas consumers under the Pradhan Mantri Ujjwala Yojana has not been matched by an increase in LPG sales, researchers cautioned on Monday, saying LPG access has not induced the expected shift away from polluting solid fuels.
The monthly refill sales of LPG cylinders among PMUY beneficiaries are around 100 cylinders per 1,000 consumers compared to about 400 per 1,000 general consumers, a four-member team of climate and energy researchers said after tracking LPG sales in a Karnataka district.
The PMUY, launched by the Narendra Modi government in May 2016, is a nationwide clean fuel programme that provides a mix of financial incentives, subsidies and loans to cover capital costs of stoves and LPG cylinders. More than 70 million poor households have received LPG stoves in the first three years of the programme.
A major objective of the PMUY is to reduce households' exposure to soot from solid fuels — such as wood or other biomass — that raises the risk of respiratory diseases.
Although the new study examined LPG enrolment and sales only in Karnataka's Koppal district, this is possibly the first objective and peer-reviewed evaluation of the extent to which the PMUY has nudged households towards non-polluting fuels.
"The PMUY has spurred an unprecedented increase in LPG enrolment, but it hasn't translated as effectively into a full shift away from polluting fuels," Shonali Pachauri, a researcher at the International Institute for Applied Systems and Analysis, Austria, and a team member, told The Telegraph.
The researchers have cautioned that their comparisons of refill rates between the PMUY and general consumers, "although instructive, should not be generalised beyond the study area". However, they said their findings had implications for policy and possible course corrections wherever required.
They found that by December 2018, about 18 months after the launch of the PMUY in Koppal, a database of LPG sales transactions they used for the study had 15,000 PMUY consumers and about 12,500 general consumers.
The monthly growth rate of PMUY consumers during the 18-month period was about six-fold higher than the growth rate of general LPG consumers. But the study found significant differences in the rates of refills over a year.
About 35 per cent of PMUY consumers purchased no refills during the first year and only 7 per cent bought four or more cylinders, the researchers said, describing their study's findings in the journal Nature Energy.
"There is a distinct difference between the adoption of a new technology and its sustained use," Abhishek Kar, a researcher at the University of British Columbia, Canada, and the study's lead author, said in a media release from the university.
The consumption of LPG by PMUY beneficiaries is about half that of the average rural consumer — 2.3 compared to 4.7 LPG cylinders annually. This is about half of what a family would require. A typical rural family could be expected to need 10 cylinders per year.
Energy specialists say they are not surprised by the lower refills among PMUY households.
"Affordability is a major barrier to LPG refills among PMUY beneficiaries," said Abhishek Jain, a senior energy policy researcher with the Council on Energy Environment and Water (CEEW), a New Delhi-based non-government organisation, who had led a survey of 9,000 households in six states last year.
"A refill is possible if a household has about Rs 800 or 900, the market cost of the cylinder. They have to pay the full cost and get reimbursed through direct transfer later," Jain said. "But affordability is not the only issue. In some areas with easy biomass or fuel wood access, there may be some reluctance in spending on a refill when there's free biomass available."
Kar and his colleagues have called for "mid-course policy revisions" to encourage PMUY beneficiaries to become frequent LPG users and make health gains through cleaner fuel.
"There's need for additional incentives to get more PMUY households to reduce use of polluting fuels," Pachauri said.
"These could be in the form of subsidies for additional cylinders or expanding access to 5kg cylinders which cost less and are easier to buy, especially for households with low cash flows." The standard now is 14.2kg cylinders.