Uddhav Thackeray takes oath as Maharashtra chief minister
Two ministers each from NCP, Congress, Sena also sworn in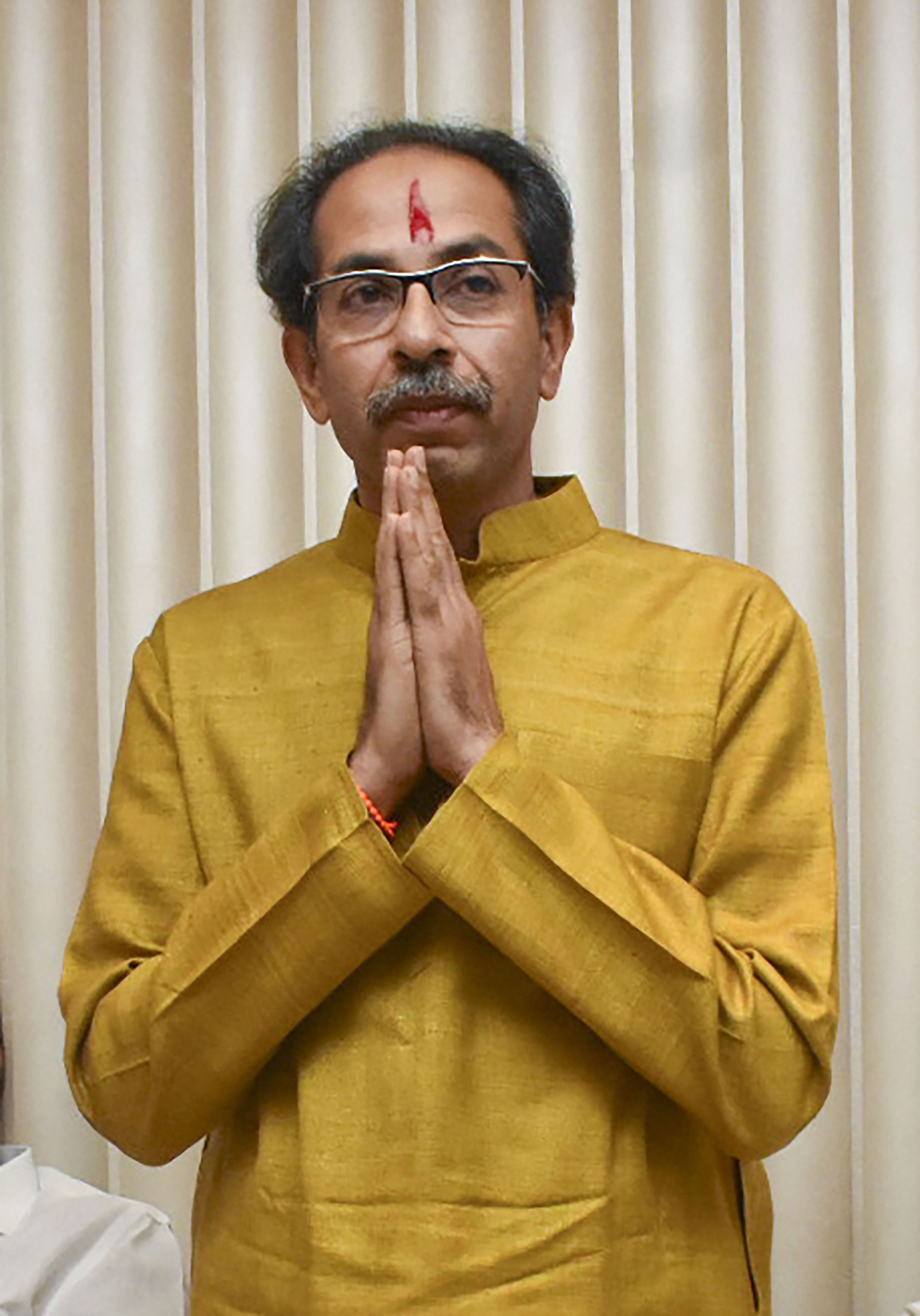 ---
New Delhi
|
Published 28.11.19, 01:49 PM
|
---
Apart from Uddhav, Eknath Shinde and Subhash Desai from the Shiv Sena, Jayant Patil and Chhagan Bhujbal from the NCP, and Balasaheb Thorat and Nitin Raut from the Congress were sworn in. 
Thackeray, 59, became the third Sena leader after Manohar Joshi and Narayan Rane to occupy the top post.

Congress chief Sonia Gandhi and party leader Rahul Gandhi had earlier conveyed that they would not attend the ceremony, while extending their best wishes. The non-Sena leaders who arrived at the ceremony include DMK's M. K. Stalin, Congress leader Kapil Sibal and NCP's Supriya Sule. 

Invitations were also sent to Prime Minister Narendra Modi and BJP president Amit Shah, who had gone all out to thwart the alliance from coming to power. 
The decision of the Sena — the BJP's oldest ally and an integral part of its Hindutva ideological fraternity — to break free from the big brother has injected new hope into the Opposition's unity efforts despite the failure of past attempts.
Some leaders said other BJP allies might also review their ties with the party at the Centre, and others felt Maharashtra was the trigger the Opposition needed to come out of its shell.
On Constitution Day on November 26, 2019, the BJP's Devendra Fadnavis resigned from the top post ahead of a Supreme Court-ordered floor test, admitting he did not have the numbers, shortly after his deputy and NCP leader Ajit Pawar quit in yet another dramatic twist to the month-long Maharashtra political imbroglio.
With the resignation of Fadnavis, who was sworn in by governor Bhagat Singh Koshyari in a hush-hush early morning ceremony just last Saturday after stunning midnight developments that started with Ajit Pawar's rebellion against his uncle Sharad Pawar, the Sena had said its chief Uddhav Thackeray will be the new chief minister heading a post-poll alliance.

Besides the Sena, the alliance that calls itself the Maha Vikas Aghadi, comprises the NCP and the Congress.
Earlier in the day, Ajit Pawar, who returned to the party fold after his rebellion, said that he will not be sworn in with Uddhav, adding that six others leader will be taking oath, two each from the alliance parties. The ministry will be expanded later, probably on December 3.
After Fadnavis' resignation, Uddhav had thanked Sonia Gandhi — who took the biggest ideological gamble, although Sharad Pawar played the most important role in turning the tide — and acknowledged that a dramatic realignment had taken place.
"I want to thank Soniaji also. Parties with different ideologies have come together... those who were friends for 30 years, did not trust us. But those against whom we fought for 30 years have trusted me," Uddhav had said.
(With inputs from PTI)