Uddhav govt looks set to fall, but not until Sharad Pawar says so
Uddhav meets Pawar to takes control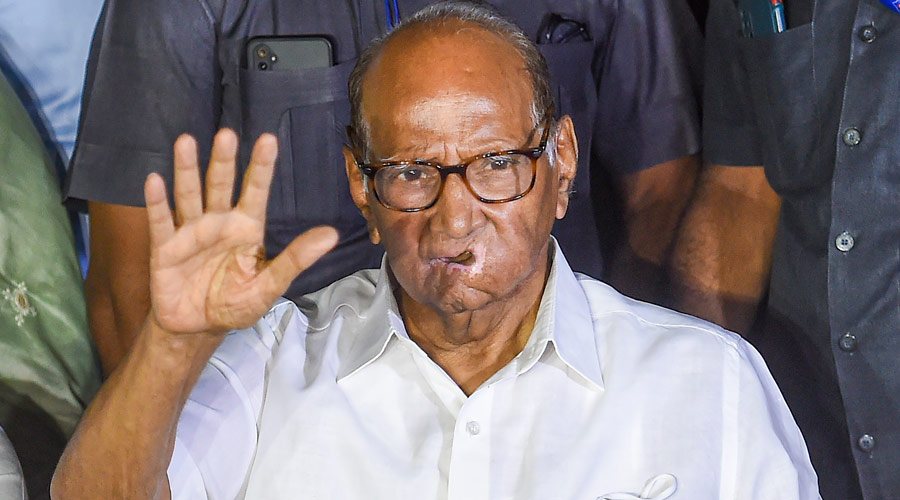 Nationalist Congress Party (NCP) chief Sharad Pawar addresses the media after a party meeting at Yashwantrao Chavan Centre in Mumbai
PTI Photo
---
Published 24.06.22, 02:39 PM
|
---
Could Shiv Sena leader Eknath Shinde lead a Shiv Sena without a single member of the Thackeray family? It's a mind boggling thought. Imagine the Trinamool Congress without Mamata Banerjee. Or the DMK without the Karunanidhi family. Or, in the nation's capital, an Aam Aadmi Party without Arvind Kejriwal. 
Sharad Pawar takes control
Right now, there's only one certainty in Maharashtra's complex political scene: the Uddhav Thackeray government is certain to fall. But the demise won't happen overnight. Uddhav isn't going to fall on his own sword and submit his resignation to the governor. The smart money is betting he will demand a vote in the legislature and that means his government could be in place for another two weeks at least.
Before writing off this government it's also important to keep one eye on the NCP and its strongman hardened by decades of political infighting. Sharad Pawar isn't about to give up without a fight and he wasn't well pleased when Uddhav moved out from the chief minister's bungalow in what appeared like an act of surrender. Pawar is now said to be behind the moves that are taking the battle to the rebel camp. Obviously, Pawar's political importance will tumble if the current government falls.
One key player in the coming days will be Maharashtra Deputy Speaker Narhari Zirwal, who's from the NCP. Uddhav has now filed a petition before the deputy speaker demanding the disqualification of 12 MLAs for not attending a mandatory party meeting. If this petition's upheld the rebels will be short of the needed numbers. Also, a prolonged court case will surely increase the pressure on the rebel MLAs.
Already, another move has been initiated to disqualify four more rebel MLAs. The Shiv Sena's public face, Sanjay Raut, also appears to be in the frontline in this fightback.
There are novel aspects, though, to this upheaval that are puzzling veterans of the Maharashtra political scene. The Shiv Sena was a party famous for its ability to kick off at the slightest provocation and turn Mumbai's streets into a battleground. But the only Sena street action till now has been throwing petals at Uddhav's convoy. Veteran Maharashtra political observers recall how the Sena's stormtroopers closed down the city after Chhagan Bhujbal rebelled against Bal Thackeray. The question now is why has the hungry tiger turned into a gentle pussycat that isn't even showing tiny claws? 
Smooth move to Guwahati
The fact is seven MLAs have caught regular flights out of Mumbai and shifted to distant Guwahati. MLA Sada Sarvankar, for instance, caught a morning flight out of Mumbai and travelled to the airport unimpeded. "They're moving to Guwahati so smoothly. There's no reaction. This has never happened in the past. When Chhagan Bhujbal left Shiv Sena, he could not come out of his room for 30-40 days. The Shiv Sena power was like that," noted a veteran political observer. "The extra seven MLAs have almost certainly given Shinde the numbers to break the party. Otherwise, the ones who had been corralled in resorts in Gujarat and then Assam might not have been enough to make the magic numbers," notes another commentator.
The Shiv Sena has 55 MLAs totally in the state legislature. Over 40 and possibly up to 46 now appear to be with Shinde in Guwahati. Shinde needs 37 party members to claim that two-thirds of the party are with him and therefore he cannot be disqualified from the legislature under the anti-defection laws. 
Doors always shut 
What did Uddhav do wrong? The political charge-sheet against him seems pretty clear: he appears to have been too much of a bureaucrat and not enough of a politician who reaches out to his allies on an everyday basis. He shut himself off from his MLAs and even his most powerful ally, Sharad Pawar, grumbled it sometimes took days to meet the chief minister. One theory is that Uddhav's health has never been robust and he stopped meeting people after the Covid-19 pandemic spread widely in Mumbai. Says one political analyst: "He only calls people when required. Otherwise, his doors are always shut. He avoided meeting people and was not available even for his own MLAs. He is a total family man."
Also, it was decided early on that Uddhav would look after the government and that his son Aaditya would be the point-person for the party. But that arrangement fell apart when Aaditya was made the state's minister for Tourism and Environment. The result was that the party's MLAs felt they were being ignored and they were unable to get even small favours done for their constituents.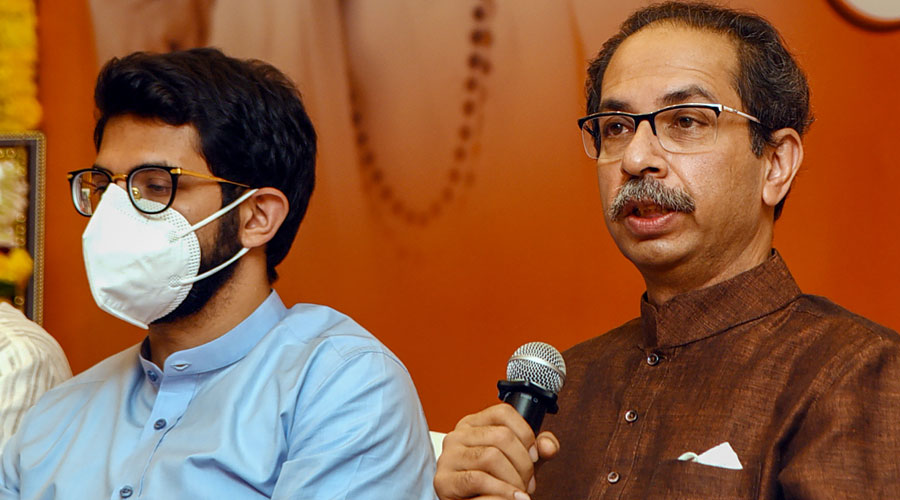 Into the breach stepped Eknath Shinde, a politician who has truly worked his way up from the very bottom, even working as a rickshaw driver in Thane to make ends meet. Originally from Satara, his fortunes changed when he met Sena leader Anand Dighe, who mentored him but who died almost 20 years ago. Shinde was the chief mover behind a movie made on Dighe who had occasionally stood up even to Bal Thackeray. Uddhav, was at the movie premiere but left before it finished – the early departure is now being interpreted as a sign of the differences between Uddhav and Shinde.
Shinde: Thane as launchpad
Shinde is also the ultimate gladhanding politician who has helped out as many people as he could. Thane is also one of Maharashtra's richest corporations and he eventually became its standing committee chairman. This gave him access to the district's huge pool of cash. In 2004, he became an MLA and that led in 2014 to becoming the roads minister at a time when the importance and cash flowing into new highways was moving fast. Simultaneously, his clout in the Shiv Sena grew with the departure of other leaders like Narayan Rane.
By 2019, he had risen enough to nurture aspirations of becoming the chief minister of a Shiv Sena-led government. But there were other leaders like the NCP's Ajit Pawar also gunning for the job. What exactly transpired during the Sena-NCP-Congress negotiations aren't clear but the NCP is said to have pointed out that leaders like Ajit Pawar were far senior to and had better claims than Shinde. Finally, it was agreed that only Uddhav was sufficiently senior to outrank the leaders from other parties.
During his time as roads minister, Shinde is said to have had a cordial relationship with Devendra Fadnavis, the BJP's chief minister. It's said that Fadnavis has been working with Shinde for a very long time to bring down Uddhav's government and was hoping he would lead the rebellion more than a year ago. 
Fadnavis the behind-the-scenes man
Fadnavis, says one political observer, was the 'Chanakya' working behind-the-scenes against the government at every turn. He won more brownie points with the BJP's top leadership by smoothly stewarding the Rajya Sabha elections in Maharashtra. The Enforcement Directorate actions against Shiv Sena leaders have also worked to reduce faith in Uddhav because he was clearly unable to halt the investigations.
In recent weeks, it's become more than evident that Fadnavis has proved his usefulness and can't be pushed aside even if the BJP top brass is keen to try out someone new. Still, as the confusion worsens, the BJP isn't taking any chances and Home Minister and key electoral strategist Amit Shah is closely supervising each move on the political chessboard.
There are many curious features about the political upheavals in Maharashtra. While the Shiv Sena is in turmoil, Sharad Pawar's NCP and the Congress both appear to be completely free of any divisions for now. One rumour being floated is that the NCP will also join the BJP in a new government and could even be an alternative to Shinde's followers.
A Machiavellian possibility
Besides that, there is an even more Machiavellian possibility doing the rounds that Uddhav himself has struck a deal with the BJP. After all, initially he split with the BJP saying he had been promised that the chief ministership would be divided equally and he would get the first 2-and-a-half years. The BJP flatly denied this, leading to the partnership breakdown. Now there are people who point out that the two and a half years are over. Most political veterans, however, pooh-pooh this theory. Others point out that Uddhav has abandoned the Hindutva bandwagon and, without this, they become like any other secular party.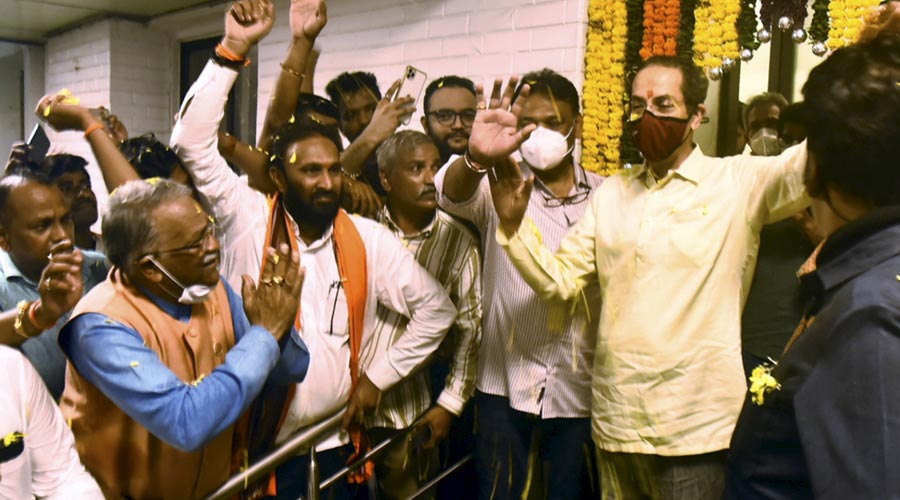 When Uddhav announced he would be doing a Facebook broadcast earlier in the week, some observers speculated he was about to resign. In the event, it looks like he is determined to fight to the bitter end. There's also a smart calculation in this. People in Uddhav's camp are saying about the rebels: "They have strength away from Mumbai. That strength will not stay once they reach Mumbai." Shinde will have to bring his flock back if there's an assembly vote.
In the last election.,the BJP was the largest single party in the 288-member legislature with 106 seats. The Shiv Sena came in a distant second with 56 seats and the NCP had 53. The Congress pulled in 44 seats. Together, the three-party alliance was able to cobble together the numbers and elbow out the BJP.
But the fact remains that the BJP is the single largest party in the legislature. And there are very few people who believe that Uddhav can pull a rabbit out of a hat and keep his government in power. Says an observer: "This government will fall. Of that I have no doubt."