Eknath Shinde claims support of 50 MLAs, 40 from Shiv Sena
37 legislators write to Maharashtra deputy speaker confirming allegiance to the rebel leader who says he wants 'to carry forward Balasaheb's legacy' and quit the alliance with NCP and Congress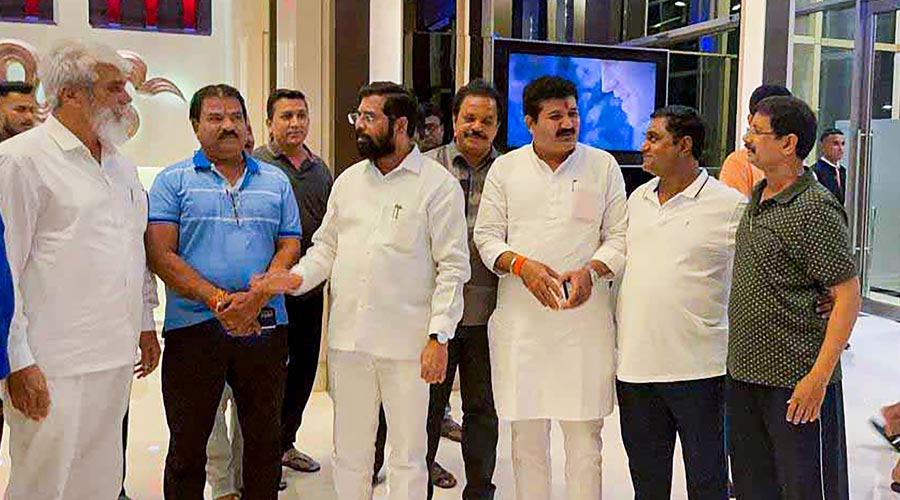 Rebel Shiv Sena MLA Eknath Shinde with Minister of Agriculture of Maharashtra Dadaji Dagadu Bhuse and other rebel MLAs at a hotel in Guwahati.
PTI Photo
---
Published 24.06.22, 10:20 AM
|
---
Rebel Sena MLAs want to break party, says Uddhav Thackeray, reports NDTV
Shiv Sena drafts disqualification application against four more rebel MLAs - Sada Sarvankar, Prakash Abitkar, Sanjay Raimulkar, and Ramesh Bornare, reports ndtv.com
Eknath Shinde leaves Radisson Blu hotel in Guwahati with BJP MP Pallab Lochan Das. Sources say they are visiting a temple in the Nilachal Hills, near Kamakhya temple, reports ndtv.com
Shiv Sena MLA Dilip Lande reaches Guwahati, reports NDTV
Aaditya Thackeray to meet Shiv Sena Shakha Pramukhs and Zilla Pramukhs, reports ndtv.com
Assam Congress protest outside Guwhati hotel, reports NDTV
Rebel Shiv Sena leader Eknath Shinde has said that he has the support of over 50 MLAs in his revolt against party chief Uddhav Thackeray, his assertion coming a day after  37 rebel MLAs camping in Guwahati sent a letter to Maharashtra Assembly's Deputy Speaker Narhari Zirwal to state that Shinde will remain their group leader in the legislature.
"Nearly 40 of them are from the Shiv Sena," Shinde told NDTV from BJP-ruled Assam on Friday."Those who have faith in our role will join us. We want to carry forward Balasaheb Thackeray's ideology, those who like it will come," Shinde said, insisting the rebels have not left Balasaheb Thackeray's Shiv Sena.
On Thursday evening, Shinde sent a letter to the deputy speaker, signed by the Sena MLAs who are with him in Guwahati. The letter also informed him that Sena MLA Bharat Gogawale had been appointed chief whip of the legislature party in place of Sunil Prabhu.
Shinde's letter was sent shortly after Team Uddhav Thackeray filed disqualification applications for 12 rebels with the Deputy Speaker for not attending the legislature party meeting on Wednesday.
In a series of tweets posted late Thursday night, Shinde said as per the 10th Schedule of the Constitution, a party whip is issued for the legislature proceedings and not for attending a meeting.
'Who are you trying to scare?'
"There are several Supreme Court decisions in this regard. Who are you trying to frighten? We understand your games and law as well. You can't ask for action against 12 of our MLAs because we are loyal to Balasaheb Thackeray and are the real Shiv Sena and Shiv Sainiks. In fact, we demand action against you for forming a group despite having no numbers," Shinde said in several tweets, according to PTI.
In the wake of his rebellion, Shinde was sacked as Shiv Sena's group leader in the Maharashtra Legislative Assembly. The party appointed Ajay Chaudhary in his place. However, the rebel faction passed a resolution retaining Shinde as their group leader and appointed Bharat Gogawale as the chief whip in place of Sunil Prabhu.
It was Prabhu who had sent letters to the rebels, asking them to attend the legislature party meeting on Wednesday evening in Mumbai or face action under the anti-defection law.
Unnatural alliance
Shinde and his supporters demand that the Shiv Sena break its "unnatural alliance" with the Congress and the Nationalist Congress Party (NCP), and restore its alliance with the BJP in Maharashtra. 
"In the last 2.5 years, Shiv Sena has only suffered and other parties have benefited. Where other parties have got stronger, the Sena has only weakened.
"To save the party and the Shiv Sainiks, it is vital that the unnatural alliance be junked. It is important to make this decision in the interest of Maharashtra," Shinde tweeted on Tuesday.
Karnataka, MP template
The developments of the week in Maharashtra and Gujarat closely resemble a template seen in Karnataka and Madhya Pradesh where ruling dispensation MLAs had rebelled and taken refuge in BJP-ruled states, their resignations lowering the majority mark and allowing the BJP to wrest power.
Officially, the BJP said it had nothing to do with the Sena rebellion but former Maharashtra chief minister Devendra Fadnavis rushed to Delhi and was huddled with chief party strategist Amit Shah and BJP president J.P. Nadda. Party insiders said in private they were itching for revenge on a once loyal ally that had "backstabbed" them after the 2019 Maharashtra polls.
Shinde, minister for urban development and public works, had been sulking for the past two years, complaining that his importance in the government was not commensurate with his political clout. But Uddhav refused to address his concerns, failing to appreciate either his capability or his inclination to wreak such heavy damage.