Maharashtra: Sena MLAs to be shifted from Uddhav's residence to Worli hotel
Sharad Pawar asks all NCP MLAs to be in Mumbai, will meet them on Wednesday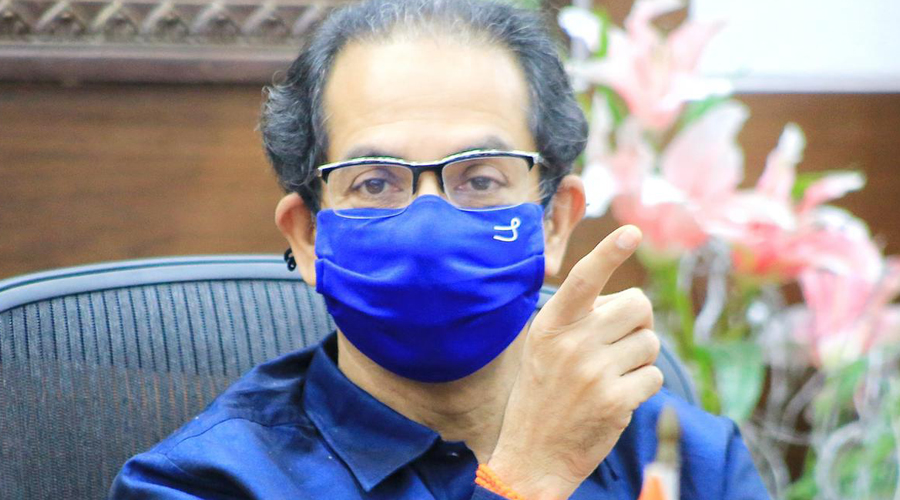 Uddhav Thackeray
File Picture
---
Mumbai
|
Published 21.06.22, 08:48 PM
|
---
 Amid the political crisis in Maharashtra's ruling alliance triggered by Shiv Sena strongman Eknath Shinde's rebellion, leaders of MVA constituents Congress and the NCP met Chief Minister Uddhav Thackeray here on Tuesday evening to take stock of the situation.
Cabinet ministers Balasaheb Thorat and Ashok Chavan of the Congress met Thackeray, who heads the Shiv Sena, at his official residence 'Varsha' in south Mumbai, where state NCP president and minister Jayant Patil was also present.
Sena legislators to be shifted from Uddhav Thakceray's residence to Worli hotel, say reports
In what can be dubbed as a damage control exercise by Maharashtra chief minister Uddhav Thackeray, Shiv Sena MLAs will be shifted to St. Regis Hotel in Worli from Varsha, his official residence.
Sharad Pawar has called all NCP MLAs to Mumbai, will meet them on Wednesday, reports ndtv.com
All eyes are on NCP president Sharad Pawar, the chief architect of the Shiv Sena-led ruling coalition Maha Vikas Aghadi (MVA) who is likely to arrive in Mumbai soon from New Delhi, where earlier in the day he convened a crucial meeting of Opposition parties to decide on a common candidate for the next month's presidential polls.
At the meeting, several major Opposition parties, including the Congress, the NCP and the TMC, picked former Union minister Yashwant Sinha as their presidential candidate.
Meanwhile, AICC secretary in-charge of Maharashra H K Patil held one on one talks with each of the 44 party MLAs.
A Congress leader said Patil discussed the prevailing political situation in the state with the MLAs.
The Congress, a key constituent of the MVA, suffered a shock defeat when its candidate Chandrakant Handore lost the state Legislative Council polls on Monday. The opposition BJP got its fifth candidate elected to the Upper House of the state legislature despite lacking in numbers in the Assembly.
Senior party leader Naseem Khan said Handore was given a quota of 29 votes, while the same was 15 for Bhai Jagtap, the Congress nominee who emerged victorious.
Still Handore was defeated, while Jagtap scrapped through, he said.
Shinde, a Cabinet minister holding the urban development portfolio, rebelled against the Shiv Sena leadership and landed in a Surat hotel with a bunch of party MLAs on Tuesday, plunging the two-and-a-half-year old MVA government into a crisis.
Shiv Sena workers at party headquarters in Mumbai for Uddhav
Mumbai: Hundreds of Shiv Sena workers gathered outside the Shiv Sena headquarters in Mumbai on Tuesday to express solidarity with party president Uddhav Thackeray battling the rebellion by Sena minister Eknath Shinde who has gone incommunicado with some MLAs of the party and camping in Surat.
As the number of Sena supporters swell, police deployed additional personnel at the Shiv Sena Bhavan in the Dadar area.
Hundreds of party workers started assembling at Shiv Sena Bhavan as news of Shinde's rebellion broke in the morning, most of them irate over the challenge thrown at Chief Minister and party president Thackeray.
"This protest will continue against whoever betrays the Shiv Sena. Our leader Uddhav Thackeray will overcome all these problems and emerge victorious," one woman at the site said.
"When (party founder) Balasaheb (Thackeray) was alive, he used to say look after Uddhav the way you all have supported me. This is what we are doing. We are all here to support Uddhav Thackeray," another party worker said.
As emotions among the workers of the cadre-based party ran high, a heavy posse of police, including women personnel, was at hand to ensure the situation did not go out of hand, officials said.
In Nashik city in north Maharashtra, Sena office-bearers and activists, including women, gathered at the party office in the Shalimar Chowk area in support of Thackeray and raised slogans.
Security has been beefed up at the Shiv Sena office.
PTI