UAE keen on Indian imams
Bid to fight IS using tenets of moderate Islam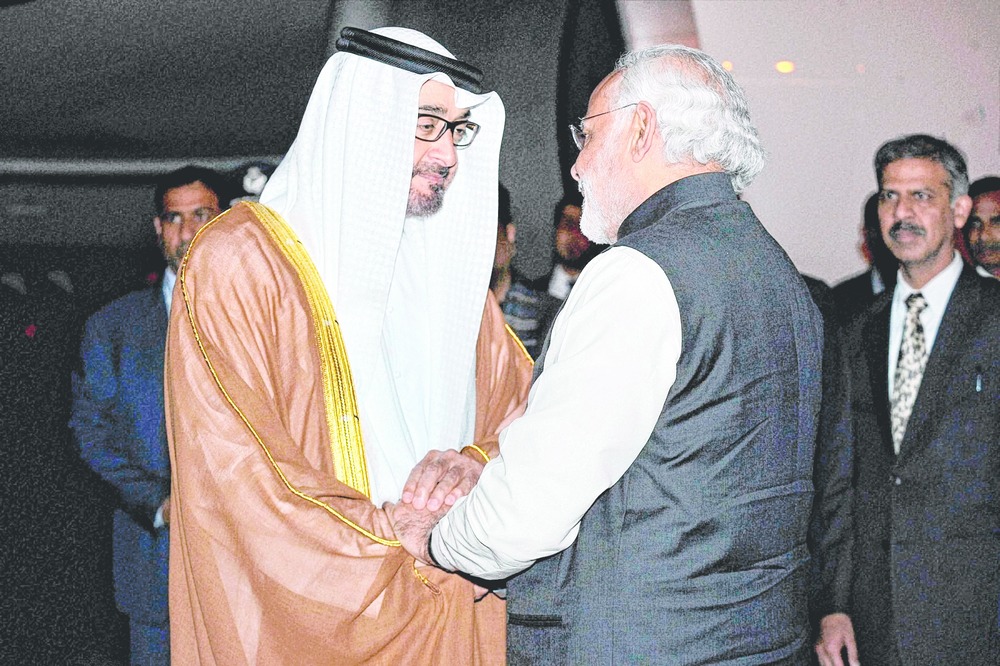 ---
Published 11.02.16, 12:00 AM
|
---
New Delhi, Feb. 10: The United Arab Emirates, long influenced by Saudi Arabia's Wahhabi doctrines, has turned to India for the first time for Islamic preachers - to counter the Islamic State's (IS) propaganda.
The rich Gulf state has requested India to send teams of Indian imams to train its preachers in using moderate Islam to check radicalisation in that country's mosques at a time the IS's spread is worrying it, senior officials have said. The request was made by UAE officials during preparations for a visit here by the Crown Prince of Abu Dhabi, Sheikh Mohamed Bin Zayed Al Nahyan, who is also the deputy supreme commander of the armed forces Arabian Gulf, dominated by the religious influence of Saudi Arabia, has previously reached out for Islamic scholarship to India where the strains of Islam broadly followed are vastly different from Riyadh's Wahhabi ideology.
"We will need to understand the context of the UAE's request, but there is a lot the world can learn from the Indian interpretation of Islam," Mahmood Madani, chief of India's largest organisation of Islamic clerics, the Jamiat Ulema-e-Hind, told this newspaper. "Our interpretation of Islam is very different from theirs, with a focus against hate and with humanitarian values."
The UAE request coincides with a rare confluence of concerns against terrorism in West Asian nations that for years looked away when New Delhi complained about the menace, and of a silent recognition that Indian Islam may offer an antidote. With oil revenues in decline following the sharp fall in crude prices, the UAE economy is increasingly dependent on the reputation of Dubai and Abu Dhabi as financial hubs. The UAE, which for years offered a safe haven for Pakistan-sponsored terrorists India wanted, is now worried that any IS-inspired terror attack could lead to a flight of capital.
What has made Indian Islam a quiet source of envy is its relative success so far in preventing large scale radicalisation. While over 5,000 Europeans are known to have joined the IS in Syria and Iraq, only about two dozen are believed to have enlisted from India - home to the world's second-largest Muslim community.
India and the UAE are discussing "the steps that India has taken to make sure that our youth don't get radicalised as well as the de-radicalisation of those who come back," Anil Wadhwa, secretary (east) in the foreign ministry, said today.
The Crown Prince, who landed this evening, will hold talks with Prime Minister Narendra Modi tomorrow. "This region is very important from a strategic and security perspective for India," Wadhwa said. "Counter-terrorism will form an important part of our discussions."
The Barelvi and Deobandi schools of Islam - named after cities in Uttar Pradesh - that together count over 90 per cent of Indian Sunnis as followers have both repeatedly distanced themselves from Saudi Wahhabi thought.
Influences of Wahhabism - an ultra-strict, doctrinaire form of Islam - have permeated into sections of Deobandi followers in south Asia. The Taliban in Afghanistan, for instance, insist they belong to the Deobandi school.
But the Deoband seminary, which most Indian followers of the school listen to diligently, has repeatedly condemned terrorism and terror groups, including al Qaida and the IS.
In November, Madani's group Jamiat, which consists of many scholars who subscribe to the Deobandi school, held a protest march against the IS in multiple cities across the country after the Paris terror attacks that month. "There is nothing our Islam has in common with Wahhabi thought," Zafarul Islam of the All India Majlis-e-Mushawarat (AIMIM) had told this newspaper in December.
The UAE request builds on a decision to strengthen cooperation on de-radicalisation, taken when Modi visited the Gulf country last August, officials said.