Two numbers and response hold key to virus toll
Specialists emphasise public health measures to prevent spread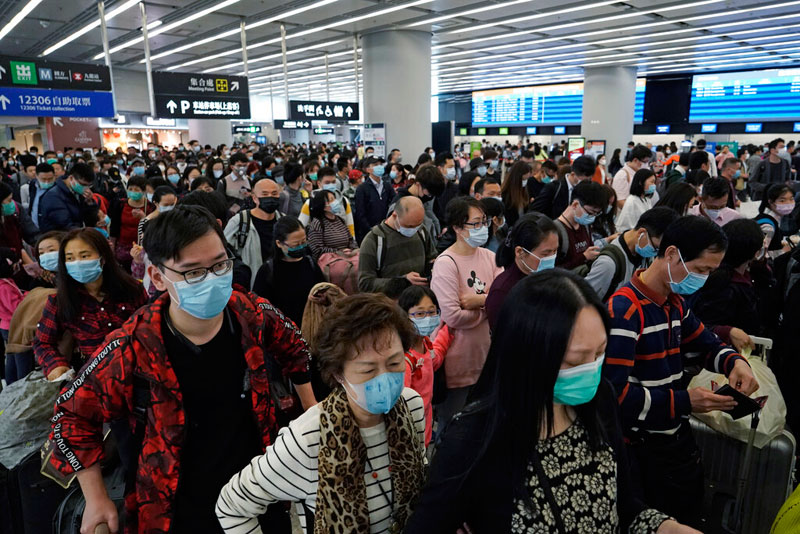 ---
---
The eventual human toll and cost of the novel coronavirus (nCoV) from China will hinge on the public health measures taken to contain its spread and two biological numbers that mark its potential to spread and kill, scientists said.
Virologists say it is too early to predict the impact of the infection, which can cause pneumonia, as its spread and mortality rates could change in the coming weeks. So far, 1,975 patients have taken ill and 56 have died of nCoV infection, Chinese authorities said on Sunday.
Virologists tracking the nCoV are trying to assess two key numbers that define the threat posed by any disease-causing virus. These are R0, or the reproduction number that specifies how many people may be infected by one patient, and the proportion of the deaths among those infected.
The World Health Organisation had said on Friday that the proportion of deaths from nCoV infection was till then 3 per cent (17 of 557 confirmed cases) and that preliminary estimates suggested that the R0 ranged between 1.4 and 2.5.
These R0 values imply that 10 infected people are likely to spread the virus to between 14 and 25 other humans.
"An R0 value greater than one is cause for worry, but we don't know yet whether this is the actual value for the nCoV," Govindkarnavar Arunkumar, a senior virologist at the Manipal Institute of Virology, told The Telegraph.
"As this new coronavirus moves from person to person, it adapts to humans, (and) its R0 may increase over time."
Another deadly coronavirus, the severe acute respiratory syndrome (SARS)-CoV that had infected over 8,000 people and claimed 774 lives in 2002-03, has an R0 value between 2 and 5 and a mortality rate of 10 per cent.
The Middle East respiratory syndrome coronavirus (MERS-CoV), which surfaced in Saudi Arabia in 2012, has R0 values between 1.9 and 3.9 and a mortality rate of 36 per cent.
For comparison, Arunkumar said, the measles virus has an R0 of 12 to 18.
A WHO statement had on Thursday said that 25 per cent of the confirmed nCoV patients were severely ill.
Infectious-disease specialists have underscored the importance of public health measures to prevent the spread of the nCoV.
"While the trajectory of this outbreak is impossible to predict, an effective response requires prompt action from the standpoint of classic public health strategies," Anthony Fauci, director of the US National Institute of Allergy and Infectious Disease, and his co-authors wrote in a commentary in the Journal of the American Medical Association.
Fauci and his co-authors underlined that classic public health measures had brought the SARS pandemic in 2002 to an end, but not before the outbreak cost the global economy an estimated $30-100 billion.
The standard measures to minimise the risk of coronavirus infections include screens for travellers, quarantine for suspects, the rigorous adoption of respiratory etiquette and hygiene by the public and the use of personal protective equipment in hospitals.
Fauci and his collaborators also expect that certain anti-viral drugs such as lopinavir, remdesivir, and interferon-beta, which had earlier been assessed for the treatment of the MERS-CoV, would be assessed for efficacy against the nCoV.
An international collaborative effort called the Coalition for Epidemic Preparedness Innovations will provide $9 million for research to develop a candidate vaccine against the nCoV.
A collaborating research group at The Wistar Institute in Philadelphia has set up a DNA technology platform to rapidly develop a vaccine against an emerging virus with pandemic potential.
India watch
India's health ministry on Saturday offered assistance to the Uttarakhand government to screen people along its border with Nepal, which has become the seventh country to report the nCoV.
The health ministry has also repeated an appeal to passengers with a travel history to China since January 1 this year to self-report to the coronavirus call centre (+91-11-23978046) or the nearest health facility if they experience any fever, cough or respiratory distress.
Airport authorities in India had until Friday screened over 20,800 passengers from 96 flights from China and had not detected anyone with the nCoV. But virologists have cautioned that the virus appears to have an incubation period of several days.