Two more sadhus on Ganga fast
Sadhus wanted to remind the Narendra Modi government of the BJP's 2014 promise to keep the Ganga clean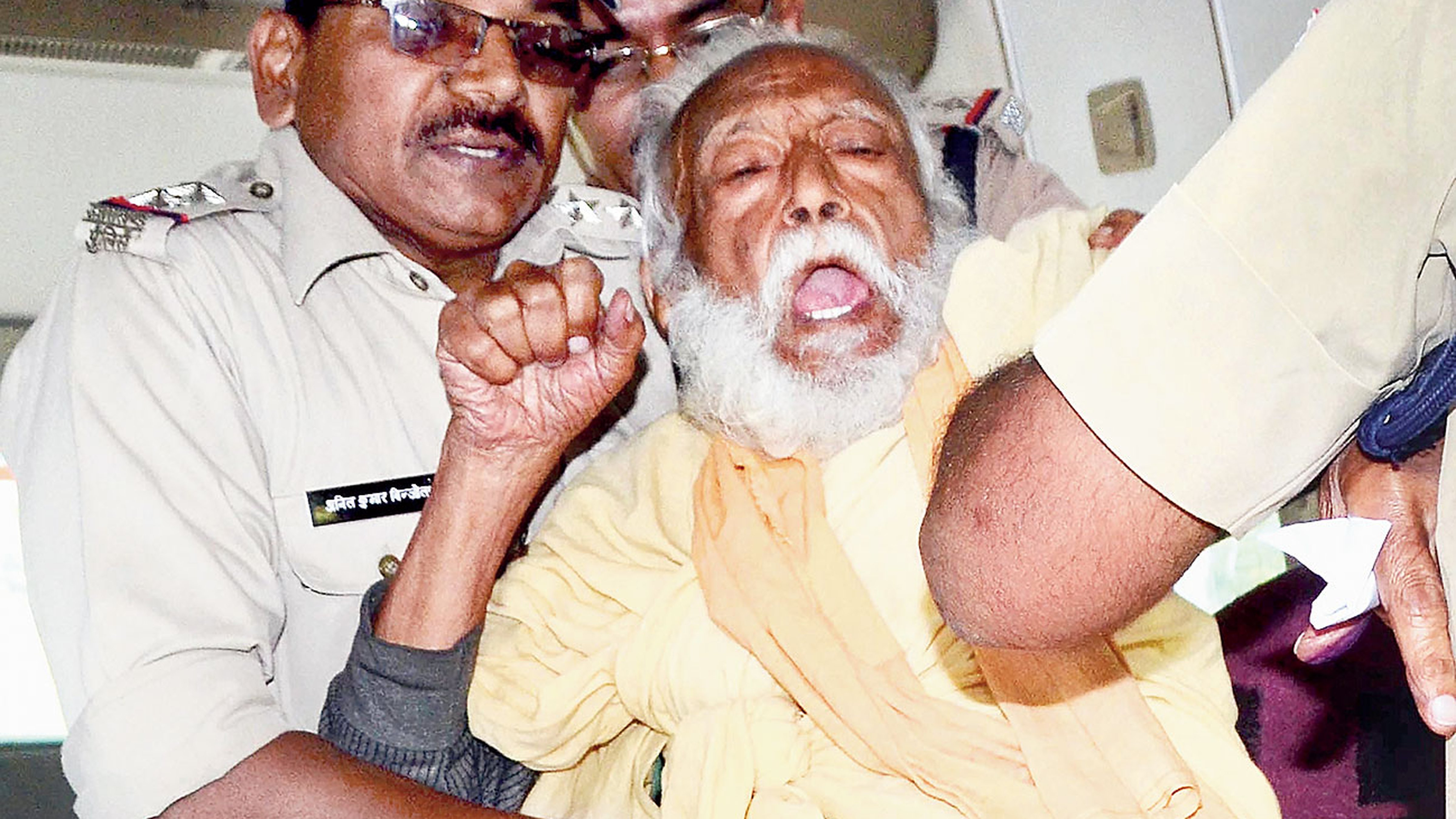 Swami Gyan Swaroop Sanand, died at the All India Institute of Medical Sciences, Rishikesh on October 11
PTI
---
Lucknow
|
Published 25.10.18, 08:40 PM
|
---
Two more sadhus of Matri Sadan in Haridwar started a hunger strike late on Wednesday evening to press for a law to protect the Ganga and stop all mining and construction on the riverbed and banks.

One of the sadhus said they wanted to remind the Narendra Modi government of the BJP's 2014 promise to keep the Ganga clean.
Swami Punyanand Maharaj and Brahmchari Atmbodhanand began their fast after a puja at the Uttarakhand ashram that has already lost two saints while one is under treatment at Chandigarh's Post Graduate Institute of Medical Education and Research.
"Our hunger strike is to remind the central government of its poll promise to keep the Ganga clean. The Bharatiya Janata Party forgot its promise after winning the elections in 2014. We are trying to make the deaf central government hear our demand and warn (the government) that we can lay down our lives for the cause," Atmbodhanand told reporters at the ashram on Thursday.
"The government left two of our colleagues to die and forcefully took away one to Chandigarh. But there are many who are willing to die for the Ganga."
Swami Shivanand Saraswati, the head of Matri Sadan, said that while Atmbodhanand would take lemon juice and honey with water, Punyanand would only have fruits for the next two weeks before they gradually stop all intake.
Swami Gyan Swaroop Sanand, who taught environmental engineering at IIT Kanpur for 17 years before adopting sanyas, died at the All India Institute of Medical Sciences, Rishikesh, on October 11, a day after he was forcefully admitted on the 111th day of his hunger strike for the Ganga.
Earlier, Swami Nigamanand of Matri Sadan died on June 13, 2011, on the 114th day of his hunger strike for a law to keep the river clean.
Swami Gopal Das, another sadhu associated with the same ashram, was forcefully admitted to the AIIMS, Rishikesh, on October 13.
Gopal Das had been roaming across the hill state while on hunger strike to make people aware of the need for a clean Ganga.
He had returned to the ashram a day after Sanand's death and had sat where the environmentalist was sitting before the police forcibly took him to the AIIMS.
He was shifted to Chandigarh against his wishes on October 19.
Dr Harish Thapaliyal, PRO of the AIIMS, Rishikesh, had said Gopal Das had a problem in his intestine and was shifted to the Chandigarh institute for further treatment.
Shivanand said Sanand, whose original name was G.D. Agrawal before the environmentalist took sanyas, was "killed" and "the government's disinterest in ordering a probe was proof that the death was abnormal".
The Matri Sadan head had earlier claimed that Sanand was in good health when he was taken to Rishikesh but died within a few hours because of "some mysterious reasons".
Uttarakhand chief minister Trivendra Singh Rawat in a statement last week had sought time "to study the demands of the sadhus".