Two-day wait after bail for social activists arrested during protests against the CAA
Formalities for release could not be completed after the evening bail orders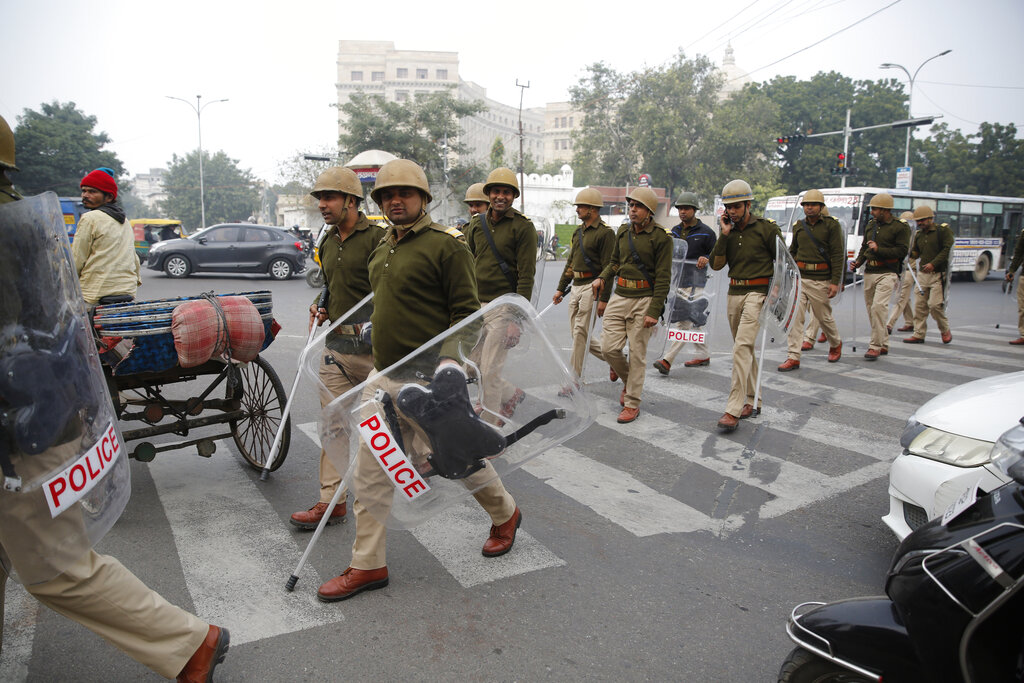 Security personnel patrol a street after violence erupted Thursday during a protest against the Citizenship Amendment Act in Lucknow, on December 20, 2019.
(AP)
---
Lucknow
|
Published 04.01.20, 11:16 PM
|
---
S.R. Darapuri and Sadaf Jafar, two social activists arrested during and after the December 19 protests against the citizenship act in Lucknow, were granted bail on Saturday but will not be freed before Monday.
The formalities for their release could not be completed after the evening bail orders. Darapuri is a retired inspector-general of police and Sadaf is a Congress member and the only woman arrested during the December 19 protests.
Darapuri's son Ved Kumar Darapuri told The Telegraph: "The judge sahab signed the bail order very late. We couldn't complete the process of preparing a bail bond and getting it verified by a local police station."
Darapuri has been charged with criminal conspiracy and damaging public property. "He had been under (preventive) house arrest on December 19 and didn't participate physically in any protest," his counsel told the court.
"He was arrested on December 20. He doesn't have a criminal record. He had asked people through Facebook to maintain peace."
The government claimed Darapuri had incited people to gather at a place where assemblies of more than four people had been banned, and where violence eventually erupted.
Sanjay Shankar Pandey, additional sessions judge, granted bail to Darapuri against two bonds of Rs 50,000 each. The same court granted bail to Sadaf.
Her counsel said she was a teacher and a social worker and denied the charges of arson and vandalism against her.
The counsel argued that hoodlums had sneaked into a peaceful protest and resorted to violence in the presence of the police, who arrested Sadaf instead of the vandals.
Sadaf had gone live on social media from the protest site, Parivartan Chowk, showing how police and Rapid Action Force personnel stood watching as some people damaged public and private property.
Pawan Rao Ambedkar, another social worker, too was granted bail and must wait till Monday for release.
Allahabad High Court will hear prominent social worker Mohammad Shoaib's bail plea on Monday.
"We have petitioned the high court to quash the cases of criminal conspiracy and violence against him," Shoaib's wife Malika Bi, an advocate and social worker, said.