Twitterati slam EU MPs' Kashmir visit
Posts say trip is a 'PR stunt'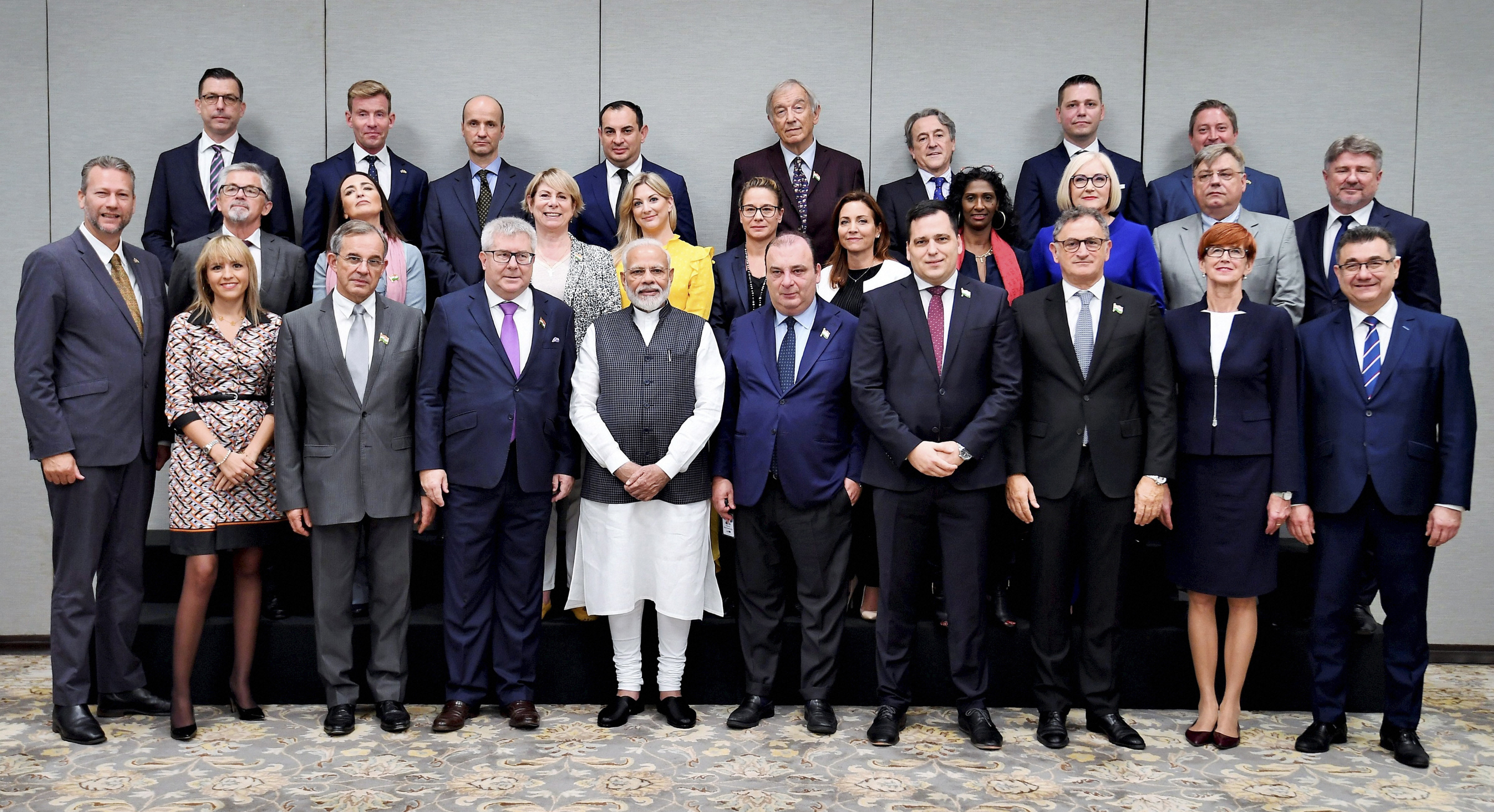 Prime Minister Narendra Modi with members of European Parliament in New Delhi on October 28.
PTI
---
New Delhi
|
Published 30.10.19, 10:12 AM
|
---
Twitterati today slammed the visit of the European Parliament members (MEPs) to Kashmir.
They also called out the role of Madi Sharma, who has attracted attention for organising the visit. Several people on Twitter asked why Opposition MPs had not been allowed to visit Jammu and Kashmir and called the MEP visit a 'PR stunt'.
Twitter users asked why Sharma paid such a hefty amount for the trip as well as raised questions on her role as an 'international broker'.
The Q is why will @MadiSharma1 pay such a hefty amount for this, most likely our Govt. is paying! If yes, why do we need to buy international support? When @AmitShah ji was yelling to not make it an international issue! Mota bhai saab Golmaal che ne? #MadiSharma #EUMPsInKashmir https://t.co/B9gGJggeNj

— Preetam Patil (@PreetamPatil96) October 29, 2019
Because they are chosen by Modi ki Madi broker #MadiSharma #EUMPsInKashmir https://t.co/yE9AgBbg5f

— #StopRCEP #BanEVM #SaveRTI #NoAadhar #SaveWater (@maxleaker) October 30, 2019
The point of debate isn't why #EUMPsInKashmir ,but the issue is what was the need for an international broker #MadiSharma to bring them to #Kashmir & why allowed a press interaction who they're to judge?
YES Nicolaus not only opposition but every concern person should be allowed. https://t.co/mRZW8FYc5g

— Najma 🇮🇳 (@najmafk) October 30, 2019
All about #MadiSharma
Diabolocal & Dubious.

The GOI is officially is a soup as far as this is concerned. PR charade gone awry and how. Shameful.

Kudos to the media for taking this up. #Kashmir https://t.co/krRt0JYSc1

— Sidrah (@SidrahDP) October 30, 2019
Don't know if @DrSJaishankar
realises or knows external affairs has been privatised and handed over to an NGO. How else would you explain the visit of EU MPs? #MadiSharma

— Srinivas Aluri (@cnuga) October 30, 2019
Besides the jibe at Madi Sharma, many Twitter trained their guns at the Modi government calling the visit a 'political drama,' a 'PR stunt' and a 'vacation.'
So basically,
There's governance and government to solve people's problems and bring peace in the country.

But here we have 365 days of political drama due to which the given peace is also taken off, and the real problem is our government :))#bjpshivsena #EUMPsInKashmir #NCP

— Madiha Afra (@Madihahahah__) October 30, 2019
Can someone help me understand, how a PR stunt can conceal violations of free movement, free speech and unjustified detentions?

I feel this stunt will prove to be a boomerang for #Modi govt.

The truth will remain truth. #EUMPsInKashmir #370abrogation

— Bhavika Kapoor (@BhavikaKapoor5) October 30, 2019
JOKE! Even their press conference is not live - it is a recording. DRAMA!#Kashmir #EUMPsInKashmir pic.twitter.com/NrYwZMTWOz

— Rinda 🔴 (@Yunii_que) October 30, 2019
Our PM visit abroad n learn the tricks of suppressing facts of human right violation. Such unofficial EU delegations r paid TOYS of fascist BJP government. This is how Israel do tactics of hiding their atrocities on Palestinans.#EUMPsInKashmir #EUDelegation #KashmirVisitFaceoff https://t.co/s84DReILFu

— Suhail Shaikh (@suhailshkh05) October 29, 2019
Is the conscience of all #EUMPsInKashmir dead?

Shame on you #EUDelegation !

You're ignoring the plight of millions just for your 3 days sponsored vacation...

— Sibtain Zaheer 🇮🇳 (@dotcomfolk) October 29, 2019
So now #modi 's PR managers shifted from #DiscoveryChannel #Bollywood to #EUDelegation 🤔😀😁 . #EUMPsInKashmir #JammuKashmir #KashmirTruthTour #KashmirVisitFaceoff #KashmirStillUnderCurfew

— MD Iqbal Ahmad ایم ڈی اقبال احمد (@mdiq4u) October 29, 2019
Actually #EUMPsInKashmir were just holidaying in Srinagar after conducting hectic workshops to train the IT cell in Delhi.

— Madhavan Narayanan (@madversity) October 29, 2019
And as usual, Twitterati could not keep themselves away from taking potshots at the lawmakers.
#India had to lock up 8MM #Kashmiris to make it safe for #EUMPsInKashmir visit.

— Connecting the Dots (@connectingd3) October 29, 2019
EU law member to visit #EUMPsInKashmir is PR stunt of Modi.
Just get a certificate from them#Alliswell in kashmir.
So poor Paid PR stunt by Modi.#SaveKashmir pic.twitter.com/YZB47Mu2Nd

— Nadim (@Nadim__Mansuri) October 29, 2019
Now Showing : "Disaster on Dal Lake" Starring : European MPs Produced by Ajit Doval.Directed by #MadiSharma And ANI ,Under Banner of Modi Dirty Tricks Dept and Financed from #RBI Funds (Tax Payers Money) pic.twitter.com/ITTxZK69cn

— Shivani Singh (@ShivaniCYSS) October 30, 2019
Enjoying the visit , just as they went there for a picnic.😃😃😃#EUMPsInKashmir pic.twitter.com/HZ8tWBe4pB

— Nisha Sharma💖💖💖💖😃😃😃 (@NishaSh18183380) October 30, 2019