Twitter reels as Amit Shah announces scrapping of special powers to Kashmir
Twitterati are using #RedforKashmir to show their support for the Kashmiris and to stand in solidarity with them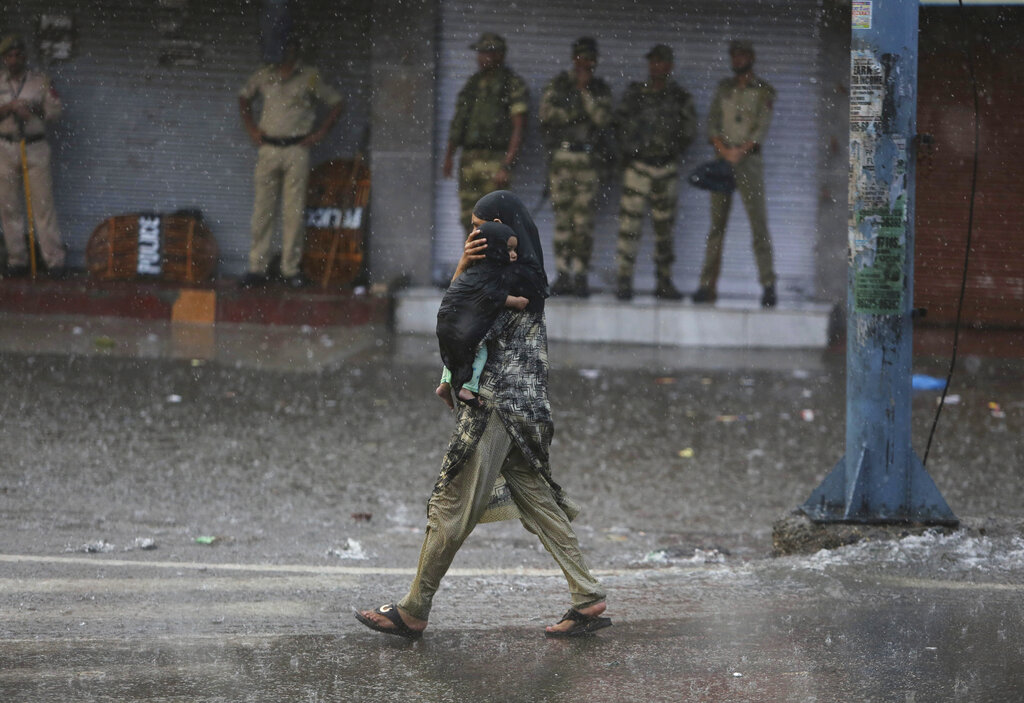 ---
|
Calcutta
|
Published 05.08.19, 02:01 PM
---
After home minister Amit Shah today announced the Union government's plan to scrap Jammu and Kashmir's special powers under Article 370, there was celebration and alarm on Twitter.

Even those ideologically opposed to the BJP know in their hearts that only Modi & Shah could have done this. Nobody else.
Not even any other party with such a mandate. Only these two.
Slap to status quoists who would rather things just continue.#Article370 pic.twitter.com/0muEXcxxdz

— Tavleen Singh Aroor (@Tavysingh) August 5, 2019
The Union government has also proposed bifurcating the state into two Union territories – Jammu and Kashmir, which will have a legislature, and Ladakh, which will not. The bill to legitimise this in Parliament is already on the table and might get approval by tonight.
I had warned of a misadventure in J&K. It seems the government is determined to embark upon one.

— P. Chidambaram (@PChidambaram_IN) August 5, 2019
Bold, historic and much needed change announced by Hon'ble Union Home Minister @AmitShah. I'm sure this will bring investment and development in Jammu, Ladakh and Kashmir. We welcome this step. Jai Hind. #Article370 @BJP4India

— Shesh Paul Vaid (@spvaid) August 5, 2019
Thank you, PM @narendramodi. I am in tears. I have been stormed with phone calls & messages. Never imagined this would happen in my lifetime. Full integration of Jammu & Kashmir & Ladakh with India is final now. No special status. History written before our eyes. No Article 370.

— Aditya Raj Kaul (@AdityaRajKaul) August 5, 2019
Kashmir has been on tenterhooks following heavy deployment of security forces in the state since last week.
The curtailment of the annual Amarnath Yatra and a missive to tourists to leave the state, citing a terror threat, had added to the alarm. Students from other states were asked to leave their campuses and go home, not to return till further order.

Just received: visuals from Rajouri district of J&K apparently .. via watsapp. MASSIVE MASSIVE MASSIVE troop deployment #35A #Article370 #Kashmir #OperationKashmir pic.twitter.com/NW4UPRWSUF

— Abhijit Iyer-Mitra (@Iyervval) August 4, 2019
Section 144 of the Code of Criminal Procedure (CrPC) was imposed late on Sunday. Former chief ministers Mehbooba Mufti and Omar Abdullah are under house arrest.
While many are delighted with what they are calling India's 'Kashmir to Kanyakumari' integration, many have condemned the locking up of Mufti and Abdullah and are asking why the people of Kashmir were not consulted on this paramount step.
Let's make one thing clear today: Consent of Kashmiris was NOT taken for a law which directly affects them.

Communication being cut off, leaders being house-arrested and increasing military presence in the state does NOT equal consent.#Article370

— meghnad (@Memeghnad) August 5, 2019
No Bibi. The only people it will have catastrophic consequences for are politicians like you and @OmarAbdullah and Pak propped separatists who have been sucking the blood of ordinary Kashmiris like fat leeches. #Article370 pic.twitter.com/FZV1HOidZx

— Shefali Vaidya ஷெஃபாலி வைத்யா शेफाली वैद्य (@ShefVaidya) August 5, 2019
Unacceptable is a new India where those who kill and lynch in the name of religion are feted and garlanded. If standing up for my people makes me a separatist and anti national then its a badge I will wear with honour. https://t.co/7KJAHfrOe5

— Mehbooba Mufti (@MehboobaMufti) April 3, 2019
But what is the special status conferred by Article 370 that the state has enjoyed so far and why has the government repealed it? What does it mean for the union government, and what can it mean for Kashmiris?
PM Modi had said that #Article370 and Article 35A have done maximum damage to Jammu and Kashmir and only former Prime Minister Atal Bihari Vajpayee's formula of "Insaniyat, Kashmiriyat and Jamhooriyat" will work in Jammu and Kashmir.#Article370revoked

— Babul Supriyo (@SuPriyoBabul) August 5, 2019
Today's decision violates all the principles invoked by Vajpayee: insaniyat, jamhuriat, kashmiriyat.

This unconstitutional move plays into the hands of separatists and Pak sponsored terrorists, besides reneging on the idea of India and the promise to the people of Kashmir.

— Yogendra Yadav (@_YogendraYadav) August 5, 2019
Article 370 said that except for matters related to defence, foreign affairs, finance and communications, Parliament would need the state government's concurrence for all other business.

Whatever the govt of India has done, it's done! Let's congratulate @PMOIndia @HMOIndia & now reach out to the #Kashmiris .
Jammu & Kashmir now UT with a legislature
Ladak UT without legislature. #Article370 scrapped.
Remember the #Kashmiris are our fellow citizens

— Tehseen Poonawalla (@tehseenp) August 5, 2019
For over seventy years, Kashmirir residents have had a separate set of laws related to residentship, property ownership and many other matters.
The provision disallowed citizens from other states of India from purchasing land or property in the state.
Article 370 served as a mechanism for managing Centre-state relations, with specific reference to Jammu and Kashmir.
Additionally, Section 3 of the Article 370 also empowers the President to declare the special status granted to the state non-functional anytime.
This provision was used on Monday to issue a Presidential order to implement what the BJP government's promised in the Lok Sabha election held earlier this year, and which had been the party's long-standing demand.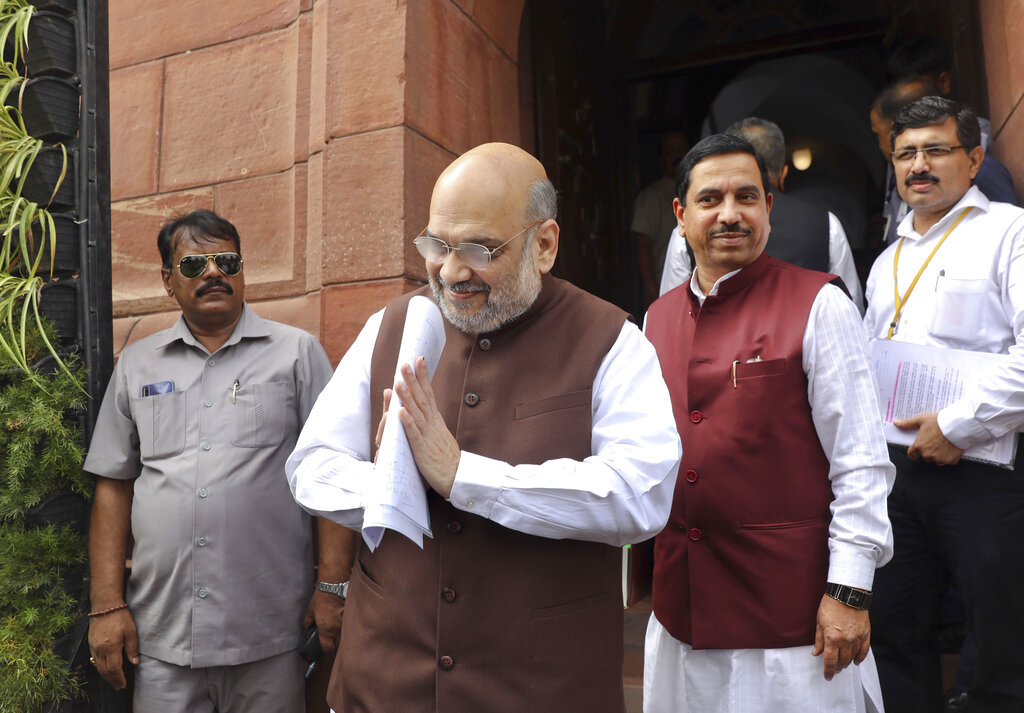 Pakistan has said that the Indian government's steps will not 'ever be acceptable to the people of Jammu & Kashmir and Pakistan', calling it an international dispute, and that Pakistan will 'counter the illegal steps'.
Nor will this ever be acceptable to the people of Jammu & Kashmir and Pakistan.

As the party to this international dispute, Pakistan will exercise all possible options to counter the illegal steps.
 #Kashmir https://t.co/4Q3muZgB9H

— PTI (@PTIofficial) August 5, 2019
"We" cannot dictate what should happen to "them".

Want to witness war? Ask for it in your house.#StandwithKashmir #KashmirBleeds #KashmirUnderThreat https://t.co/WvHiEqgMXG

— Chetna Sharma (@ChetnaS15) August 4, 2019
Twitterati are using #RedforKashmir to show their support for the Kashmiris and to stand in solidarity with them during a time of grave unsurety.