After home minister Amit Shah today announced the Union government's plan to scrap Jammu and Kashmir's special powers under Article 370, there was celebration and alarm on Twitter.

The Union government has also proposed bifurcating the state into two Union territories – Jammu and Kashmir, which will have a legislature, and Ladakh, which will not. The bill to legitimise this in Parliament is already on the table and might get approval by tonight.
Kashmir has been on tenterhooks following heavy deployment of security forces in the state since last week.
The curtailment of the annual Amarnath Yatra and a missive to tourists to leave the state, citing a terror threat, had added to the alarm. Students from other states were asked to leave their campuses and go home, not to return till further order.

Section 144 of the Code of Criminal Procedure (CrPC) was imposed late on Sunday. Former chief ministers Mehbooba Mufti and Omar Abdullah are under house arrest.
While many are delighted with what they are calling India's 'Kashmir to Kanyakumari' integration, many have condemned the locking up of Mufti and Abdullah and are asking why the people of Kashmir were not consulted on this paramount step.
But what is the special status conferred by Article 370 that the state has enjoyed so far and why has the government repealed it? What does it mean for the union government, and what can it mean for Kashmiris?
Article 370 said that except for matters related to defence, foreign affairs, finance and communications, Parliament would need the state government's concurrence for all other business.

For over seventy years, Kashmirir residents have had a separate set of laws related to residentship, property ownership and many other matters.
The provision disallowed citizens from other states of India from purchasing land or property in the state.
Article 370 served as a mechanism for managing Centre-state relations, with specific reference to Jammu and Kashmir.
Additionally, Section 3 of the Article 370 also empowers the President to declare the special status granted to the state non-functional anytime.
This provision was used on Monday to issue a Presidential order to implement what the BJP government's promised in the Lok Sabha election held earlier this year, and which had been the party's long-standing demand.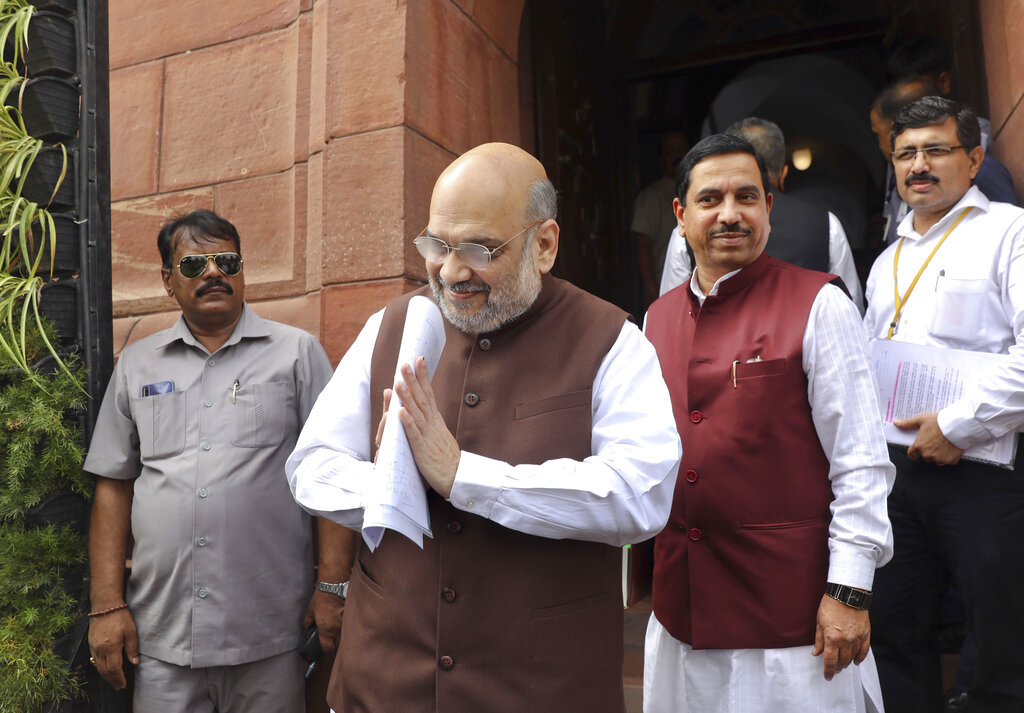 Home Minister Amit Shah, center, greets as he arrives at the Parliament in New Delhi, India, on Monday, Aug.5, 2019. AP
Pakistan has said that the Indian government's steps will not 'ever be acceptable to the people of Jammu & Kashmir and Pakistan', calling it an international dispute, and that Pakistan will 'counter the illegal steps'. @ImranKhanPTI
Twitterati are using #RedforKashmir to show their support for the Kashmiris and to stand in solidarity with them during a time of grave unsurety.