Twitter celebrates Indian Navy Day
Netizens celebrated the remarkable military exploits of our naval history, and honoured Operation Trident
Indian navy personnel display their skills during a rehearsal for Naval Day celebrations at the Arabian Sea in Mumbai, on Sunday, Dec. 1, 2019.
AP
---
Published 04.12.19, 04:36 PM
---
On the night of December 4th, the Indian Navy launched a surprise offensive on the Karachi port, the stronghold of the Pakistani Navy, during the beginning of the 1971 Indo-Pakistan war. While the Indian Army and air force held their ground, the Indian Navy's Operation Trident fired six missiles, sank four Pakistani vessels, and ravaged the Karachi harbour fuel fields before successfully returning to Mumbai without a single casualty.
Twitter celebrated the remarkable military exploits of our naval history, and honoured one of the most audacious and decisive missions ever undertaken by our fleets on Indian Navy Day.
#NavyDay2019#KnowYourNavy#OpTrident1971#IndianNavy in 1971, wrote a new chapter in history with first ever pre-emptive naval strike post #WorldWarII which witnessed swift attack on Pakistani vessels and port facilities at Karachi during the 1971 Indo Pak War (1/5). https://t.co/c3Ff2GRsAh pic.twitter.com/Ehqx8YaGCq

— SpokespersonNavy (@indiannavy) December 4, 2019
General Bipin Rawat #COAS and All Ranks #IndianArmy convey best wishes on #NavyDay to All Ranks of #IndianNavy. May glory and success always be with #IndianNavy. @indiannavy pic.twitter.com/1pPUVEIWIb

— ADG PI - INDIAN ARMY (@adgpi) December 4, 2019
On #NavyDay today, my colleague Nikhil Hajirnis came dressed in the uniform that he once wore as a Naval cadet. He had injured his spine during training at the Naval Academy and hence had to leave. However, the Navy in him is always alive and sailing through his veins. pic.twitter.com/i5IpzZEaKy

— Snehesh Alex Philip (@sneheshphilip) December 4, 2019
We bow to the Brave Men and Women who risk their lives every day in protecting a very long and vulnerable coastline. Indian Navy Nation's Pride. -Sg #IndianNavyDay #NavyDay #IndianNavy @indiannavy pic.twitter.com/ud5cVzi2PN

— Sadhguru (@SadhguruJV) December 4, 2019
The Indo-Pakistan war of 1971 was unique. It did not involve the issue of Kashmir, but was precipitated by the political crisis in Bangladesh between Sheikh Mujibur Rahman (leader of erstwhile East Pakistan), and Yahya Khan and Zulfikar Ali Bhutto (leaders of West Pakistan). 
The war saw the highest number of casualties during any conflict between the two countries, as well as the largest number of prisoners of war since the Second World War. It culminated in the declaration of Independence for Bangladesh from the control of Pakistan.
Salute the valour of @indiannavy personnel.

Thank you for keeping us safe and strong.

Since 1972, #NavyDay is celebrated on 04 Dec to commemorate the successful naval actions in the Arabian Sea, Bay of Bengal & the missile attack on Karachi harbour during Indo-Pak war of 1971 pic.twitter.com/6ByvGyipQC

— Gautam Chintamani (@GChintamani) December 4, 2019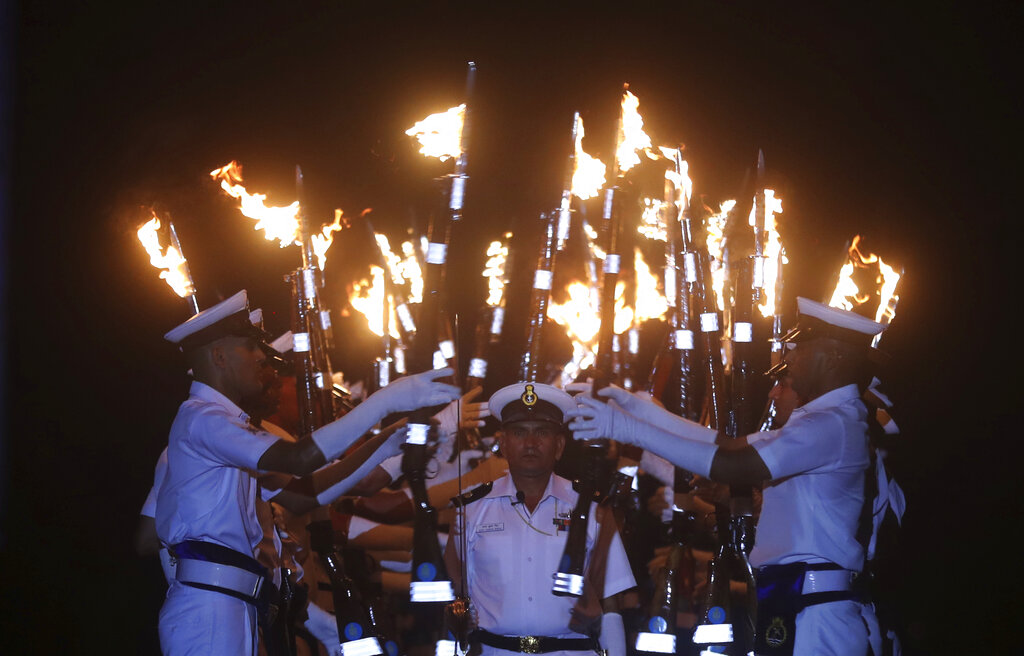 Manoj Tiwari, Delhi BJP chief, made a gaffe as he missed the proverbial 'red flag' in his tweet to congratulate the Indian Navy today. The BJP leader posted a picture of of naval ships, but missed a US flag fluttering atop one of them, and Twitter did not dither to quickly point out the blunder.
Namaskar @ManojTiwariMP bhai! The nationalist @BJP4India MP has put a picture of US ships . At least on our #IndianNavyDay put a picture of our brave #IndianNavy &their ships ! #JaiHind 🇮🇳#NavyDay https://t.co/LaUImeaagw

— Tehseen Poonawalla Official (@tehseenp) December 4, 2019
Flouting any remainder of superstition about women bringing bad luck at sea, netizens saluted sub-lieutenant Shivangi from Bihar, who recently became the first woman-pilot for the Indian Navy.
This #NavyDay, let us seek inspiration from Sub Lieutenant Shivangi who has set an example in women empowerment by becoming the First Woman Pilot of the #IndianNavy. I wish the best for her future and thank the Indian Navy for continually guarding our maritime boundaries. pic.twitter.com/bGZgJhw4uo

— Preneet Kaur (@preneet_kaur) December 4, 2019
Netizens honoured our silent protectors at sea, whose vigil along the sprawling shorelines of the subcontinent ensures the safety and continuity of peace in India.