Tu-taadi friends: Modi and Obama
Narendra Modi has revealed in a "completely non-political" interview with actor Akshay Kumar that the Prime Minister and Barack Obama are on "tu-taadi" terms with each other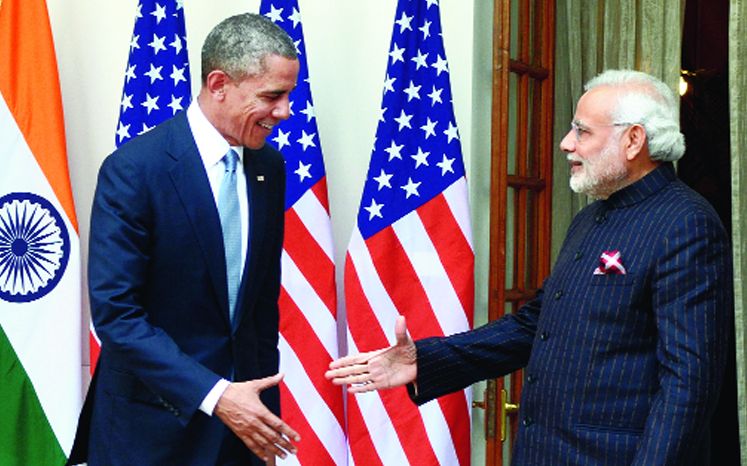 Obama with Modi in New Delhi in 2015 when the Indian Prime Minister famously and repeatedly referred to the then US President as "Barack" and wore the monogrammed suit that sired the slogan "suit-boot ki sarkar".
---
Published 25.04.19, 02:06 AM
|
---
Narendra Modi has revealed in a "completely non-political" interview with actor Akshay Kumar that the Prime Minister and Barack Obama are on "tu-taadi" terms with each other.
Modi told Akshay who asked the Prime Minister why he sleeps only for three to three-and-a-half hours: "Rashtrapati Obama jab mujhe mile, toh woh bhi sabse pehle merese isime ulajh gaye. Bole, 'Modiji, kyun aisa karte hain aap?' Hum dono achchhe dost hain, tu-taadi karke bulate hain ek doosre ko.… (When President Obama met me, the first thing he too had done was to get into an argument with me on this. He asked me: 'Modiji, why do you do this?' Now we are good friends, we call each other tu-taadi).
"(Obama) bole tu aisa kyun karta hai? Tujhe aaj pata nahi hai yeh tera nasha hai kaam ka, tum karte rahoge, lekin tum bahut apna nuksan kar rahe ho. Aur woh jab bhi milte hain, ke tum meri baat mante ho ki nahin mante ho, tumne neend badhai ki nahi badhai (Obama asked me why I do this. He told me that I am a workaholic and would harm myself by continuing to do this. Whenever he meets me, he asks if I have heeded him, if I have increased my sleep time)."
English has no equivalent of "tu", which implies proximity or intimacy and/or the speaker's superiority of age, status or class. The class-neutral and age-agnostic "you" lacks these connotations of "tu".
In French, "tu (you)" is used to address friends. In Latin, tu means you — as in "Et tu, Brute?" in Shakespeare's Julius Caesar — although Modi is unlikely to have any occasion to ask his buddy, "Et tu, Barack?"
An air of informality is not unusual. If Modi has called Obama "Barack", the former President has called David Cameron "Bro" when he was British Prime Minister.
But it's not clear how Obama came across the expression "tu", although his wife has danced to Bollywood tunes on a Mumbai visit. Officially, Obama can speak Indonesian and English.
The Telegraph has written to Obama, requesting him to share with the readers how he had come to address Modi as "tu". If and when the former US President responds, this newspaper will publish the nugget. Watch this space.