Try love, something Modi never got: Rahul
'Those who have felt violence will never think of violence as a solution', Congress chief tells students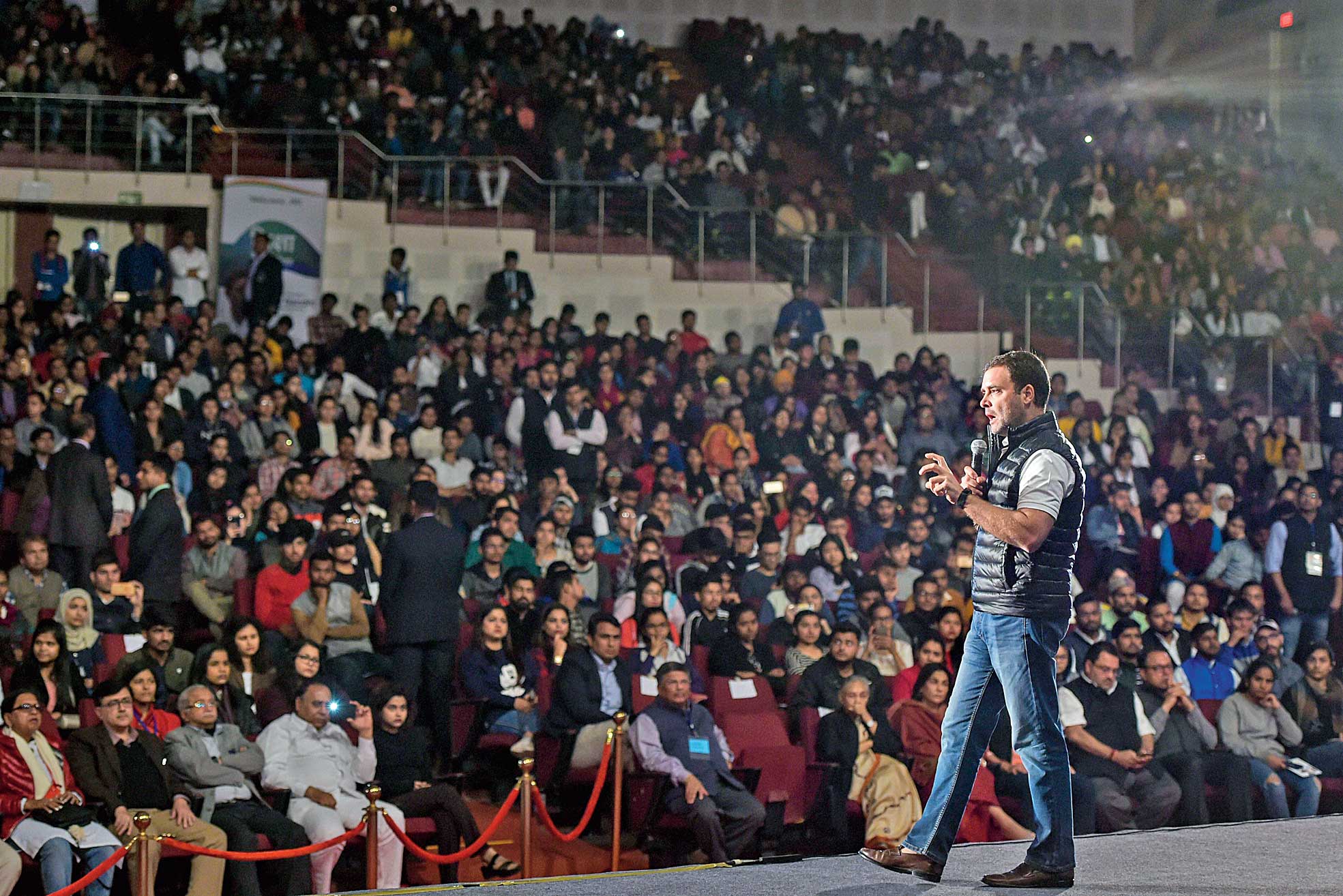 Rahul Gandhi interacts with students at Jawaharlal Nehru Stadium in New Delhi on Saturday.
(PTI)
---
New Delhi
|
Published 23.02.19, 09:41 PM
|
---
Love is "magic" that passed Narendra Modi by, Rahul Gandhi appeared to suggest on Saturday while describing what he felt when he hugged the Prime Minister in the Lok Sabha last year.
Interacting with students at Jawaharlal Nehru Stadium in New Delhi, Rahul said: "Love is magic. Try this in your life. Do it in your class. Hug people who hate you. That's what I did with Narendra Modi. He abuses my family. When I hugged him, I felt in his body: 'Arre ye kya ho gaya, mujhe pyar kaise kisi ne dikha diya (What happened, how could anybody show love to me).'"
Rahul added amidst peals of laughter and clapping from the students: "I don't hate Narendra Modi. Reality is Modi didn't get the love he required….
"When my grandmother (Indira Gandhi) died, my father was in Bengal. My grandmother was much more to me than my mother. My mother was a disciplinarian. Whenever something happened, I used to hide behind my grandmother. I was angry at her death. Security men who killed her were my friends, one of them taught me how to play badminton. But when my father came and hugged me, my anger disappeared."
Rahul's comments were in response to a student pointing to the prevailing fear and hatred and asking the Congress president how he would tackle the crisis if he became Prime Minister.
Rahul said: "What the Prime Minister says is important. The actions of the Prime Minister get transmitted into the system. If the Prime Minister gives a clear message that all are one, tempers will cool down. Hatred will subside. India is a country of love and brotherhood. That's India's nature. Societies will cool down automatically if the leadership gives clear direction."
In response to another question about how he shapes his life, the Congress chief said: "When I went to meet a soldier's family in Shamli (Uttar Pradesh), I was talking to one of their boys. His father was killed. I felt I have been in this young man's place — my father was also killed by a bomb. I have been through this pain.
"I saw my grandmother killed; 32 bullets were pumped into her body. Those who have felt violence will never think of violence as a solution. I will tell you: violence can't solve violence, only love can. Violence will create endless conflicts."
Recalling that this land belonged to Ashoka, Gautam Buddha and Mahatma Gandhi, Rahul said: "That's the philosophy."
Rahul said in response to another question that Right-wing politics and hatred were rising in the world because of a job crisis. "Anger was rising in the society because youths didn't have anything to do. The anger is being utilised by the Right wing. Our government doesn't accept there is a crisis. India has to understand there is a massive job crisis and start tackling it."
The Congress leader said: "Has the Prime Minister ever come to have a conversation? You can ask me unpleasant questions. People here may have questions which are difficult to answer. The Prime Minister is not supposed to lecture you. He has to inspire you. You have to say — yes, we can work with this man and solve our problems. Our job is to understand and utilise your passion, your ideas. But the Prime Minister says there is no job crisis, no farm crisis."
Inviting Modi to debate with him on issues including jobs, agriculture and the Rafale deal, Rahul wound up his interaction with the students saying: "Some of you may like me, some may not like me. Some may be neutral towards me. But I tell you that whoever you support must have the guts to stand here and talk to you. And another thing, when somebody tries to abuse, assault someone in front of you, you must defend him with love and affection."
The hall responded with thunderous applause.