Truly behind bars: Where VIPs are bottled up
Each of the two VIP lockups set up on Saturday by prohibition, excise and registration department at its office in Samastipur town, has a signboard declaring 'VIP hajat'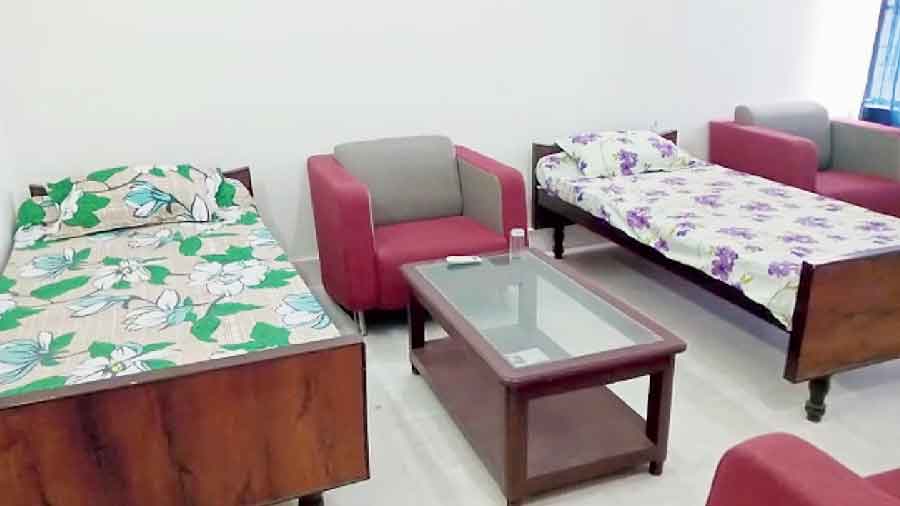 The special lockup for VIP offenders against prohibition in Samastipur district of Bihar
Sanjay Choudhary
---
Published 10.10.22, 02:00 AM
---
Well furnished and air-conditioned, the rooms may look like those where you ring for room service and say: "Two beers, please."
Except that they are meant as a "lockup" for VIP violators of the liquor ban in Bihar, where they may spend a few comfortable hours lounging or sleeping before being produced before a magistrate.
Each of the two VIP lockups set up on Saturday by the prohibition, excise and registration department at its office in Samastipur town, about 90km northeast of Patna, has a signboard declaring "VIP hajat".
The rooms have soft beds, sofas, tables, wardrobes and attached washrooms.
"We established the facility on the instructions of our headquarters. It's for public representatives, government officers and other important people caught drinking or in a drunken state," Samastipur excise superintendent Shailendra Kumar Chaudhary told a news conference on Saturday.
"They may be kept here for a day (before production in court)," he said, adding that a trained guard dog would be deployed outside the rooms for the VIPs' safety.
Till Sunday night, there were no reports of any VIP having graced the special lockups.
The new facility is the diametrical opposite of ordinary police lockups in Bihar — dark, squalid hellholes whose occupants have to squat on filthy floors and use stinking toilets.
Chaudhary did not explain why lawmakers and government officials cannot be put up in ordinary lockups for violating Bihar's prohibition law. Ironically, all government employees and nearly all MLAs in Bihar have given written undertakings to the state government to honour the liquor ban.
State excise commissioner B. Kartikey Dhanji did not take calls from this newspaper. Deputy excise commissioner (headquarters) Krishna Kumar, however, claimed a misunderstanding.
"I enquired about the issue with the Samastipur excise superintendent. The facility is for our officers who get transferred there. He (Chaudhary) got it mixed up with a lockup," he told The Telegraph.
"Everybody who flouts prohibition is equal in the eyes of our department," he added.
Kumar, however, could not explain the signboards reading "VIP hajat".
Chief minister Nitish Kumar, who implemented total prohibition in Bihar in April 2016, has been vocal in claiming success and a beneficial impact on society.
But in reality, the liquor mafia has in collusion with government officials and politicians built an extensive bootlegging network, using the porous inter-state borders. Alcohol is available in every corner of Bihar.
The police and the excise department have registered over 4 lakh cases, arrested more than 5.5 lakh people and seized around 75,000 vehicles and crores of litres of various types of liquor. This is believed to be just the tip of the iceberg.
People taken into custody by police, excise and other enforcement agencies are kept in lockups pending investigation, but must within 24 hours be produced before a court, which may grant bail or send them to jail or police custody.
Groaning under the burden of prohibition cases, the state's courts, including Patna High Court, have complained that they are not getting an opportunity to attend to other cases.
This has led the state government to amend the law and allow deputy collectors to grant bail to first-time liquor offenders against a stipulated fine.