Triple talaq petitioner calls Shah to ensure communal harmony
Plea comes after slogans calling for violence against Muslims were raised at Jantar Mantar near Parliament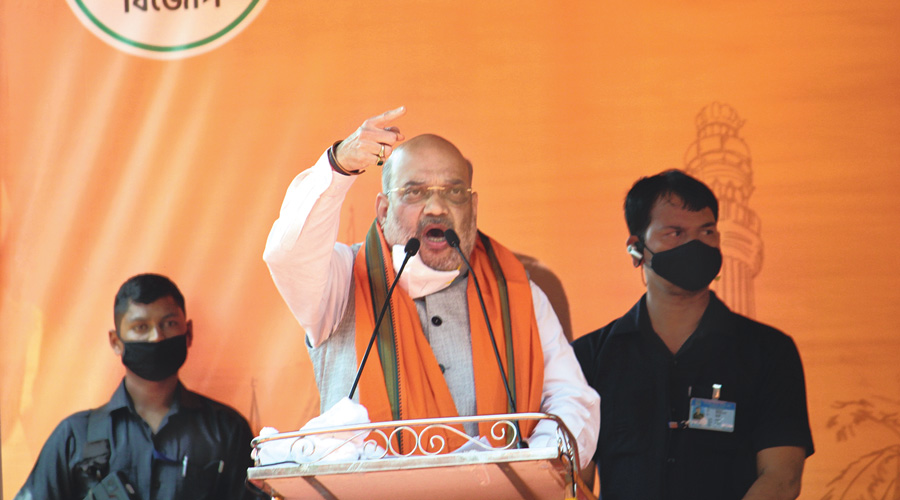 ---
New Delhi
|
Published 11.08.21, 01:05 AM
|
---
Zakia Soman, on whose petition the Supreme Court declared instant triple talaq illegal, has urged home minister Amit Shah to ensure justice and communal harmony after slogans calling for violence against Muslims were raised near Parliament.
In a statement she issued on behalf of the Bharatiya Muslim Mahila Andolan that she co-founded and runs, Zakia said on Tuesday: "The culprits must be immediately arrested and tried under various sections of the IPC for genocide calls through hate speeches and threats to disrupt social peace and harmony.
"The home minister should immediately make an announcement to reassure the minorities in Delhi, many of whom are still reeling under the effect of the riots in February 2020. The viral video has spread a sense of fear and insecurity among citizens. They should be assured of security and safety by the home minister."
BJP leader Ashwini Upadhyay has since been arrested along with five others.
Zakia's statement also called for the arrest of those who delivered hate speeches preceding the communal riots in the capital last year that claimed 53 lives.
In response to Delhi High Court's direction to probe BJP activist Kapil Mishra for making a provocative speech just before the riots, police had said last year that "no actionable evidence has surfaced yet".
Mishra has encouraged people to tweet with the hashtag "IsupportAshwiniUpadhyay" on the ground that no slogan had been raised from his stage on Sunday.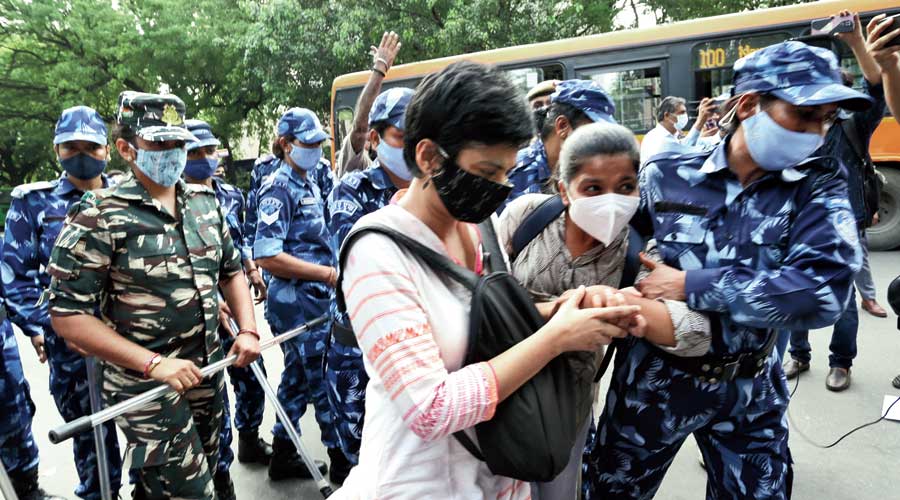 Mishra said in a video: "The conspiracy of communists, jehadis and Leftists should not be allowed. We oppose the arrest of Ashwini Upadhyay and support him. I feel the attempted murder of Swamiji at Yati Narsinghanand's ashram should be the biggest issue today."
Early on Tuesday, a visiting devotee from Bihar named Swami Nareshanand was attacked by an unidentified assailant with a paper cutter at Ghaziabad's Dasna Devi temple that is run by the preacher Narsinghanand.
Nareshanand is stable and recovering in hospital.
Narsinghanand had justified the slogans raised on Sunday. A Muslim boy was thrashed by staff of the Dasna Devi temple for drinking water from a tap outside in March.
The police briefly detained several students and activists of the Congress, CPIML-Liberation's All India Students Association, SFI and the Jamaat-e-Islami Hind who had come to protest at Jantar Mantar Road on Tuesday against the attempts to incite violence against Muslims. Some students also protested at Jamia Nagar police station.
SFI state committee member Anil said: "It is blood curdling to see the mute complicity of Delhi police that acts with much vehemence against student protesters. The police force that brutally clamps down on students and the general public who take to the streets in defence of the Constitution has failed to curb the Sangh's terrorist activities. This is a deliberate attempt by the BJP, the RSS and other Sangh outfits to advance their agendas for communal hatred and create divisions."