Pegasus: Santanu Sen snatches govt statement from IT minister, tears it amid uproar in Parliament
Sources said the Centre was planning to initiate disciplinary action against the TMC MP for his behaviour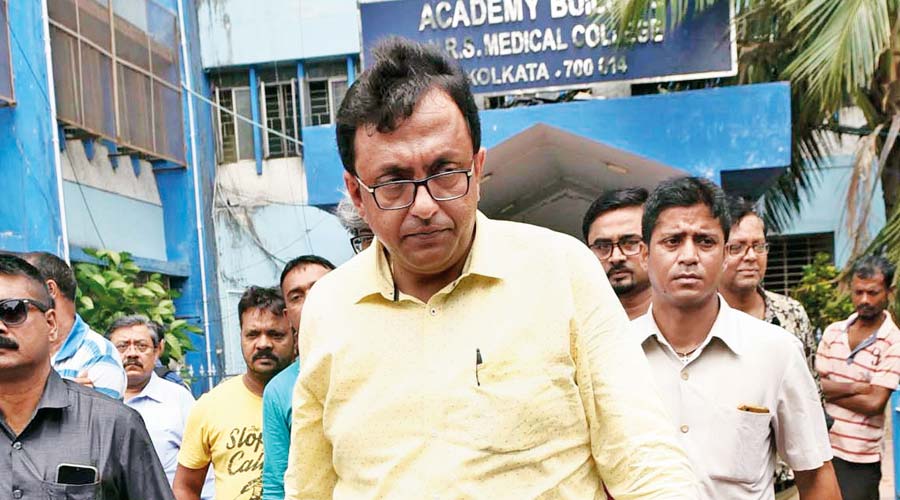 ---
New Delhi
|
Published 23.07.21, 02:57 AM
|
---
The Pegasus snooping row turned physical in Parliament on Thursday when Trinamul MP Santanu Sen snatched and tore the government's statement on the controversy that was being read out by information technology minister Ashwini Vaishnaw in the Rajya Sabha.
Vaishnaw's readout did not offer anything new from what he had read out in the Lok Sabha earlier this week, and Trinamul was not alone in protesting the government's effort to tamp down the controversy with a statement.
Sen later alleged that after the proceedings were hurriedly adjourned for the day, Union petroleum minister Hardeep Singh Puri misbehaved with him and verbally abused him.
Sources said the government was planning to initiate disciplinary action against Sen for his behaviour. According to the sources, the government is likely to move a motion seeking the suspension of Sen for the remainder of the session, invoking Rule 256 of the Rajya Sabha.
The MP had also thrown pieces of paper into the Well of the House, which was also frowned upon by presiding officer Harivansh before he adjourned the session.
Asked why the Opposition had disrupted the proceedings instead of hearing the minister out and exercising its right to seek clarifications, Trinamul's Rajya Sabha leader Derek O'Brien said: "We want a structured discussion in Parliament on this issue. Structured discussion is not reading out a statement."
He added that the Pegasus scandal was way beyond the brief of the IT minister and that "the Prime Minister and the home minister must come and answer".
While part of Trinamul's combative stance stems from its recent electoral victory, in the case of the Pegasus controversy there is the added angle of party general secretary Abhishek Banerjee's phone number being on the list of potential targets for hacking.
Trinamul made it clear that the party would settle for nothing less than Prime Minister Narendra Modi or home minister Amit Shah addressing the matter, referring to their alleged track record on surveillance.
"Let the Prime Minister and the home minister respond... otherwise we are very clear this protest will continue till August 13 (the last day of the monsoon session)," O'Brien said.
Surveillance using military-grade spyware that the Israeli firm NSO Group claims is sold only to governments can be authorised only by the Union home ministry. In addition, recently appointed IT minister Vaishnaw was himself a potential target of snooping through the Pegasus spyware.
The Telegraph sent a message to Puri for his response to the allegations levelled against him by Sen. Sources close to Puri claimed the allegations were "laughable", saying it was Sen who had snatched the papers from the IT minister.