Uttarakhand: Trident behind glacial fragility
Scientists say the region's vulnerability has increased over the years under the impact of global warming and local development activities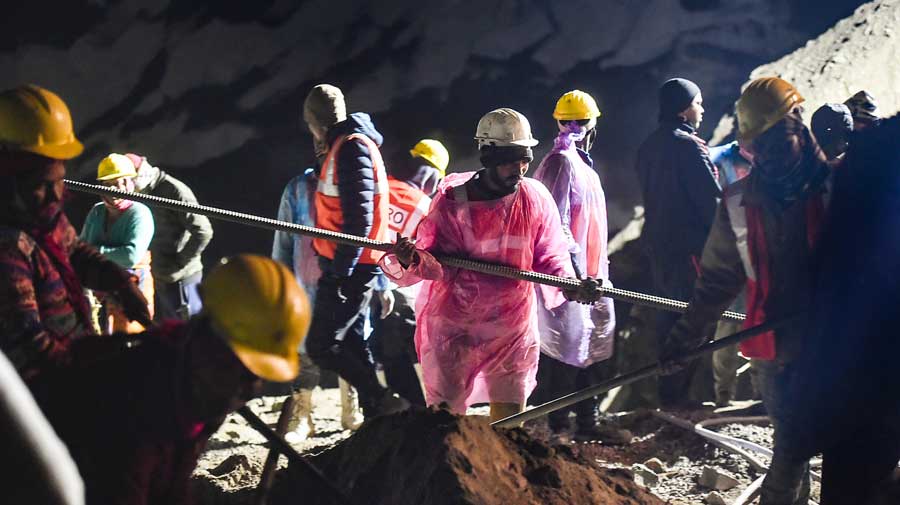 ---
New Delhi
|
Published 11.02.21, 12:36 AM
|
---
The combined effects of hydropower projects, deforestation and efforts to widen a pilgrimage road in Uttarakhand have exacerbated the fragility of the state's glacial regions, making them vulnerable to disasters like Sunday's flash flood, scientists and environmentalists said.
Scientists are trying to determine the immediate trigger for the flash flood in Chamoli but, they say, the region's vulnerability has increased over the years under the impact of global warming and local development activities.
The Alaknanda basin, the region of Sunday's flash flood, had seven hydropower stations in operation, eight under construction and four proposed stations.
Mallika Bhanot, a volunteer with Ganga Avahaan, a citizens' forum in Uttarakhand, has in a Twitter post described the Tapovan-Vishnugad and Vishnugad-Pippalkoti stations as "bumper-to-bumper HEP (hydroelectric power stations) on the Dhauliganga, a tributary affected by Sunday's flash flood.
"We're seeing the cumulative effects of steady environmental degradation brought about by policies that have no focus at all on environmental protection," Bhanot told The Telegraph
About 45 per cent of Uttarakhand's area is covered by forests and environmental groups have expressed concern about deforestation.
"Deforestation and loose soil can enhance the dust levels in the environment," said a senior scientist. Scientists have known for years that soot particles called black carbon can be transported long distances by wind to the Himalayas where they can contribute to glacial melting.
Sections of environmental activists have expressed concern about the impacts of efforts to widen the Char Dham road, a 900km segment connecting four pilgrimage sites — Yamunotri, Gangotri, Kedarnath and Badrinath — with an all-weather road.
Over 500km of the road has already been widened and, Bhanot said, the project is expected to contribute to deforestation through the destruction of tens of thousands of trees and to dislodge several million cubic metres of soil.