Tribal groups cheer after Hemant Soren-led cabinet approves two decisions
As per bill, reservation of ST would go up to 28% (from 26%), OBC would get 27% (up from 14%) and 12% for SC (up from 10%): Vandana Dadel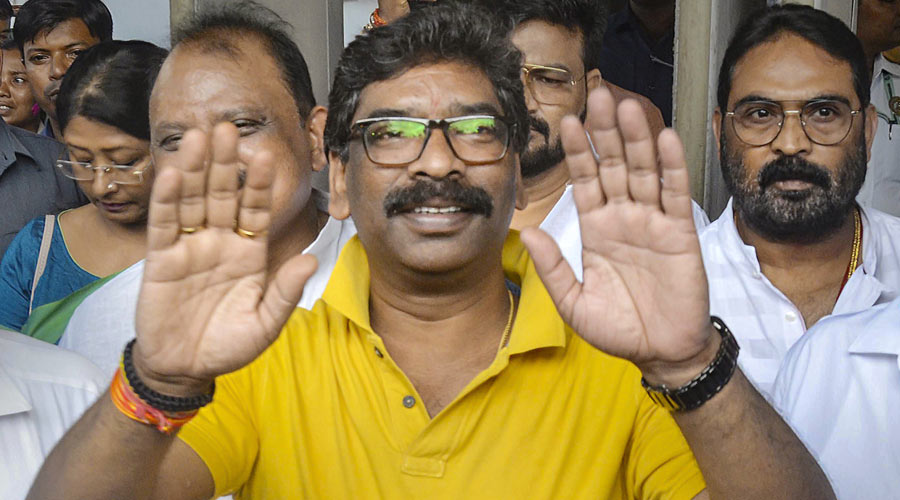 ---
Jamshedpur
|
Published 19.09.22, 12:45 AM
|
---
There was jubilation among tribal groups across Jharkhand after the Hemant Soren-led cabinet approved two decisions on Wednesday evening.
The decision was taken to fix land survey records of 1932 as the basis for obtaining residential certificates for appointment in jobs and admission in the state. Another decision taken is to increase reservation in jobs for socially and economically weaker sections to 77 per cent.
"The cabinet approved proposals to send these two bills after ratification from the state Assembly to the Centre to include them in the Ninth Schedule of the Constitution," said Jharkhand cabinet principal secretary Vandana Dadel on Wednesday evening.
Significantly, a law in the Ninth Schedule is shielded from judicial review.
"It was important to get it included in the Ninth Schedule due to past experiences of 2002 when the Jharkhand High Court (in November 2002) quashed the then Babulal Marandi's BJP-led government notification that stipulated that persons whose names, or those of their forefathers, figure in the 1932 survey settlement of land records would be deemed 'domicile' of Jharkhand, and such persons would be eligible to apply for government jobs (Class III and IV) and for admission to technical institutions," said a close aide of the chief minister in Ranchi.
The high court bench headed by then chief justice V.K. Gupta had then termed the policy a case of "hostile discrimination of the public at large" while setting aside government's notification issued in 2002 after the state was carved out of Bihar in November 2000. There had been widespread violence across Jharkhand between tribals and non-tribals after the decision in 2002.
"The cabinet has approved the 'Jharkhand definition of local persons and for extending the consequential, social, cultural and other benefits to such local persons Bill, 2022'," Dadel said.
She further added: "As per the bill, people who have their names of their ancestors' name in the khatiyan (land records) of 1932 or before will be considered as a local inhabitant of Jharkhand."
Besides, those who are landless or do not have their or their families' names in the 1932 khatiyan, respective gram sabha would have the power to certify them based on their language, customary traditions, the cabinet principal secretary informed.
The second bill cleared by the cabinet proposes to increase reservation in state jobs for the socially and economically weaker sections of the society from 60% to 77%.
"As per the bill, the reservation of the scheduled tribes (ST) would go up to 28% (from 26%), OBC would get 27% (up from 14%) and 12% for the scheduled castes (up from 10%)," said Dadel.
"After including 10% reservation for EWS (economically weaker section), the total reservation would go up to 77%."
"The cabinet today has taken historic decisions. While quota for OBCs has been increased, 1932 land records as basis for domicile is also being implemented. The government is sensitive towards the needs of all sections of the society, be it the farmers, youth, teachers, constables, or the common man. We are fulfilling our election manifestos one after another," said Hemant Soren while speaking to reporters on Wednesday evening after the cabinet meeting.
Increasing OBC quota was a poll promise of the Jharkhand Mukti Morcha (JMM)-led United Progressive Alliance ahead of the 2019 Assembly elections. The BJP had also promised to increase OBC reservation. However, similar attempts in states like Maharashtra and Madhya Pradesh, to breach the 50% cap on reservation as fixed by the Supreme Court, have been turned down by the courts.
Tribals took out Abhar Julus (gratitude march) across the state expressing gratitude to Soren's government for taking the decision on 1932 land records.
Former Tribal Advisory Council member Ratan Tirkey who had been in the forefront of agitation in 2002 espousing cause of 1932 as land records to define locals termed it as fruition of longstanding struggle.
"The struggle for over four decades has been realised. It is a day of celebration. The tribals had so far been cheated by mainstream parties," said Tirkey.
However, non-supporters of 1932 land records as basis for determining locals are contemplating legal recourse.
Ekta Vikas Manch has warned of going to court against the passage of local policy based on Khatian of 1932 in the cabinet of Jharkhand government. The central president of the Manch, Arvind Kumar Mishra has said: "This decision will create a situation of discrimination among the people living in a cordial environment in Jharkhand and create civil unrest. Those staying in Jharkhand in 2000 should have been declared locals instead of 1932 as the cut-off year. This is injustice for people irrespective of religion, caste or province or community as all have played a role in the state's development. We are planning to go to court against the government's decision."
Akhil Bharatiya Bhojpuri Maghi Maithili Angika Manch president Kailash Yadav felt the decision was gross injustice on people from Bihar, UP, Bengal and Odisha staying in Jharkhand.
"This is gross injustice for people from states like UP, Bihar, Bengal and Odisha who have been residing in states for several decades. We will be having a meeting on September 18 to plan our future course of agitation against government's decision," said Yadav.