Tractor march was set up to fail: Cardiologist from US
Doctor recalls rumours spread by unknown men before farmers ran into police attack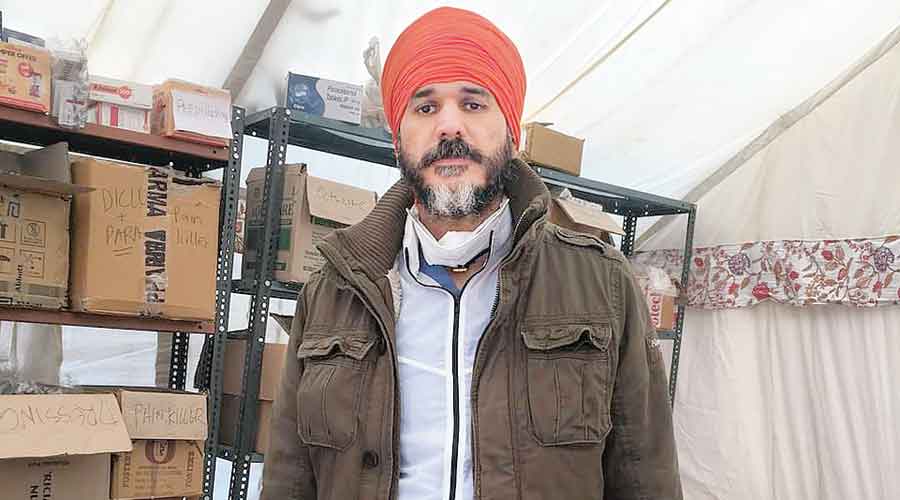 ---
---
Cardiologist Swaiman Singh came from the US to volunteer for medical aid at the farmers' protest right when it began. Nothing had prepared him for the scaremongering and police highhandedness he experienced while treating patients, including policemen, during the tractor rally on Republic Day.
He doesn't understand why he and his team of medical personnel got beaten up by the police — ironically, they spent several hours treating injured cops — why he saw no government ambulances despite the size of the event, or why some people spread rumours of violence and confusion about the routes through the day, aggravating matters.
A cardiology fellow at the Robert Wood Johnson University Hospital in Newark, Singh took a break from his studies to come to the Tikri Kalan protest site and start a medical camp, library and night shelter.
The Five Rivers Heart Association, the NGO he runs in the US, has 220 medical personnel and 32 ambulances at Tikri. He told this newspaper that on January 26, he was in Nangloi, a place on the designated route for the tractor rally from Tikri, where some farmers breached barricades.
"We were there from around 10am. Twelve of our ambulances were stuck in traffic. Suddenly people from across the barricade (the Delhi side) came over and said that Nihang Sikhs had cut off policemen's legs," he said.
"Others came and said the police were beating people up. I initially sent two doctors, who couldn't find any clash, but as these unknown men kept coming and telling us this, we all moved across the barricade, which the police let us do. Once we had crossed over, we confirmed there had been no clashes there and that the farmers had not breached the barricades (at the time).
"After an hour or so, when news started coming in about protesters (storming) the Red Fort, trouble began at the Nangloi barricades. Some of our medical volunteers who were at the barricades told me later that the farmers were talking to the police, saying, 'Jai jawan, jai kisan, let us advance', when two policemen came and slapped some boys.
"The police started firing tear smoke, aiming it at the heads of the protesters. I saw a shell hit a man on a tractor, almost taking off half his face. He drove his tractor into a barricade and sped away. Our ambulance tried to chase him but could not catch him."

Medical hole
Dr Singh added: "There were no government doctors or ambulances. I had volunteered as a doctor at Black Lives Matter. How can there be a protest without ambulances and fire engines? As the trouble worsened, we set up a field hospital on the spot. We were suturing (the wounds of) Delhi police and CRPF men. Our ambulances took some 15 of them, and probably more than 100 farmers, to hospitals for further treatment.
"Around two hours after we had started, two men came and stood near us and the police began beating them. Then the police began to hit us with lathis."
A Delhi government spokesperson did not respond to this newspaper's queries about the emergency medical personnel deployed and why they were absent along the route of the Tikri march.
In a video posted on Facebook on Thursday, Dr Singh said the march had been "literally set up to fail" as the participants did not know the routes thoroughly.
"The pain was seeing our brothers, our policemen, the CRPF, they didn't have backup…. Where were the doctors, where were ambulances for them? Even they were set up to fail and die. If we weren't there so many people would have lost their lives that day," he wrote.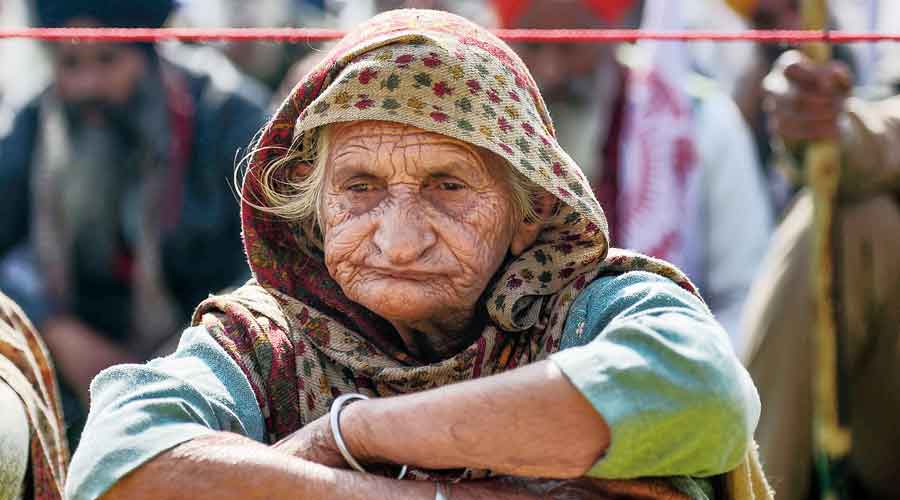 Doctors attacked
A video shot by a person at the spot shows Delhi police in riot helmets hit two unidentified men who have sticks in their hands. This happens close to medical personnel who are on a pavement wearing neon jackets, and who shout, 'This is a hospital.' The police wield their sticks on the doctors. The images then end but the audio of the beating continues.
In all, six medical volunteers — doctors, nurses and a pharmacist, from Punjab, Delhi, Bengal and Karnataka — from Dr Singh's NGO suffered injuries. Three of them have broken arms, one has a deep gash on the head, and two have severe bruises on their thighs.
Another video, shared by Dr Singh on his social media accounts, shows two policemen in motorcycle helmets and a third in riot gear chasing a medical volunteer and beating him after he falls. The policemen are then pulled back by CRPF personnel.
"They hit a doctor who was holding an intravenous (infusion) line for an injured policeman. These policemen were stopped by other policemen," Dr Singh said.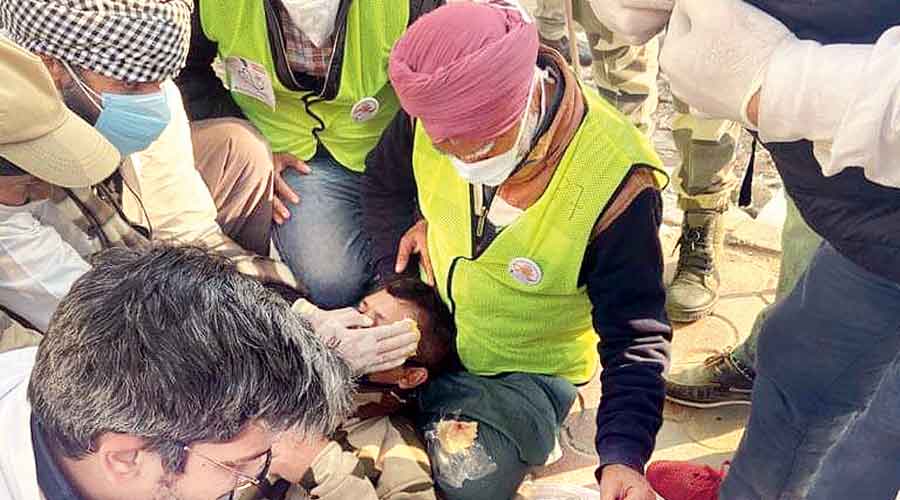 Begging cops
"We thought of leaving and going back to the farmers' side but the policemen begged us not to go as they did not have their own doctors. We stayed and treated whoever came to us, and moved to Peeragarhi and other places on the route until the rally ended. Our hospital functioned till 10pm."
In another video, a CISF jawan is seen pleading with folded hands to the medical personnel not to leave.
"It seemed to me like there were people misleading the farmers (into violating the designated routes) and the police (into beating the doctors). Most farmers did not know the routes. They are from out of town and have no clue about Delhi," Dr Singh said.
"I want to know why the government shut off the Internet (on Tuesday afternoon at many places in Delhi). There was no information coming and both the police and the farmers were confused. I also want to know why the police have cut the supply lines of food, water, even electricity (at the protest sites). I'm unable to get my supply of medicines. The way things are, we can work for only three more days."
The Union home ministry's order on Tuesday that cut off Internet services where protests were taking place cited "the interest of maintaining public safety and averting any public emergency".
Dr Singh, settled in the US for more than two decades, grew up in Amritsar. Hailing from a family of activists, he visits different parts of India annually to hold medical camps.