Three top Maoists surrender to Odisha police on Covid fear
The rebels identified as Sabita, Talse Huika and Raidhara, surrendered before DGP Abhay during his visit to the Malkangiri and Koraput districts on Sunday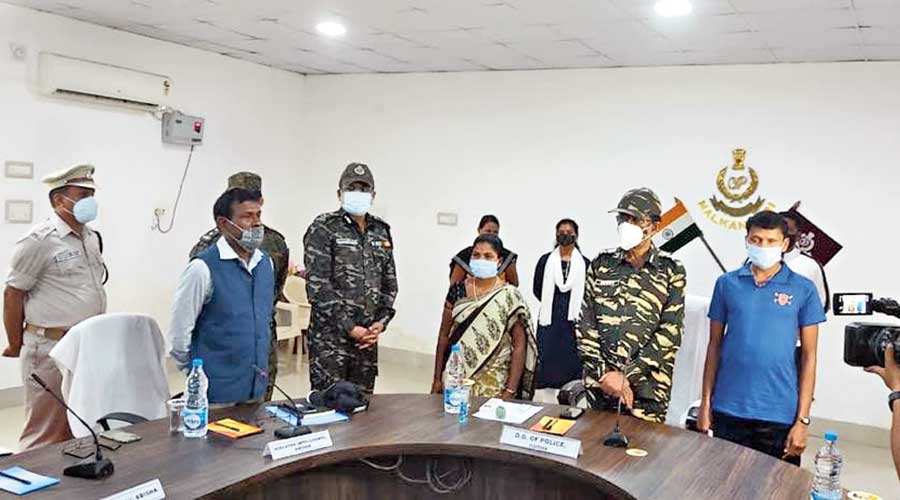 ---
Bhubaneswar
|
Published 19.07.21, 02:00 AM
|
---
The fear of being infected with Covid-19 virus has forced three top Maoists to surrender to the Odisha police.
The three rebels identified as Sabita, Talse Huika and Raidhara, surrendered before DGP Abhay during his visit to the Malkangiri and Koraput districts on Sunday. Sources said out of the fear of being infected with the virus made them give up arms.
While Sabita and Talse Huika were carrying a cash reward of Rs 4 lakh each on their heads, Raidhara had a reward of Rs 1 lakh on him. Sabita, who was an area committee member, said: "Many members of our party have been infected with Covid-19 while many others have died. I was scared. The Odisha government's surrender and rehabilitation policy for the Maoists has motivated me to surrender."
In 2000, she joined the revolutionary Maoist organisation as a primary member and later received one month of weapons as well as political training under the guidance of Maoist trainer Loknath. In 2010, she was given an INSAS rifle. She had participated in many attacks on security forces and ambush in Sukma district in Chhattisgarh.
In a press release, police said: "She has disclosed that remaining few local/active Maoist cadres are also willing to surrender and join the mainstream of the society because of the torturous behaviour of Chhattisgarh and Andhra Pradesh cadres but they are not being allowed to surrender by the senior Maoist leaders who are threatening them of killing them and their family members. We appeal to them to leave the obsolete, out-dated ways of Maoist party, come to the mainstream and become a part of the on-going peaceful developmental process of his area."
The police further said, "Sabita saw that Covid-19 pandemic is hitting the Maoist organisation guard and many Maoists are suffering/dying from Covid-19 without getting proper medical treatment."
Talse Huika, who was working as the area committee member, was inducted in the CPI(Maoist) in 2012. She was lured by the Maoists to join the "Jana Natya Mandali", the cultural wing of the Maoists, at the age of 13 in gross violation of child rights and thus deprived of formal education. She participated in five attacks on security forces along with several other incidents during her underground life.
Raidhara joined the organisation in 2017 and he was entrusted with conducting meetings of cadres and militia with nearby villagers. "All of them will be given monetary aid as per the rehabilitation policy. They should shun violence and surrender. Police will not act in a vindictive manner against them," the DGP said.