To Kashmir for brides? Just a joke
DCW has sent a notice to Delhi police seeking FIRs against Khattar and Goel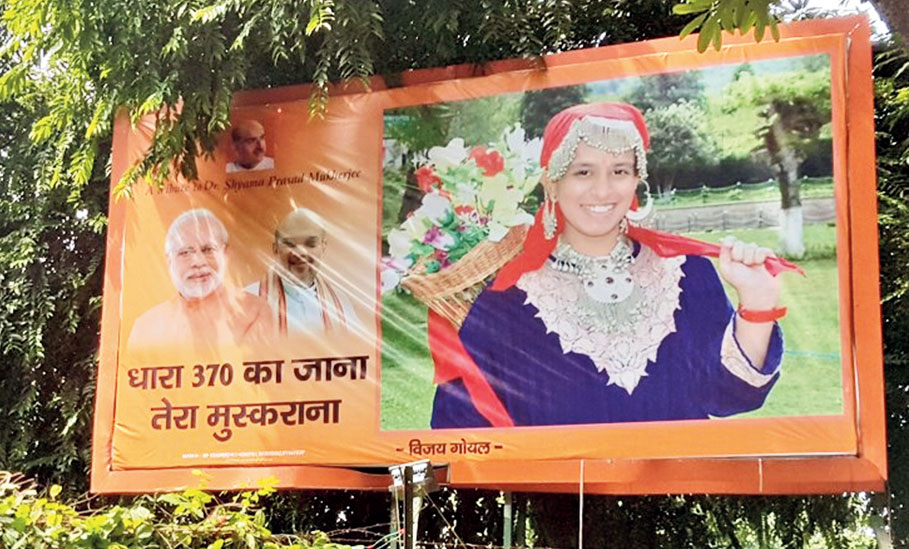 The billboard outside the residence of Vijay Goel in New Delhi
Telegraph picture
---
New Delhi
|
Published 10.08.19, 08:52 PM
|
---
The image of a fair-skinned Kashmiri girl and her desirability as a bride seems firmly imprinted on the minds of several BJP leaders as the emblem of the recent government decisions on Kashmir, causing them to repeatedly invoke her verbally and visually.
Among the latest perpetrators are Haryana chief minister Manohar Lal Khattar, who has "joked" about brides being brought from Kashmir, and Union minister Vijay Goel, whose residence features a billboard that hails the amendment of Article 370 by displaying the picture of a Kashmiri woman.
The Delhi Commission for Women (DCW) has sent a notice to Delhi police seeking FIRs against Khattar and Goel.
Khattar's remark, which echoes an Uttar Pradesh BJP lawmaker's recent prod to party workers to marry the "fair girls of Kashmir", provoked condemnation on Saturday from political opponents like Rahul Gandhi and Mamata Banerjee after a video clip of his speech began circulating.
He later defended himself by claiming he was quoting others and that too in the context of skewed sex ratios and the need to improve them.
But the longer clip the BJP leader tweeted as clarification shows he avowedly meant the comment about Kashmiri women as a "joke", raising questions of taste and sensitivity.
News agency ANI had earlier quoted Khattar as saying "now we will bring girls from Kashmir" in a speech about an improvement in Haryana's sex ratio on Friday.
The footage that Khattar tweeted on Saturday afternoon shows him saying: "Hamare Dhankarji ne kaha Bihar se lane padengi, ab kuchh log keh rahe hain ab toh Kashmir khul gaya wahan se le ayenge. Mazak ki batein alag hai, lekin samaj mein ratio theek hogi toh santulan theek baithega."
A translation: "Our (minister O.P.) Dhankar said we have to bring (daughters-in-law) from Bihar (because of the skewed sex ratio in Haryana). Now some people are saying that with Kashmir now open, we can bring them from there. Jokes apart, only after the sex ratio in our society is rectified can there be a balance."
"First make a very indecent comment on women, then say it was a joke and then say daughter is the pride of the country," DCW chairperson Swati Maliwal tweeted.
"The truth is that Khattar's language shows his pedestrian mentality! Make jokes that you can bear if someone makes one on you. Anyway, the public has chosen them to work, not for rotten comedy!" Maliwal added.
Rahul had earlier tweeted: "Haryana CM, Khattar's comment on Kashmiri women is despicable and shows what years of RSS training does to the mind of a weak, insecure and pathetic man. Women are not assets to be owned by men."
The DCW's notice to the police said: "Their acts and statements not only amount to outraging the modesty and denting the dignity of Kashmiri daughters and sisters but has impacted all women and girls of the country.
"Further, their actions may end up inciting violence in the already sensitive area of Kashmir. Such statements by those in high constitutional offices reinforce the notions of a patriarchal society and severely undermine the value and voice of women and girls."
Goel retaliated, saying: "She is like our daughter, keep your thinking clean. Fearing the public of Delhi, they supported Section 370, but (Delhi chief minister Arvind) Kejriwal gang's frustration is clearly visible. This statement is the sign of despair among traitors due to the abolition of Article 370. Why do you have a problem with Kashmiris smiling?"
Khattar too hit back at Rahul, tweeting: '"Weak, insecure and pathetic' are adjectives people use for the President of the Congress Party."
Vikram Saini, the Uttar Pradesh MLA, had apparently started the trend, telling an event on Monday: "The party workers are very keen, and we'll get the single males married there (in Kashmir)…. Why don't you marry the fair girls of Kashmir?"
Saini was referring to the lifting of the landholding and inheritance curbs in Kashmir on outsiders and their children. Contacted on Thursday, he too told Reuters he had made the comment "jovially".
Since then, many men from across the country have expressed enthusiasm about marrying women from Kashmir, prompting women's rights advocates to slam the trend, Reuters reported.
Google Trends data show that searches in India for "Kashmiri girl" surged from Monday. "Every Indian boy's dream right now: 1. Plot in Kashmir 2. Job in Kashmir 3. Marriage with Kashmiri girl," a man tweeted.
Apex court lawyer Mihira Sood said: "Kashmiri women are not spoils of war. They are human beings with the right to consent or not."
Mamata's tweet castigating Khattar's remark said: "We, and more so people holding high public office, must restrain ourselves from making insensitive comments about the beloved people of Jammu and Kashmir. These are hurtful, not only for J&K, but the entire nation."