This Valentine's Day, no need for chocolate heroes
In season of protest, youngsters reimagine love to fight hatred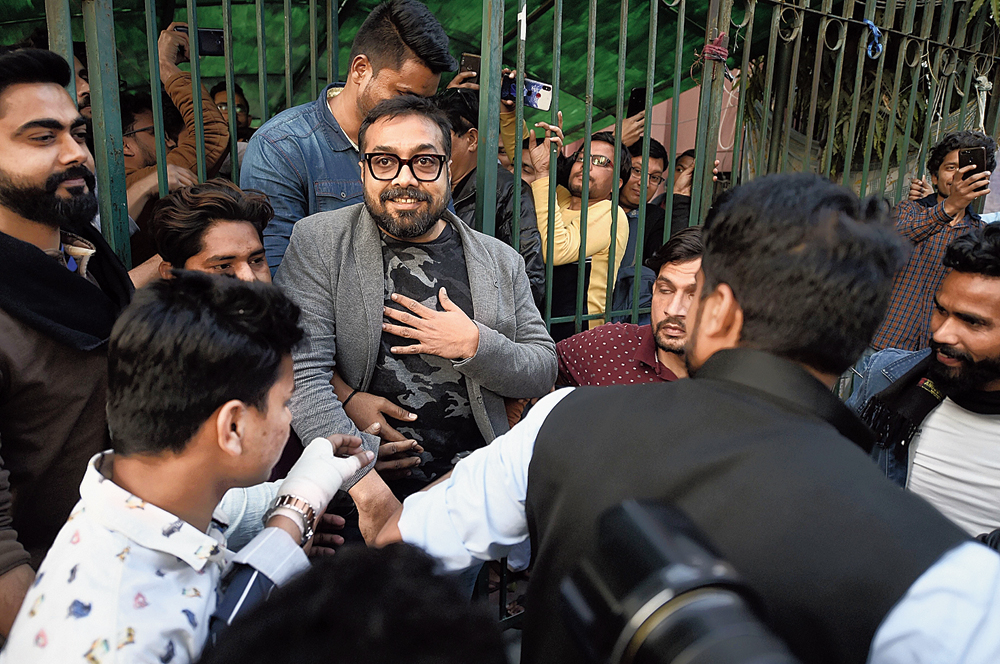 ---
---
For the young in the thick of the agitation in the capital against the citizenship matrix, poetry, songs and humour against bigotry replaced chocolates, roses and stuffed toys this Valentine's Day.
Several events on Friday sought to redefine the popular understanding of love in the current context.
A collective of artistes under the banner "India, my Valentine" performed at events at Jawaharlal Nehru University and Nizamuddin. Among them were actors Swara Bhaskar and Ratna Pathak Shah, actor and musician Saba Azad, rappers Delhi Sultanate and Sumit Roy and comedians Sanjay Rajoura and Manik Mahna.
Varunaditya Chouhan, a communications professional who organised the event at Nizamuddin, told The Telegraph: "We have tried to include both protest artistes who have been performing at agitations around the city as well as well-known artistes. It isn't just about the CAA. It is against violence — whether on our borders, like the killing of the CRPF jawans on this day last year, or like the violence we have seen in Delhi against students. Through music and other performances, we are fighting hatred and discriminatory laws, through the message of love on the day of love."
Besides opposing the citizenship matrix, the participants raised slogans, recited poems and sang songs in memory of the troops slain in Pulwama and the mass molestation at a women's college in the capital.
In Delhi University, a collective called Young India Against CAA-NPR-NRC organised a reading of poetry by students who wrote them.
N. Sai Balaji, one of the organisers and the president of the CPIML-Liberation's All India Students' Association, explained: "We want to use every occasion of love and unity as an opportunity to fight the forces of hate. When the regime is dividing people with false claims of 'love jihad' and we are reduced to our immediate identities when inter-caste marriages are stopped, it makes this day all the more important for our right to love.
"This is a fight against the ideology of Godse which inspires the Bajrang Dal to attack couples on Valentine's Day. Through poetry, we are reaffirming our love for the Constitution of Ambedkar and Bhagat Singh's India which is built on the ideals of our freedom struggle."
Filmmaker Anurag Kashyap visited ongoing protests against the CAA outside Jamia Millia Islamia and Shaheen Bagh.
At Shaheen Bagh, women agitators displayed a red teddy bear for Prime Minister Narendra Modi, asking him to come and talk to them about the objections to the law that selectively grants citizenship to refugees from Muslim-majority neighbouring countries on the basis of their faith.
Kashyap joined the sloganeering outside Jamia. "I have come to Jamia for the first time. I was feeling that I was dead but here, I feel I am alive," said the director who had to temporarily leave Twitter because of trolling by Right-wingers after he began speaking out against the Centre.
He said outside Jamia: "Our battle will have to be fought with patience, not violence. It is key. This won't be over in one or two days. We have to stand strong until we get the answer to all our questions.… This will be a long fight but we are all together in this. Some of you wonder why more are not coming forward in your support, but rest assured that they are with you even in their silence. We can all see what's happening here. From Jamia to JNU, the agitation spread across the country. For the first time, it seems like we are one country. We have to take back our country and Constitution."
Outside a multiplex in South Delhi's Saket, the CPM's Democratic Youth Federation of India (DYFI) organised a poetry session and an animated open discussion. "We are trying to get the neutral lot, using Valentine's Day as a talking point…. We are calling couples and singles to talk about how they love others and protect their loved ones from injustice…. We are also reading out love letters of Marx, Bhagat Singh, Amrita Pritam and Manto," organiser Jaai Vipra said.