'There has been a distinct political articulation of Moditva, a Right-wing populsim'
Political commentator Maidul Islam about his latest work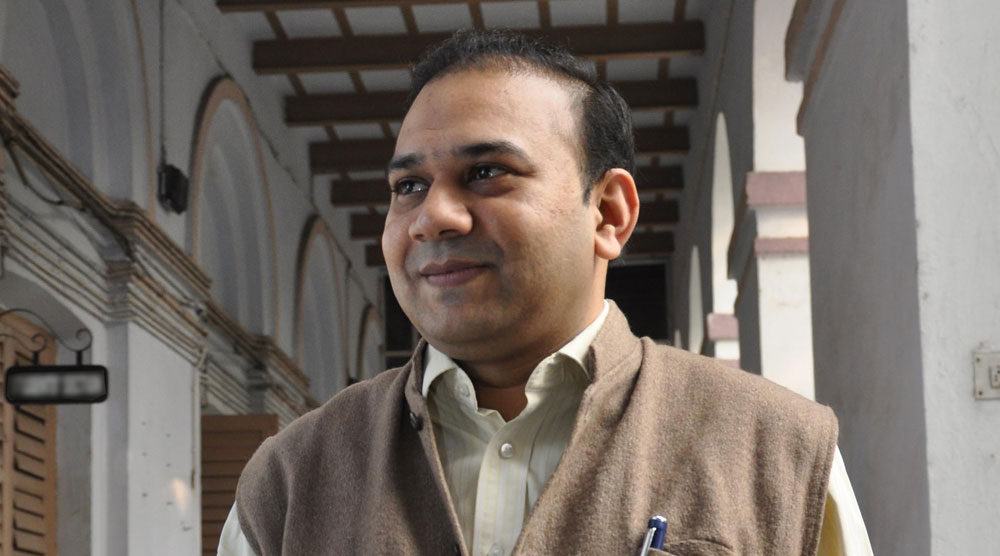 Maidul Islam
File picture by Anup Bhattacharya
---
Published 30.03.19, 06:36 PM
|
---
Q: In your new book, you have crunched data to show that economic deprivation and social marginalisation of Muslims in India is getting worse.
A: The situation of Muslims, as far as socio-political marginalisation of the community is concerned, has deteriorated since the Sachar Report of 2006. This is directly linked to the visible culture of mob lynching in the name of cow vigilantism, love jihad and low-scale communal riots. There are also credible studies about the denial of housing to Muslims in non-Muslim localities; this has aggravated the process of ghettoisation. Under-representation of Muslims in Parliament post 2014 has now reached an all-time low. On parameters such as literacy rate, mean years of schooling and the percentage of graduates, Muslims, Scheduled Castes and Scheduled Tribes are lagging behind upper caste Hindus, Hindu Other Backward Castes and other religious minorities. There is a higher degree of landlessness among Muslims than any other social group, while Muslims are second to Dalits in small landholdings. Muslim presence in top corporate boards and among India's wealthiest is negligible…
Q: Isn't the condition of Muslims better in West Bengal? And in south India?
A: Muslims in West Bengal benefited from land reforms. In 2006, there was a study that showed that there is lesser land deficit among rural Muslim households here, in comparison to most states with a substantial Muslim population. After the implementation of the Ranganath Misra Commission Report, a substantial population of Muslims, who are OBCs in West Bengal, now have greater access to public education and government jobs. There is also a legacy of communal harmony in West Bengal, as compared to the north and west India and Assam. In south India, the socio-economic situation of Muslims is relatively better for three reasons. First, Partition and the flight of the Muslim elite to Pakistan had little effect on the community there. Second, significant sections of Muslims here were classified as OBCs during the colonial and the post-colonial period, and they were able to benefit from reservation in education and jobs alongside the strong OBC movement. Finally, the oil boom of the 1970s encouraged Muslims here to migrate to West Asian countries for better jobs.
Q: In the book, you say how the Hindutva experiment in Gujarat has been successful on a larger scale in all of India. Will it still work in the coming elections?
A: There has been a distinct political articulation of Moditva, a Right-wing populism, backed by the Rashtriya Swayamsevak Sangh (RSS). Moditva denotes a specific kind of political articulation that combines nationalism, patriotism, the Hindutva project of targeting religious minorities and neoliberal economic development. It has been able to mobilise various sections — corporate capital, media, middle classes, Hindutva activists, sections of OBCs and upper-caste poor. However, the defeat of BJP in Karnataka, Madhya Pradesh, Rajasthan and Chhattisgarh shows that the consensus of a broad social coalition behind Modi has weakened.
Q: How did the communal-fascist politics of the RSS-BJP get to be so successful?
A: The rise of BJP was a result of three processes. First, rather than mounting a political struggle against Hindutva — which is elitist-Brahmanic and ideologically far-Right, and antagonistic to the backward castes, Dalits and Adivasis — Congress has been engaged in championing a soft Hindutva since the late 1980s. It took the Muslims for granted too. In effect, they lost both Muslims and the lower castes in many states. Second, the neoliberal economic policies of Congress resulted in income inequality and charges of corruption that created conditions for BJP to dominate Indian politics from 2014. The third is the lack of imagination of the Left in waging the battles of Dalits, Adivasis and OBCs on issues of dignity, social justice and equality, besides militant struggles of the informal sector workforce and the peasantry in the last three decades.
On parameters such as literacy rate, mean years of schooling and percentage of graduates, Muslims, Scheduled Castes and Scheduled Tribes are lagging behind upper caste Hindus, Hindu OBCs and other religious minorities
- Maidul Islam
Q: Why did the new generation take to Brand Modi?
A: Populist politics globally is now being mediated through television, social media and the Internet. Modi was intelligent enough to connect with the tech-savvy generation by adopting the new technologies of communication very early on than most Indian politicians.
Q: In one of the chapters, you explain how Hindi movies once used to spread the message of secularism slowly started demonising Muslims.
A: Yes, the chapter demonstrates that from the late 1980s, the relatively secular although stereotypical portrayal of Muslims vanished. Instead, there was a rise in a constant vilification of Muslims in popular Hindi cinema as criminals, mafia dons and terrorists. All of it built an image of the Muslim Other that contradicted the image of a law-abiding Indian citizen. The image constructions of Muslims in Bollywood cinema have far-reaching effects in shaping the dominant discourse regarding the identity of Indian Muslims. The available narratives in Bollywood cinema combined with existing prejudices have certainly helped the Hindutva agenda to vilify Muslims further.
Q: You have said that radical democratic politics is the only way out for Indian Muslims to get out of the quagmire of social and economic backwardness. You advocate an Ambedkarite Social Democracy with Dalit-Muslim Alliance as a solution. Aren't these utopian concepts?
A: Utopias are necessary for political mobilisation. What is achchhe din? Is it not a utopia for millions of Indians? People of the community must align with progressive political forces that would articulate the demands of equity than mere identity and security.
Q: What do you have to say about the state of Kashmiri Muslims, post-Pulwama and Balakot?
A: The ordinary Kashmiri Muslim has been much vilified in the everyday public discourse during the last three decades with the rise of militancy in the Valley… This tragic situation is now being complemented by mob lynching and Islamophobia. The progressives among the Kashmiri Muslims need to take initiatives to isolate miscreants. The State also has to engage in a dialogue, born of genuine empathy and seriousness, with Kashmiri Muslims, instead of alienating them further to take up guns and not books.
Islam is assistant professor of Political Science at the Centre for Studies in Social Sciences, Calcutta. He is the author of Limits of Islamism: Jamaat-e-Islami in Contemporary India and Bangladesh (Cambridge University Press, 2015) and the recently published Indian Muslim(s) after Liberalization (Oxford University Press)