The Swachh Bharat sweeping contest with Hema Malini and Anurag Thakur
MPs cleaned a part of the Parliament complex, and how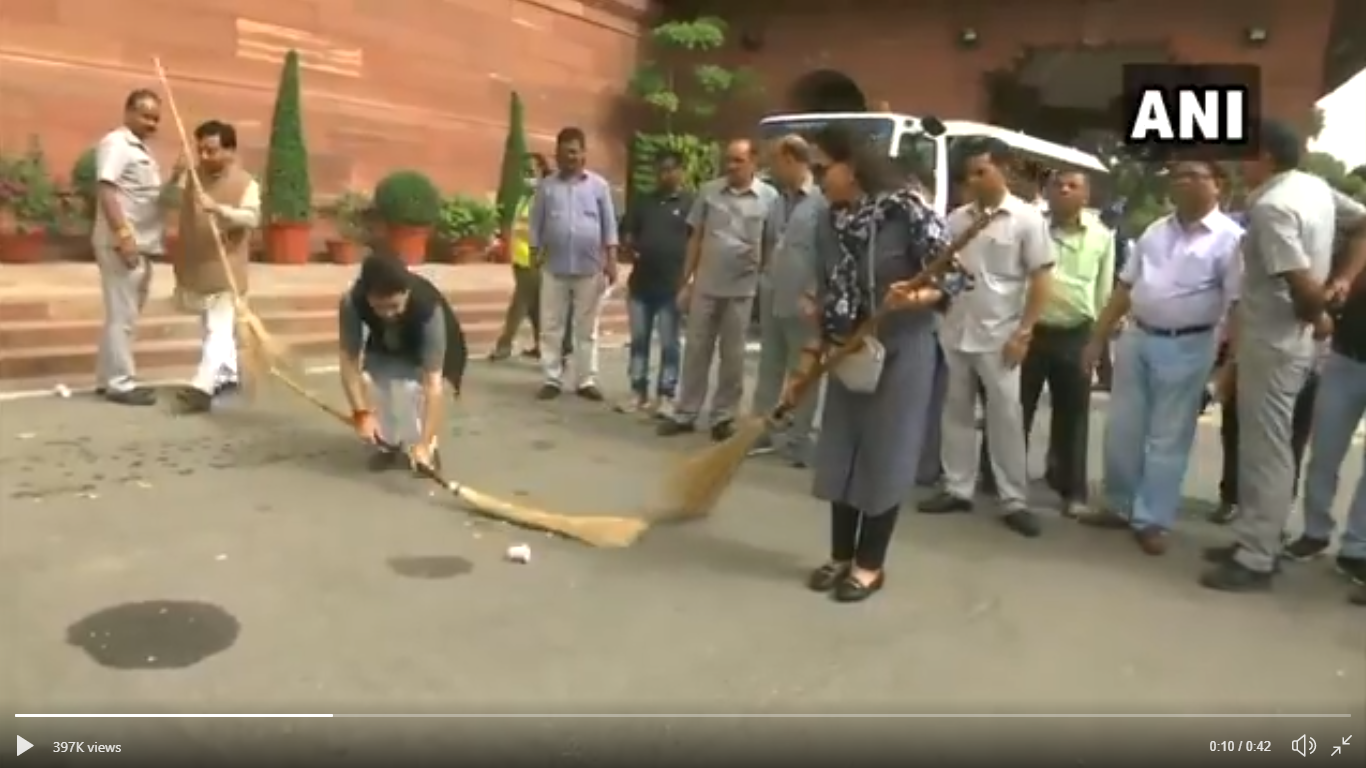 ---
---
She should clean this garbage from Holy Ganga. @dreamgirlhema @BJP4India pic.twitter.com/bt6CsNhVNm

— True Libran (@UmeshSr38535589) July 13, 2019
To perform better, Hema switched sides with her broom as cameras trailed the MPs. The actress offered a smile.
Thakur was unsmiling. It was serious business.
He seemed not to have seen what Hema had -- that there was nothing much to sweep away, other than one paper cup and a few tiny shreds of paper. Somebody just had to bend, pick these up and walk to the nearest bin.
But Thakur did a manoeuvre that stunned the actress. That lone paper cup and shreds of paper were almost under Hema's broom, when Thakur extended his striking arm and swept the bits away. Hema now actually had nothing to do.
For one second, she looked even more jobless, if that was possible. Thakur's ambitious stroke play had stunned her. But she recovered, and put her smile back on for the cameras and bystanders.
Thakur, however, did not pause.
The former cricket board president's determination to be the man of the match with a broom showed that he really cared for a good performance. So what, if Hema is a natural.
Twitter did not spare either of them.
Once ANI put out the video clip, many tweeted that Hema was play-acting again, like her Mathura campaign days when she walked into a wheat field and posed with a farm woman, sickle and all.
For inexplicable reasons, many tweeters were upset that 'Hemaji' was bad at making dirt vanish from a clean pathway.
Some also found a gender message in it -- the man was better at sweeping than the woman.
Not much was said about Thakur's earnestness with fake dirt, apart from this tweeter and a few others.
Dream girl se drama queen 😄😄

— Gurpreet Kaur 🇮🇳 (@kaurg21) July 13, 2019
Hemaji ko dekh kar lar raha unhone puri life me jhadu nahi pakdi hogi..

— Anjul Gautam (@anjulgautam) July 13, 2019
Along with Thakur and Hema in the video was a man in a blue uniform who looked like he had been hired to keep the Parliament complex clean. For several seconds, he seemed absorbed in the MPs' performance of sweeping.
Then, he too shuffled along and moved his broom over some invisible dirt.
The pathway is now swachh.
Men in the video are more adept at sweeping probably that's what they still do at home. Hema ji should start doing the same instead of making Dharamji so all the household work...

— Hameed Pasha حمیدپاشا (@whitecrescent) July 13, 2019
A handful of MPs today swept a largely clean Parliament complex in a Swachh Bharat drive organised by the Lok Sabha Speaker, and two clear winners emerged after the performance.
One of them could not find enough litter and was struggling with the broom, but was good natured about it all. The other champ saw imaginary litter when there wasn't enough to sweep under the smallest mat.
Hema Malini, the struggler with the broom, was effortless in her charm. The mop, shaft and all, was taller than her, more apt for a spot of Quidditch. The actress-MP was clearly not cut out for this role. It showed.
Hema's sweeping skills looked more suspect, because right beside her was her BJP colleague, Anurag Thakur - he who was second to none when it came to brushing away imaginary dirt.
After taking acting classes from Shri Narendra Modi, Famous actress Hema Malini cleaning Air just by waving a Broom into it. (2019) pic.twitter.com/61LqGb56bQ

— History of India (@RealHistoryPic) July 13, 2019
Hema malini ji plzzz stop being actress in politics... 🙏

— Maviya Saifi (@MaviyaSaifi) July 13, 2019
एक तो पहले से साफ जगह पर झाडू लगाते है और ऊपर से दूसरे के हिस्से का कचरा भी हथियाने कि कोशिश करते है। 😛😅 ऐसे बटोरते है जैसे कि वोट्स या फिर नोट्स हो। 😜😂

— manjushaمنجوشا (@ManjushaBhagade) July 13, 2019