The rumour Sheila Dikshit had hoped would come true
Her tastefully decorated second-floor apartment in Delhi's Nizamuddin East continued to be a hub for politicians and journalists and all manner of visitors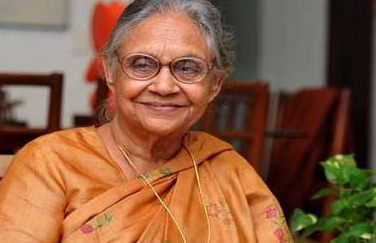 Sheila DIkshit was Delhi's longest serving chief minister
Source: @INCINdia on Twitter
---
New Delhi
|
Published 20.07.19, 02:50 PM
|
---
Sheila Dikshit, who died of cardiac arrest on Saturday, made her entry into politics almost by chance but became a nationally recognised political figure during her record-breaking three terms as Delhi chief minister. 
She confessed in her autobiography Citizen Delhi: My Life, My Times that she was disappointed when a rumour that she would be made home minister didn't materialise.
She had been in poor health but laughed when asked by a reporter in early 2018 whether her political career was all in the rearview mirror. Dikshit had just released her autobiography, but her reply made it very clear that she wasn't closing any options. "No, I don't say that politics is over. But it (the book) is certainly being written at a time when politics can be over." 
Soon afterwards, Dikshit announced she was indeed returning to politics to take on the BJP and the Aam Aadmi Party in Delhi. She stood for election in the North East Delhi constituency in May but came in far behind the BJP's candidate.
Dikshit's last electoral battle ended in failure but she was always reconciled to the ups and downs of political life. In her first foray into politics, she had won from Kannauj in Uttar Pradesh but lost the next time round. "People said a lot of work had been done but it did not translate into votes," she admitted much later.
In fact, Dikshit never left the political fray. Her tastefully decorated second-floor apartment in Delhi's Nizamuddin East continued to be a constant hub for politicians and journalists and all manner of other visitors who still came to see her. Partly, that was because she was always gracious and polite to all visitors and had never let the slightest arrogance creep into her dealings with people. 
Even if she didn't always give away political secrets, one reporter said: "Sheilaji had the answer to all questions with a silent demure smile." She was also an effective networker and was a familiar figure at social events in Delhi. A large photo of her late husband dominated her apartment which looked out over Humayun's Tomb.
Sheila Dikshit was born in Kapurthala and grew up in New Delhi at a time when the capital did not stretch much beyond what's now called Lutyens' Delhi. In her autobiography she recalled a happy childhood when she and her two sisters cycled to school in an era before heavy traffic made such activities impossible.
Her life changed when she met Vinod Dikshit, who famously proposed to her on a number 10 bus that was going through Chandni Chowk with the words, "I have met the girl I want to marry and she is sitting next to me." 
Dikshit later got into the Indian Administrative Service and that led to more than a decade living in small Uttar Pradesh towns and cities like Almora, Bareilly and Gorakhpur. Dikshit had already shown she was made of stern stuff when she adjusted to life in her husband's highly conservative family where she had to have a "goonghat pulled all the way to my waist".
Vinod Dikshit's father was the prominent Uttar Pradesh politician Uma Shankar Dikshit and the future Delhi chief minister made her entry into politics as her father-in-law's informal assistant. 
That involved everything from keeping her father-in-law's diary to "ensuring endless cups of tea for visitors". She got pulled into a more formal role when Rajiv Gandhi took over the Congress in 1984 and insisted that she should stand for election. She was initially reluctant but was persuaded to go ahead, both by her husband and father-in-law. She stood for election from Kannauj which she barely knew but was propelled to victory in the pro-Congress wave that followed Indira Gandhi's assassination. 
The greatest change in her life, however, came when her husband Vinod died relatively young.
Dikshit's three terms in office were an era when the face of Delhi changed beyond recognition. Construction on the Delhi Metro had begun under her predecessor but Dikshit claimed part of the credit for the fact that it expanded enormously during her tenure. She herself said that one of her toughest tasks was masterminding the quick introduction of CNG for buses and three-wheelers after it was ordered by the Supreme Court. Several new speciality hospitals also came up during her time in power. 
She herself says that the Bhagidari scheme which involved keeping in touch with more than 2,000 residents' welfare associations was one of her great achievements. The Commonwealth Games, however, was not a great success. Her son, Sandeep Dikshit, also occasionally stirred controversy and was never a popular figure like her.
One factor that kept Dikshit in power for three terms was the fact that she was on good terms with the Gandhi family, particularly Sonia Gandhi. She said there was a bond between them because they had both lost their husbands early and she recounts that she would go and sit with Sonia even though they would not talk very much. 
Rahul Gandhi also issued a statement after her death that went beyond the narrowly political, saying: "I'm devastated to hear about the passing away of Sheila Dikshitji, a beloved daughter of the Congress Party, with whom I shared a close personal bond." She was not on particularly good terms with former Prime Minister P. V. Narasimha Rao.
Dikshit's long run as chief minister came to an end in 2013 when the Congress was ousted by anti-corruption campaigner Arvind Kejriwal and his Aam Aadmi Party. The Delhi government has declared two days of mourning for her death. Her last rites are on Sunday.
Dikshit had had cardiac surgery in 2001 but she had returned to work swiftly after that. Two years ago, she was having difficulty climbing steps and she installed a lift that took her to her second-floor apartment. Undeterred, she returned to politics but her comeback has cruelly been cut short.