The name's Rajnath: In Lucknow, not even Modi matters
The stature of Rajnath is so big that he is considered a claimant for the PM's post in case Modi is replaced, says a BJP leader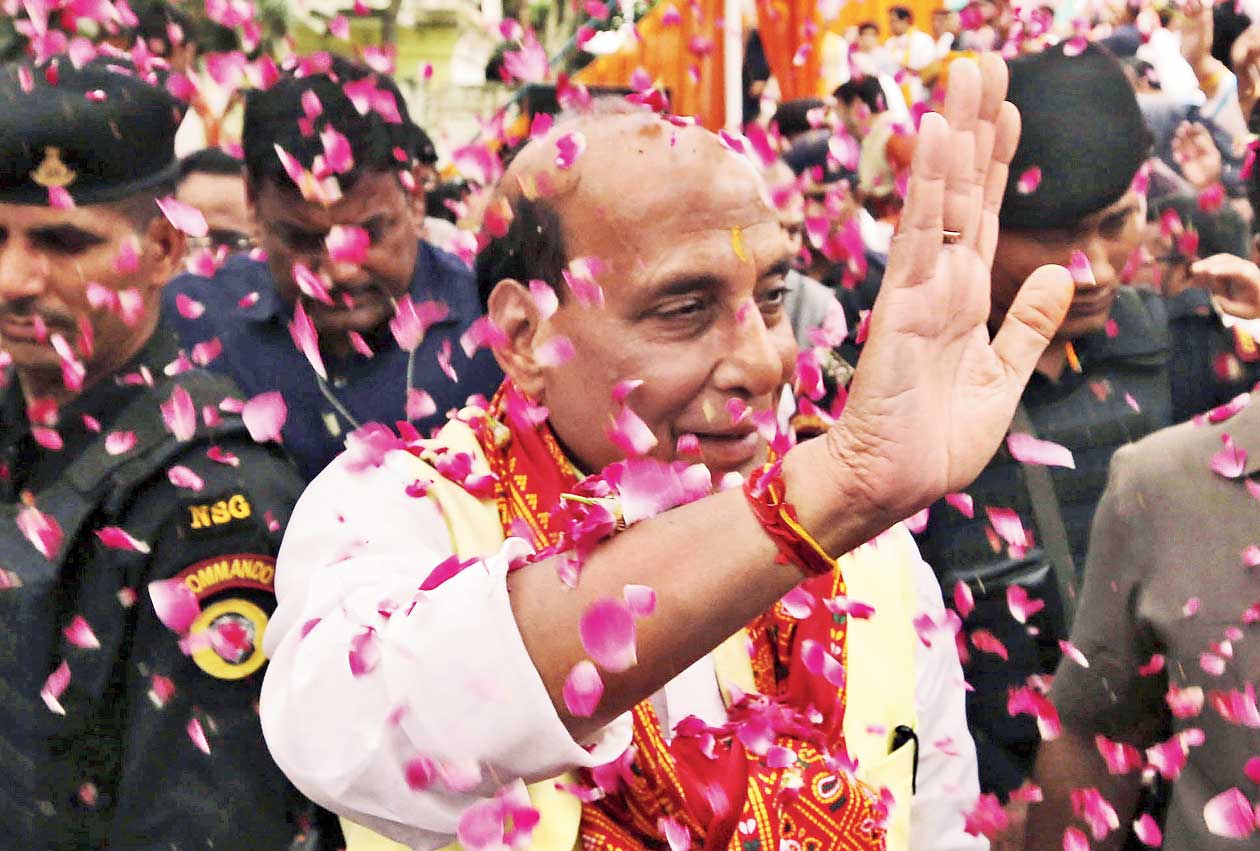 Union home minister Rajnath Singh arriving to file his nomination papers in Lucknow on April 16.
AP
---
Lucknow
|
Published 05.05.19, 01:18 AM
|
---
Shaping his hands into a bowl and touching it to both sides of the chest, Narendra Modi has been saying in many of his rallies that each vote cast on the lotus — the election symbol of the BJP — will directly reach him. Uttar Pradesh chief minister Yogi Adityanath harps on "Modi hai to mumkin hai (It's possible if Modi is there)" in his election speeches and interviews while stressing that the candidate is not important, the Prime Minister is.
But Lucknow doesn't care about the PM or the CM in this election; it cares only about Rajnath Singh.
It is a bit complicated to understand, so a senior BJP leader in Lucknow pulls an A4 sheet of paper from a printer by his table in his office and explains to The Telegraph point-wise how it is happening.
"The PM, the CM and all other senior campaigners are seeking votes in the name of Modi."
"The voters would be unhappy with most of our current MPs in the state because they have not done anything for their constituencies in last five years. The party knows this very well and so our leaders need to ask the voters to forget candidates and keep only Modi in mind."
"But in Lucknow, most voters don't have Modi in mind. The stature of Rajnath is so big that he is considered a claimant for the PM's post in case Modi is replaced."
"No Muslim is going to vote for the BJP or Modi in any constituency of UP. But in Lucknow, a large number of Shias and some Sunnis are directly associated with Rajnath and they will vote for him."
"While most candidates claim that Modi has restored nationalism and national pride in five years of his rule, Rajnath is one who doesn't mention Modi most of the time because he doesn't need the crutch of the PM."
"Aur ant me, Lucknow ka bachcha-bachcha janta hai ki Modi ki godi me Rajnath ke alawa BJP ke sabhi neta baithe hain (And lastly, even a child of Lucknow knows that except Rajnath all the BJP leaders are sitting in the lap of Modi."
Asked about the BJP nominee from Lucknow, Shia guru maulana Kalbe Jawwad substantiates the BJP leader's narrative.
"Rajnath is a good leader," he says.
The maulana turns red in anger when asked about Modi: "The country needs peaceful coexistence and not a social war, which has been created in the last five years."
Even Shiv Kumar, secretary of late PM Atal Bihari Vajpayee, doesn't mention Modi in his interactions with the people while seeking votes for Rajnath. However, he always says Rajnath is able to take forward the legacy of Vajpayee, who represented Lucknow in the Lok Sabha for five terms.
"I had campaigned for Rajnath in 2014 and now again am doing this in 2019 because he is truly a successor of Vajpayee in many ways. He matches Vajpayee's popularity and personality," says Shiv Kumar.
Rajnath, 67, who was the UP chief minister from 2000 to 2002, says he has a special relationship with the state capital: "Lucknow and I love each other because we are together for the last four decades."
Observers believe Lucknow is one seat where the mahagathbandhan and Congress nominees are no match for the BJP candidate. The SP has fielded Poonam Sinha, wife of actor-turned-politician Shatrughan Sinha. When the window of her car occasionally slides down for reporters, Poonam, 69, her sunglasses in place, talks with the confidence that dripped from the dialogue delivery of her husband: "Lucknow is going to vote for me. Rajnathji has not done anything here. He didn't complete even the ring road."
Sometimes, she campaigns during morning walk in Janeshwar Mishra Park and Lohia Park near her flat in the upscale Vibhuti Khand area of the state capital. Sometimes she also travels by the Lucknow Metro and asks the passengers to vote for her, even though the four coaches of the train don't have more than 50 passengers during any trip between Amausi Airport and Munshi Ka Puliya. She addresses some street meetings when the weather is a bit pleasant in the evening.
At one such meeting, the gathering wonders whether her actress-daughter Sonakshi Sinha will campaign for her. When reporters asks Poonam, she says: "Sonakshi is my daughter but she is busy in shooting at the moment."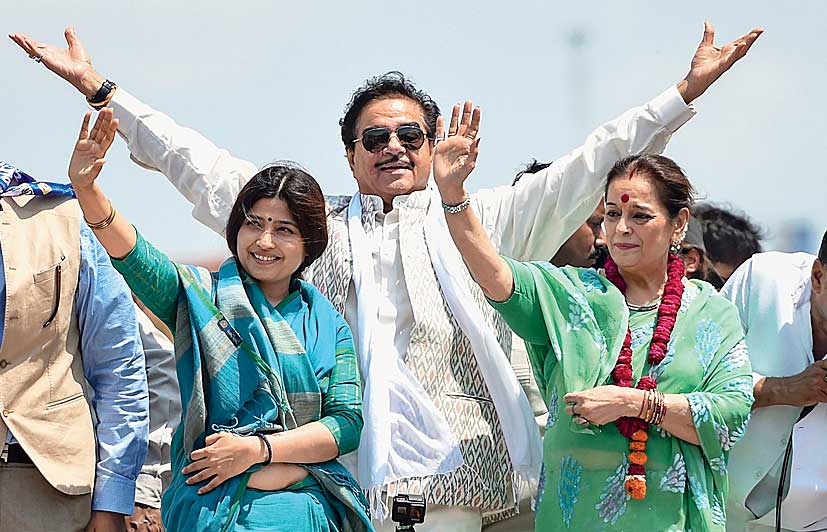 Poonam's husband was associated with the BJP for two decades before shifting loyalty to the Congress recently, but he was never really identified with a party. Poonam has the same individualistic style; she rarely mentions her party, the SP, while interacting with her managers and curious watchers in Lucknow.
"She doesn't have campaign managers; the party had deployed some people to make her stay in Lucknow pleasant," an SP leader said on condition of anonymity.
Hindu preacher Pramod Krishnam is the Congress nominee. He can be seen campaigning one to two hours every day but reporters don't ask him serious questions. A favourite question of the reporters is: "Why did Shatrughan attend the roadshow of his wife during nomination two weeks ago and ignored the Congress candidate?"
Krishnam, who had contested from Sambhal on a Congress ticket in 2014 and stood fifth with 16,000 votes, doesn't mind light questions. He smiles, softens his voice dramatically and says: "Shatruji should have been campaigning for me after doing his duty as a husband."
Namdeo Das Tyagi a.k.a Computer Baba, a sadhu from Indore, is giving some colour to Krishnam's campaign by taking out processions of dozens of sadhus in the city. He also sits on the Congress office premises for a few hours, makes a circle of the pieces of sandalwood around him and reads out some religious verses. Asked, he says: "It is hath-yoga to invoke cosmic power to ensure the victory of Krishnam."
Observers say that usually, Lucknow goes with the personality of a candidate and not with an ideology or a party. It had elected first Prime Minister Jawaharlal Nehru's sister Vijaya Lakshmi Pandit in 1951. Nehru's other relative Sheorajvati Nehru was sent to the Lok Sabha from here in the next election. Sheila Kaul, Nehru's sister-in-law, was chosen as MP from here in 1971, 1980 and 1984. And Vajpayee served as its MP as Prime Minister.