The hunt for green firecrackers in Delhi
Wholesale merchants and shopkeepers say the crackers are so few in variety that nobody wants them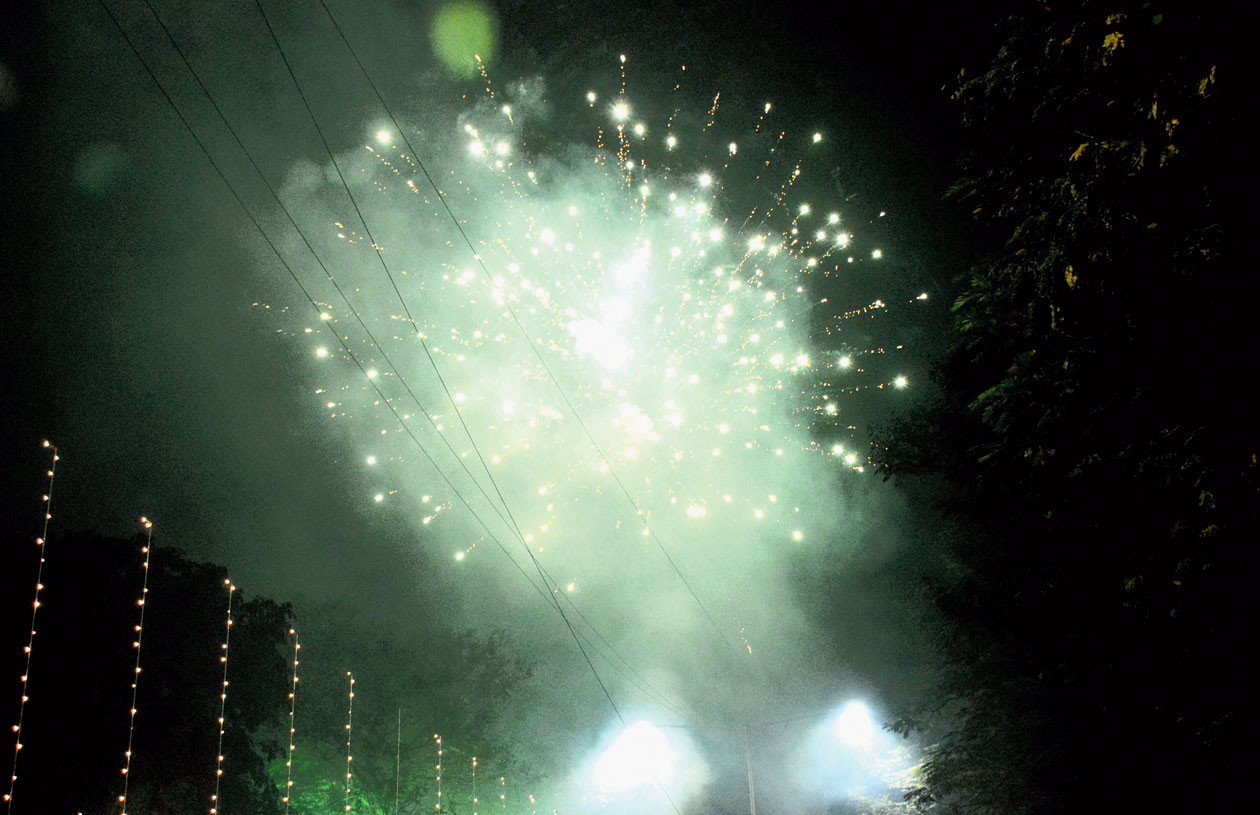 Considering the hazardous levels of pollution in the city, the Supreme Court had put a ban on sale of fire crackers last year saying only green crackers will be allowed.
Telegraph file photo
---
New Delhi
|
Published 11.10.19, 05:15 PM
|
---
The green crackers that the Supreme Court has allowed to be burst during Diwali in Delhi are barely there in the market a fortnight before the festival.
The supposedly environment friendly crackers developed by government agencies were hard to find in the Sadar Bazar wholesale market in Old Delhi on Thursday. Many shopkeepers in the nearby Jama Masjid area have desisted from putting up a shop for crackers. Those who have, expressed dissatisfaction at the low sales.
The problem several shopkeepers cited was that the types of green crackers with them were too few when compared to the variety of conventional firecrackers, which customers wanted.

"We are selling only green fireworks but the stock is too less. We have received only anaar and fuljhari so far. We hope to get more items soon. As of now, entire firecracker market is in a slump. No one is purchasing. Rates are high comparatively. There's a spike of almost 50 per cent in the rates. Nine out of 10 who come to my shop leave without buying anything, because of the rates. The customers' behavior is totally justified. They come with expectations of choosing from a range of crackers, and I can show them only two things. Why would they buy these? This is the case in the entire city," a shopkeeper at Prem Fireworks in Jama Masjid, told this website.
Another Sadar Bazar shopkeeper said they decided on not selling crackers or applying for a licence as they did saw no benefit in selling fewer varieties, which too are hard to come by. "No we are not selling crackers this year since our license was not renewed…. Even with green crackers, there are only 7-8 variation, and that too these are much more expensive than the routine crackers. That's another reason why we are not selling them," said a salesman in Royal Fireworks.
The environment ministry launched the green crackers only last week. The crackers, which the government claimed will release 30 per cent less particulate matter (PM) 2.5 and PM 10 into the atmosphere, have been designed by a gamut of government agencies under a project helmed by the CSIR-NEERI.
According to the definition set by CSIR-NEERI, the green crackers are those that are "made with reduction in size of shell, elimination of ash usage etc., reduced usage of raw materials in the compositions, of uniform acceptable quality, and/or use of additives as dust suppressants to reduce emissions with specific reference to particulate matter(PM) (SO2 and NO2).'
The government has issued certificates to more than 300 manufactures to produce green crackers. But the formulation for the crackers and required approvals came so late in the day that it seems to have stressed out the industry's production machinery, which is finding it hard to manufacture enough crackers of enough types to meet the demand.
A Jama Masjid shopkeeper surmised that it will not be till next year that green crackers will be available in the market in enough quantities. He too rued the low sales. "Customers want a variety of fireworks and they are not up for buying these two. We have been told by manufacturers that they are unable to produce enough green crackers this year. The situation may improve next year," said the proprietor at Ajit Fireworks.
A traders' association leader at Sadar Bazar said the market loss because of the unavailability of green crackers and a ban on traditional crackers is hard to quantify, since traders were already anticipating a rough time this year also. The Supreme Court banned the sale of conventional firecrackers last year just before Diwali.
"There are no green crackers in the market. No one is selling crackers anymore. They are selling other things, like decoration stuff, candles, lamps. We haven't estimated the loss yet. We were prepared already for a rough deal since something or the other happens every year, so we focused on selling the other items. People will burst crackers anyway, either from last years' spare stock or by buying them from UP or Haryana," said Neeraj Kumar of the Fireworks and General Traders' Association.