The Handy Roof Waterproofing Checklist
the Asian Paints' SmartCare range provides a much simpler solution for waterproofing your roof.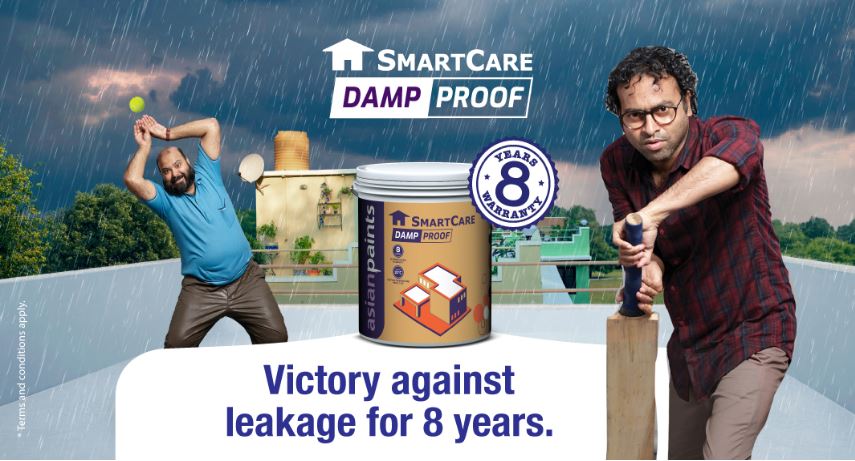 ---
Published 29.04.22, 08:17 PM
|
---
Let's consider that you have invited a group of guests to come to your house for a laid-back evening. You are all set to play the picture-perfect host – the food is ready, you're dressed to entertain and your home is spic and span. And just then you look up at your living room ceiling… and… it's anything but picture-perfect. In fact, there is a large damp spot and the paint around it is starting to flake off!
Consumer research shows that about 75% of all homes have some degree of seepage and leakage. The source of the problem in a majority of the cases is water seeping in from terraces or roofs. When water seeps in through the roof, there are two ways in which this affects you. Firstly, of course, it leads to unsightly damp patches in the interior. But the other graver problem is that the structural integrity of your beloved home is compromised. 
So what is the solution to this complex problem, you ask? It is to waterproof your roof. And how should you go about waterproofing your roof? We have prepared a checklist to make it easier for you.
Waterproofing your Terrace – The Step-by-Step Method:
1. Identifying the source of the seepage
The source varies from house to house. For some people, it is a broken pipeline, exposed or concealed. In case of a broken pipeline, that needs to be fixed before you waterproof the roof. Alternately, it could also be rainwater collecting on the roof and seeping in through cracks and gaps.
2. Identify the best method for waterproofing your roof
There are a number of ways to waterproof a roof, each with its own disadvantages and advantages. After doing your research, you have to identify the correct method for your roof.
3. Measure the roof area
The next step will need you to get out your measuring tapes or the building plans if you have access to them because you have to now find the dimensions of your roof. 
4. Getting in touch with waterproofing professionals
Now that you have the roof measured, it is time to get to the actual job. And for this, you will need to go to the professionals and check out their reputation as well as their availability.
5. Getting a quote
People meet their first major roadblock at this stage, with most quotes causing a panic attack or two.
6. Finding a second professional, maybe…
In case the first quote doesn't work for you, or the professionals you zeroed in on are not available, you will need to find another one.
7. Consider your living arrangements while your terrace gets a makeover
The process of waterproofing terraces and roofs usually takes several days of work. Depending on the condition of your roof and the process, it may even require some breaking down and re-building as well. You need to consider whether you will continue to live in the building or make alternate arrangements.
8. Finally… hope the effects last!
Waterproofing methods are not permanent, and when not done properly, the effects don't last more than a year or two, at the most.
Now that you know how difficult it is to waterproof your roof – let us give you the easier, 1-step solution. The Asian Paints Method:
Fortunately, for you, the Asian Paints' SmartCare range provides a much simpler solution for waterproofing your roof. The treatment from Asian Paints SmartCare Damp Proof or SmartCare Damp Proof Ultra  take no more than two days and are just as simple as applying a coat of paint to your roof. In addition, with a waterproofing warranty of up to 10 years, you can host as many parties as possible at your home, without a worry. What's more, both these treatments come with special surface temparature reduction properties that will keep your roof/terraces cool even during summertime! 
●    SmartCare Damp Proof provides 8 Years of waterproofing warranty and up to 10-degree surface temperature reduction
●    SmartCare Damp Proof Ultra comes with 10 Years of waterproofing warranty and offers up to 12-degree surface temperature reduction
And now for the easy part – all you have to do is give a call to 80504 80504 or visit the Asian Paints website and our experts will schedule an appointment and provide the perfect 360-degree waterproofing solution for your home!