The hand that raised the roof of Bagree
Maintenance was Bagree Estate's responsibility, says Paras Mal Lodha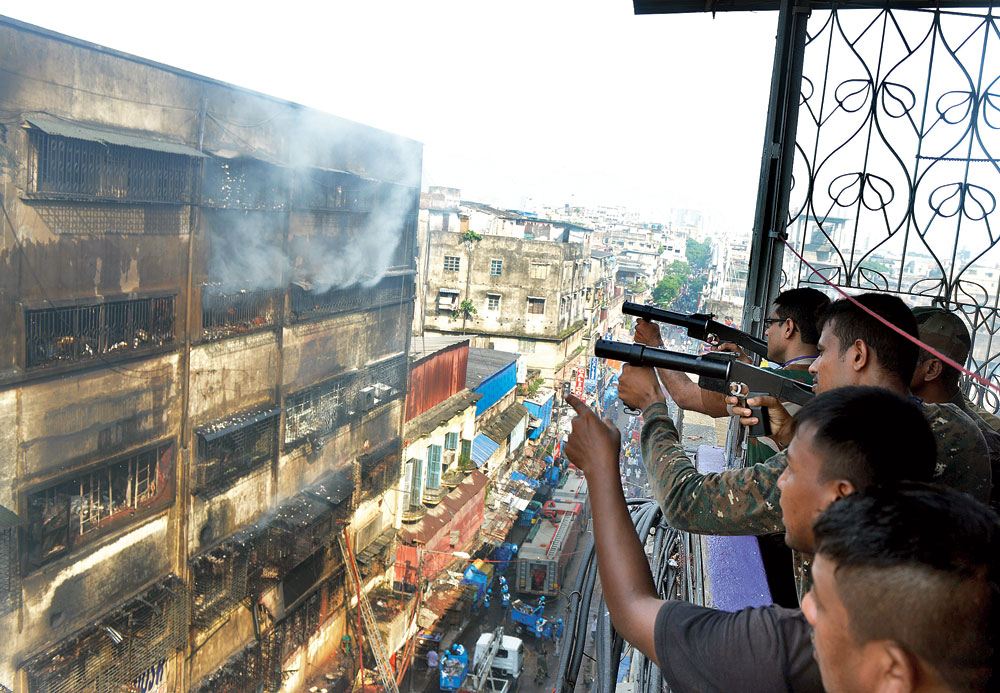 Rubber bullets being fired to break glass panes and let the smoke out of the top floors of Bagree Market on Wednesday. The flames were doused in the afternoon.
Picture by Bishwarup Dutta
---
Calcutta
|
Published 19.09.18, 09:21 PM
|
---
When the "growth story" of high-rises in Calcutta is chronicled, it will be difficult not to mention Paras Mal Lodha.

So it is when it comes to how Bagree Market, where flames were doused on Wednesday after an 85-hour battle, grew from three to six storeys.
Lodha, a realtor some competitors grudgingly call "Fiddler on the Roof" for his ability to add extra floors, confirmed on Wednesday that he was involved in the project to double the floors at Bagree Market in 1987.
"Bagree Estate Private Ltd, which owned the market, had a sanctioned plan to add floors and we entered into an agreement to develop the extra floors. I did not charge them for the construction and gave them 60 per cent of the space while I sold 40 per cent of the newly added space to shop owners. According to the agreement, the maintenance was Bagree Estate's responsibility," Lodha told The Telegraph.
Asked whether the plan had been sanctioned, mayor Sovan Chatterjee, who took charge of the CMC long after the floors had been added at Bagree Market, said: "I cannot comment on these things right now…. We are looking into everything and if there is any illegality, it will come out."
This is not the first time a building, in connection with which Lodha's name has been mentioned, is making headlines because of a fire. When Stephen Court, the Park Street structure, caught fire in 2010, Lodha was said to have been associated with the addition of floors to the building.
Lodha had then vehemently denied any link. No document had established such an association and Lodha is not an accused in the Stephen Court fire case. As many as 43 people died in floors that lacked access to a spiral staircase.
Asked about Stephen Court and some other buildings in Calcutta, Lodha said on Wednesday: "I do not want to talk about anything other than Bagree Market today."
The last time Lodha was in the news was when he was arrested in Mumbai in 2016 in the aftermath of the demonetisation. He was accused of illegally converting demonetised notes worth Rs 25 crore into new currency. In his sixties, Lodha is now on bail.
Lodha said he was in London and did not know about the Bagree blaze until he returned on Tuesday.
The addition of three floors to Bagree Market 31 years ago had pushed up the number of legal occupants to 957 from 400. Unofficial estimates put the number of traders between 1,200 and 2,500.
When the fire broke out, encroachment and other questionable practices not only delayed the fire brigade but raised the query whether the expansion had been allowed after ensuring that safety measures were in place and enough space was left free to facilitate fire-fighting.
In the 1980s, it was alleged that some realtors had developed a "model" to add floors from the roof and then get them regularised using political connections. "You would never find the documents that regularised the additional floors," said a city businessman, suggesting that missing files tell no tales.
With a distinct trace of pride in his voice, Lodha staked claim to be a pioneer who had spotted the growth potential in buildings already constructed, but stressed the word "sanctions".
"There are myths around me. But the fact is, I was perhaps the first among developers to spot buildings that had sanctions to add more floors," he said.
Lodha insisted he never needed anyone's help because he went by the law. That did not mean he had no friends in high places. "I had very good connections with the CPM. I was also close to the people in the civic body," he said.
Realty sources said Lodha had created an additional space of around 100,000sqft in Bagree Market, which was valued at around Rs 150 crore, at Rs 15,000 per sqft.
Lodha, a St Xavier's College alumnus, is now based in Delhi but maintains social contact with the business fraternity in the city and has his home and office in Queen's Park. He once tried to take over Peerless and is still fighting a case with the owners.
Affected Bagree Market traders, who had assembled at an office on Brabourne Road on Wednesday afternoon to chart their next course of action, echoed Lodha and said there was no illegality in the building.
"Lodhaji entered into a development agreement with the owners, and the floors were added. The building was properly constructed and the materials used were top quality…. Even after the fire, the floors, ceilings and the columns are structurally stable. Only some wooden furniture and false ceilings got burnt," said Asutosh Singh, president, Bagree Market Central Kolkata Traders' Welfare Association.
"We are willing to repair with our own resources whatever damage has been done to the building," said Mohammad Qasim, vice-president of the association.