The Fani forecast mix
Machine and human skills at work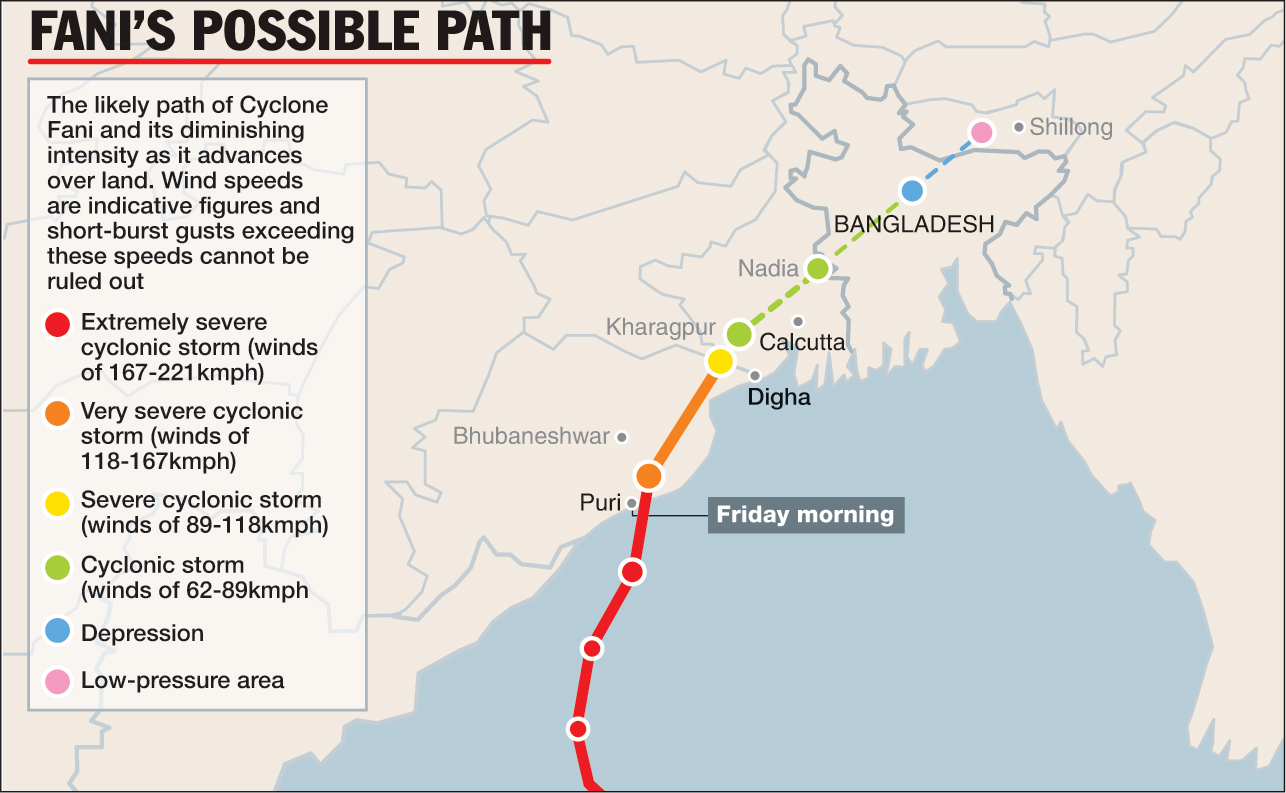 ---
---
A mix of high-speed computers crunching colossal amounts of weather data and human insights gained through years of experience helped the national weather agency to forecast cyclone Fani's track and behaviour in time for preventive action.
The extremely severe cyclonic storm with wind speeds up to 200kmph made landfall on Friday near Puri, Odisha, almost exactly over the area the India Meteorological Department (IMD) had first predicted as the likely landfall zone on April 29.
Weather scientists say the forecast for Fani's track and its fierce intensity gave authorities, including the Indian coast guard, district administrations and disaster response agencies at least three days' notice, facilitating preventive actions, including the evacuation of over 750,000 persons.
"Cyclone Fani was especially challenging because of its curved track," Mrutyunjaya Mohapatra, a senior scientist and cyclone forecasting specialist at IMD, New Delhi, who led the tracking efforts that began on April 25 focused on what was then a only low pressure zone near the equator.
Scientists say forecasting errors are about 30 per cent higher with cyclones whose paths recurve along the coast compared to cyclones that make landfall and head straight inward.
The forecasts rely on weather data amassed from multiple sources — satellites, weather stations, floating buoys in the sea — fed into computers that simulate the future weather. The forecasts are combined with statistical tools to predict the track and strength of the cyclone.
A team of cyclone warning specialists — about 10 officers within IMD — gathered every day at 10.30am to confer and arrive as a human-intervention consensus on the prediction.
At least at one point during this track-and-forecast game over the past week, IMD scientists had to use their human skills acquired through years of watching incoming storms to overrule computer-generated forecast. "The human element is critical," said Mohapatra. "It doesn't change things too much, but sometimes it helps as it did this time."
The computer-generated forecasts on Fani at one point predicted a straight path over land, but the meteorologists concurred that it would likely recurve along the coast, as the cyclone did on Friday.
The forecasts contain multiple elements: the track of the cyclone, its maximum wind speeds, the amount of rainfall it is likely to cause, and the height of the storm surge, or giant sea waves, as the storm crosses the coast.
The IMD bulletins on April 30 and May 1 also warned about an extremely severe cyclone with wind speeds above 180kmph and the widespread damage it could cause to thatched houses, crops, roads and power and communication lines. Over the past two days, the coast guard deployed multiple sorties of ships and helicopters to warn and shepherd fishing boats out at sea back to the coast, possibly saving many lives.